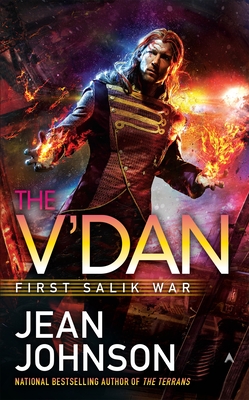 The V'Dan (First Salik War #2) (Mass Market)
Ace, 9780425276938, 416pp.
Publication Date: December 29, 2015
* Individual store prices may vary.
Description
A thrilling new perspective of the world created in the explosive, national bestselling Theirs Not to Reason Why series. It's two hundred years earlier—the age of the First Salik War. And the battle against humanity has been engaged. 

The V'Dan always believed they were the chosen race, destined to make a mark on the galaxy. For the last few centuries, they interacted peacefully with other sentient species—save for the Salik. Cold, amphibious, and vicious, the Salik were set on one goal: to conquer every race within their grasp.

Now that the Salik's ruthless war has begun, the fate of the galaxy is in the hands of two strange companions: Li'eth, a prince under siege and his rescuer, Jacaranda MacKenzie. A beautiful ambassador from the Motherworld, Jackie possesses more than the holy powers of a goddess. She brings a secret weapon—a strange, wondrous, and dangerous new technology that could be her and Li'eth's last and only hope to save their people from extinction...
About the Author
Jean Johnson is the national bestselling author of the Theirs Not to Reason Why series which includes Damnation, Hardship, and Hellfire, and the Guardians of Destiny novels, including The Guild, The Grove, and The Tower. She believes the best part about being a writer is the joy of entertaining others. The second best part is inspiring them to do greater things than they would normally imagine, and to honor those who have tried. This is one of those stories, and she hopes you both enjoy it and are inspired by it.
Praise For The V'Dan (First Salik War #2)…
Praise for Jean Johnson's Theirs Not to Reason Why series
 
"Reminiscent of both Starship Troopers and Dune."—Publishers Weekly
 
"Both highly entertaining and extremely involving in equal measure."—The Founding Fields
 
"An engrossing military SF series."—SF Signal
 
"Full of suspense, danger, and intrigue…Fans of military science fiction will definitely want to check out this surprising and exciting novel."—SciFiChick.com