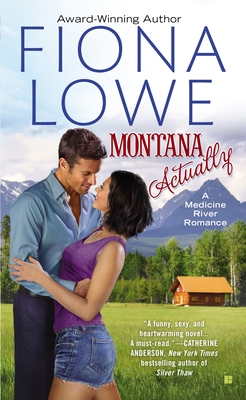 Montana Actually (A Medicine River Romance #1) (Mass Market)
Berkley, 9780425276952, 320pp.
Publication Date: January 6, 2015
* Individual store prices may vary.
Description
A big-city doctor in a small-town Montana practice....A former nurse who has sworn off doctors forever....The scene is set for passions to ignite in Big Sky Country. For readers of Robyn Carr and Sherryl Woods.  

City doctor Josh Stanton and his sports car don't suit the country, but with his medical school debt about to bury him, Josh has to make the best out of a bad situation. Adjusting to his new job and life in the middle of nowhere isn't easy, but at least the views of the mountains—and one distractingly attractive local—are stunning...
After eight years away, Katrina McCade is back in Bear Paw for a break from her life, bad choices—and men. But when a broad-shouldered stranger bursts into town, she finds herself unexpectedly saddled with the town's sexy new doctor as a tenant. Katrina doesn't need a man to make her happy, especially a disgruntled physician.  But try telling her body that…

"This is a funny, sexy, and heart-warming novel that I feel is a must-read and a keeper. It made me laugh. I loved each character, and wish I could visit Bear Paw."
Catherine Anderson, New York Times bestselling author of Silver Thaw

"Delightful." --Publishers Weekly (starred review)
About the Author
Fiona Lowe is a RITA and RUBY award–winning, multi-published author with twenty five novels to her name. She's lived around the world, including very happy years in the USA. Whether her books are set in Wisconsin, Montana, or outback Australia, they feature small towns with big hearts, and warm, likeable characters that make you fall in love. When she's not writing stories, she's a weekend wife, mother of two "ginger" teen boys, guardian of eighty rose bushes, and often found collapsed on the couch with wine.
Praise For Montana Actually (A Medicine River Romance #1)…
Praise for MONTANA ACTUALLY:
"In the first Medicine River contemporary, the charismatic little town of Bear Paw, Mont., hosts delightful characters whose interactions feel deep and real. Chicago doctor Josh Stanton decides to knock off some of his huge student loan debt by working in rural Montana. His fiancée declines to relocate to the boonies with him; heartbroken, he swears off lasting relationships. Nurse Katrina McCade returns to her hometown of Bear Paw to lick her wounds after an unhappy affair. Katrina and Josh are poleaxed by mutual lust, and they decide to become lovers with no strings attached—but as they begin confiding details of their lives, feelings change. The plot twists around medical emergencies, a second romance line involving Katrina's brother, the troubles of a local youth, relationships between parents and children, and former lovers learning to be friends. All these elements contribute to the comfortable feeling of smalltown life. The witty conversations, family drama, and accurate (but never maudlin) descriptions of loss and grief will have the reader laughing out loud, wiping away tears, and eagerly awaiting future books." --Publishers Weekly (starred review)
 
"This is a funny, sexy, and heart-warming novel that I feel is a must - read and a keeper. It made me laugh. I loved each character, and wish I could visit Bear Paw." --Catherine Anderson, New York Times bestselling author of Silver Thaw

"A humorous story full of likeable, distinct characters set in the small town of Bear Paw, Mont. Josh is charming and sexy, and his chemistry with Katrina ignites the pages. Lowe's beautiful story-telling sets up a heartwarming romance between two relationship-challenged people who are reluctant to give their hearts. This is a delightfully modern read."—RT Reviews
 
Praise for Fiona Lowe's previous romance, Boomerang Bride:
"With the perfect mixture of romance, sadness and Australian/American wise-cracking, Boomerang Bride is one of the best romance novels this reviewer has read in a long time."—RT Reviews
"Funny, well-paced plus a well-done secondary romance. Go read this book."—Smart Bitches, Trashy Books
"I really enjoyed this contemporary fairy tale. The love story was sweet and beautiful and I hope to see more of Lowe in the future."—The Book Pushers