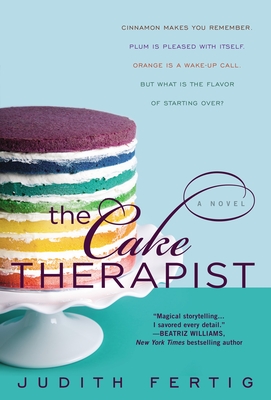 The Cake Therapist
Paperback

* Individual store prices may vary.
Other Editions of This Title:
Digital Audiobook (6/1/2015)
Description
A fiction debut that will leave you wanting seconds, from an award-winning cookbook author.

Claire "Neely" O'Neil is a pastry chef of extraordinary talent. Every great chef can taste shimmering, elusive flavors that most of us miss, but Neely can "taste" feelings—cinnamon makes you remember; plum is pleased with itself; orange is a wake-up call. When flavor and feeling give Neely a glimpse of someone's inner self, she can customize her creations to help that person celebrate love, overcome fear, even mourn a devastating loss.

Maybe that's why she feels the need to go home to Millcreek Valley at a time when her life seems about to fall apart. The bakery she opens in her hometown is perfect, intimate, just what she's always dreamed of—and yet, as she meets her new customers, Neely has a sense of secrets, some dark, some perhaps with tempting possibilities. A recurring flavor of alarming intensity signals to her perfect palate a long-ago story that must be told.

Neely has always been able to help everyone else. Getting to the end of this story may be just what she needs to help herself.
Praise For The Cake Therapist…
"A delicious treat for readers… Like a master chef, Judith Fertig takes the tale of a gifted baker starting all over in her old Midwestern hometown and layers it together with an intriguing mystery buried deep in the community's Depression-era past."—New York Times bestselling author Beatriz Williams

"In a small town where secrets run deep and over generations, Fertig shows friendship, family, and food can bring people together and heal old wounds. A novel that is a true treat for the senses."—New York Times bestselling author Jill Shalvis

"In this gem of a book, Fertig serves up a multi-layered story of family and love, lost and found…A touch of magical realism gives the book an additional intriguing facet."—RT Book Reviews (4 stars)
Berkley, 9780425277324, 304pp.
Publication Date: June 2, 2015
About the Author
Judith Fertig is an award-winning cookbook author whose food and lifestyle writing has appeared in more than a dozen publications, including Bon Appétit, Saveur, and the New York Times. Judith attended Ecole de Cuisine La Varenne in Paris and the Graduate Summer Workshop at the University of Iowa Writers' Workshop. She teaches cooking classes across the country and lives in Kansas City. The Cake Therapist is her first novel.
Claire admits that she is better at intuiting someone else's life rather than her own. Why do you think this is the case? In what ways did helping others allow Claire to realize more about herself?
Do you think Claire's ability to "taste" feelings is a blessing or a curse? Would you want her power to read people?
From Ethel Parsons, the textile designer in the 1908 flashback, to Claire O'Neill, who owns her own bakery in the present day, the expectations and roles of women in this novel drastically change. Compare and contrast how the women in The Cake Therapist fit into their time period. What positions do they occupy in the workplace and at home? Do any of these women defy society's limitations, or alternatively succumb to them?
The novel revisits the evocative time period of World War II, including the infamous attack on Pearl Harbor and the involuntary draft. Did reading about this era evoke any memories for you regarding your own family's history?
Claire originally thinks of Jett "as 'the Goth Van Gogh,' on a good day or 'Vampira' on a bad one," but by the novel's end their rapport has significantly changed. How does Claire and Jett's relationship evolve throughout the novel? If you were Claire, would you have handled Jett differently?
In the beginning of The Cake Therapist Megan holds a lot of disdain for the Professor, but she gradually grows affection for him. Have you ever experienced a similar change of heart in your own relationships? What spurred the transformation?
In a twist of fate, Shemuel becomes a self-made man and achieves the American Dream. Do you think the American Dream is attainable in today's world? Does this freedom to prosper also mean there's an equal possibility for failure? How do the events in The Cake Therapist support or debunk this?
Were you surprised by the true identities revealed at the novel's end, or did you suspect any of these alter egos earlier on? If so, what hints helped you come to these revelations?
Claire struggles with her strong, but uncertain feelings for Luke and softer, but consistent affection for Ben. Were you frustrated with Claire's indecision regarding the men in her life or sympathetic? What did you think about her revelation on why she stayed with Luke for so long?
Rainbow Cakes very much becomes a safe haven for the characters in the novel, particularly Claire and Jet. Do you have a place like that, or your own comfort food or flavor?
Edie and Olive have a tenuous relationship at times. When Edie is attacked, she does not tell Olive and, moreover, assumes her sister's reaction would be unsympathetically harsh. "Olive would be mad—and ashamed of her. Olive would say it was all Edie's fault…Olive would tell her to stop being a baby. To stop being scared." Do you agree with Edie's perception of young Olive? Why or why not?
By the novel's end, Claire starts to find peace with her dad. What emotional hurdles did she overcome throughout the novel to reach this point? If you were Claire, would you be willing to forgive her father?
or
Not Currently Available for Direct Purchase