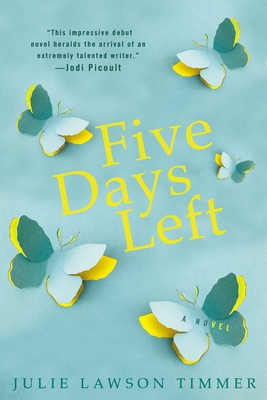 Five Days Left
Paperback

* Individual store prices may vary.
Other Editions of This Title:
Digital Audiobook (9/8/2014)
Hardcover, Large Print (10/1/2014)
Hardcover (9/9/2014)
Compact Disc (9/9/2014)
Description
"This impressive debut novel heralds the arrival of an extremely talented writer."—Jodi Picoult
Destined to be a book club favorite, a heart-wrenching debut about two people who must decide how much they're willing to sacrifice for love.
Mara Nichols is a successful lawyer, devoted wife, and adoptive mother who has received a life-shattering diagnosis. Scott Coffman, a middle school teacher, has been fostering an eight-year-old boy while the boy's mother serves a jail sentence. Scott and Mara both have five days left until they must say good-bye to the ones they love the most. 
Through their stories, Julie Lawson Timmer explores the individual limits of human endurance and the power of relationships, and shows that sometimes loving someone means holding on, and sometimes it means letting go.  
Praise For Five Days Left…
Praise for Five Days Left
One of Library Journal's Best Debuts of the Summer

"A beautifully drawn study of what is at risk when you lose control of your own life. Unique, gripping, and viscerally moving—this impressive debut novel heralds the arrival of an extremely talented writer."—Jodi Picoult, New York Times bestselling author of The Storyteller

"First-time author Julie Lawson Timmer hasn't merely just penned a good novel; she leaps out of the chute here with this keeps-you-guessing story of two people who have a finite time—real or imagined—to spend with those they love. It's that guessing part, the will-she-won't-she on Mara's behalf, and the frustration from Scott that kept me turning pages well into the night. …This is one of those winners that'll be passed from reader to fan to book group and beyond. It's a novel that people will buzz about awhile. Start it, and I think you'll agree that Five Days Left is a right fine read."—North Dallas Gazette

"A heart-wrenching drama about a world in which there are no easy answers. With an unflinching gaze, Julie Lawson Timmer explores what makes a family, what happens when bonds (familial and otherwise) are tested, and the relationships we forge that change our lives. This novel feels as true as life."—Christina Baker Kline, #1 New York Times bestselling author of Orphan Train

"In her debut novel, told through the characters' diary entries, the author does well staying realistic while telling a difficult tale."—St. Louis Today

"Julie Lawson Timmer's novel pulls no punches. It takes no prisoners. It is pure and honest. I sat down with this book after dinner, and, when I looked up, it was two a.m. and I had turned the last page. My only regret was that there weren't a hundred more pages; Five Days Left is that compelling."—Jacquelyn Mitchard, New York Times bestselling author of The Deep End of the Ocean

"Timmer's debut novel packs a powerful punch. Absorbing, deeply affecting, and ultimately uplifting, it heralds the arrival of an author to watch." —Library Journal (starred review)

"A heart-wrenching story of how devastating and progressive Huntington's disease is and its life-shattering impact on a vibrant and ambitious young woman who is a wife, mother, daughter, friend, and lawyer. It brings home the reality of this all-consuming disease and the impact it has not only on Mara, but on all of the people she loves and who love her. It's a beautiful story that intertwines love and loyalty and is thought-provoking, yet disturbing, as the reader tries to come to terms with Mara's decision for herself and her family."—Laura Schroff, New York Times bestselling author of An Invisible Thread

"Timmer's emotional debut should come with a box of tissues....The characters are so affecting it's tough to make it to Day 5. An authentic and powerful story."—Kirkus Reviews (starred review)

"A stunning debut about the impossible things we do for love. Heartbreaking yet uplifting, Five Days Left is a book I won't ever forget."—Sarah Pekkanen, internationally bestselling author of Catching Air

"This starkly intimate epistolary novel …dissects the experiences of losing hope and finding strength…Timmer makes a powerful debut." —Publishers Weekly

"Like Joshilyn Jackson, Timmer, in her impressive debut novel, shows a facility for creating authentic characters dealing with heart-wrenching dilemmas….A compelling read and a good choice for book clubs." —Booklist

"Affecting [and] heart-wrenching…Timmer handles delicate, controversial issues with deep insight into human nature, and ultimately renders a story that will stay with readers long after they reach the last page."—Amy Hatvany, author of Safe with Me

"Timmer's novel is a heartbreaker, but it is also a stirring debut." —BookPage

"A lesson in compassion and grace.  An emotional journey that left me weeping, humbled, and ultimately hopeful." —Lori Nelson Spielman, author of The Life List

"In her beautiful, brave debut, Julie Lawson Timmer examines the limits of love and resilience—as well as the heartbreaking decisions parents must sometimes make. With a fresh revelation on every page, this novel is a gift."—Camille Noe Pagán, author of The Art of Forgetting
Berkley, 9780425277935, 400pp.
Publication Date: August 4, 2015
About the Author
Julie Lawson Timmer grew up in Canada and earned a bachelor's degree from McMaster University and a law degree from Southern Methodist University. She lives in Ann Arbor with her husband and children and is a lawyer. This is her first novel; she is currently at work on her second.

 
Before we meet Mara, she has already decided to be tested for Huntington's disease. We learn from Tom (and this is true in real life) that many people at risk choose not to take the test. They would rather live with a 50/50 chance that they don't have the disease than know with 100 percent certainty they have it. Why did Mara choose certainty over chance? What would you choose, and why?generic viagra price canada
Mara believes it would be better for Laks and Tom to be without her than to be "dragged down" by her. Is it easier for a child with a severely ill or disabled parent if that parent dies early rather than lives for a long time? What about for the person's spouse? From what you know of Tom, will he feel relieved by or furious with Mara's decision?generic viagra price canada
Scott feels that Curtis would have a better future if he stayed with him and his wife instead of going back to live with his mother, LaDania, even if she cleans herself up. But unless there's been extreme neglect or abuse, the law holds, it's in a child's best interest to be with his own mother. What do you think? Are the Coffmans the best choice for adoptive parents for Curtis, or should the social worker look for a same-race family? Is race an important consideration in foster care or adoption?generic viagra price canada
The online forum is an important source of friendship and support to Scott and Mara. Why do they each rely so much on people they've never met? Do you have online friends you've never met? Have you relied on them for friendship, support, or advice? Would you rely on them? What is it about online relationships that allows people to share intimate facts about their lives with others who are essentially strangers?generic viagra price canada
Bray is prepared to give up his basketball scholarship and college education to look after Curtis, until friends tell him it's the wrong thing to do, both for him and for Curtis. If living with the Coffmans isn't an option, do you agree it's better for Bray to put Curtis into foster care rather than try to raise him?generic viagra price canada
If you were a friend of Mara's and learned of her plan, would you let Tom know, or would you keep your friend's secret? Do you think Tom should tell Laks how her mother died? Why or why not?generic viagra price canada
Early in their marriage, Scott and Laurie made plans to have children of their own. Later, Scott realized this plan wasn't important to him anymore. Why do you think that is? Should Laurie be expected to go along with her husband's new outlook, or should Scott be expected to stick with their original plan? In the end, Laurie sacrifices the family she's always dreamed of in order to help Curtis and Bray. Why does she make that choice?generic viagra price canada
Mara hides her condition from her friends on the online forum. Does this make her interactions with them less authentic? Have you ever used the anonymity offered by the Internet to present yourself as someone different from who you really are? Can online relationships ever be as authentic as in-person ones?generic viagra price canada
Mara is unable to accept the loss of her legal career and her dependence. Were you sympathetic to her about this, or upset with her? Is her reaction understandable, given her Type A personality, or should she have tried harder to accept her new reality for the sake of her family? Do you believe the motivation behind Mara's ultimate decision was Tom and Laks, or did she make a choice based on her own feelings and then justify it to herself by saying it was better for her husband and daughter? Is Mara self-sacrificing and brave, or is she selfish and cowardly?generic viagra price canada
If you were in either Mara's or Scott's position, what would you do?generic viagra price canada