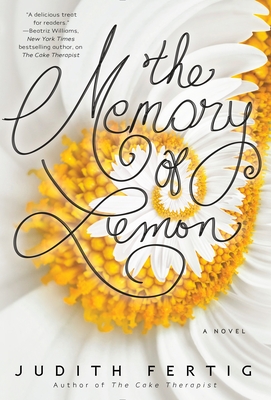 The Memory of Lemon
Paperback

* Individual store prices may vary.
Description
The author of The Cake Therapist returns with another sweet and emotional tale featuring Neely, the baker with a knack for finding exactly the right flavor for any occasion...
 
A crisp tang of citrus that is at once poignant and familiar, sharpening the senses and opening the mind to possibilities once known and long forgotten...
 
Claire "Neely" Davis is no ordinary pastry chef. Her flavor combinations aren't just a product of a well-honed palate: she can "taste" people's emotions, sensing the ingredients that will touch her customers' souls. Her gift has never failed her—until she meets a free-spirited bride-to-be and her overbearing society mother. The two are unable to agree on a single wedding detail, and their bickering leaves Neely's intuition frustratingly silent—right when she needs it most.
 
Between trying to navigate a divorce, explore a new relationship, and handle the reappearance of her long-absent father, Neely is struggling to make sense of her own conflicting emotions, much less those of her hard-to-please bride. But as she embarks on a flavorful quest to craft the perfect wedding celebration, she'll uncover a family history that sheds light on both the missing ingredients and her own problems—and illustrates how the sweet and sour in life often combine to make the most delicious memories...
Praise For The Memory of Lemon…
Praise for The Cake Therapist
 
"Like a master chef, Judith Fertig takes the tale of a gifted baker starting all over in her old Midwestern hometown and layers it together with an intriguing mystery buried deep in the community's Depression-era past."—Beatriz Williams, New York Times bestselling author of Along the Infinite Sea

"In a small town where secrets run deep and over generations, Fertig shows friendship, family, and food can bring people together and heal old wounds. "—Jill Shalvis, New York Times bestselling author of Still the One
 
"This delicious debut will leave your mouth watering and your eyes moist."—Linda Rodriguez, award-winning poet and author of Every Hidden Fear
 
"This sweet charmer of a story made me hungry for more."—Jeanne Ambrose, award-winning writer, cookbook author, and editor of Taste of Home magazine
 
"In this gem of a book, Fertig serves up a multi-layered story of family and love, lost and found...A touch of magical realism gives the book an additional intriguing facet."—RT Book Reviews
Berkley, 9780425277959, 304pp.
Publication Date: June 14, 2016
About the Author
Judith Fertig, author of The Cake Therapist, is an award-winning cookbook author whose food and lifestyle writing has appeared in more than a dozen publications, including Bon Appétit, Saveur, and the New York Times. Judith attended Ecole de Cuisine  La Varenne in Paris and the Graduate Summer Workshop at the University of Iowa Writers' Workshop. She teaches cooking classes across the country and lives in Kansas City.
A recent study from the Emory University School of Medicine shows that memories can be passed on to subsequent generations through DNA. What memories, abilities, or tendencies pass through the families in The Memory of Lemon?
Neely's gift allows her to sense a flavor that is a hyperlink to someone's hidden issue. The flavor leads to an emotion and then she sees a scene from someone's past. When she tries to resolve a difficult and classic standoff—Bride versus Mother—no flavor comes to her for a long time. Why do you think that is?
Do you agree with Neely's customers? Is pie more emotional, more nostalgic than cake? Which dessert is more attached to a certain memory for you—pie or cake?
In flashback scenes, we see characters who are Wanderers and Healers. Which one do you think best characterizes Neely? Are there any characters who started out as Wanderers and became Healers?
Neely's father, the homeless Jack O'Neil, knows he has to face a terrible Vietnam War experience in order to begin his journey toward normal life. How can reliving a horrifying experience eventually bring healing?
How do characters' perceptions of the river change over time? How does Abigail Newcomb feel about the river, contrasted with her granddaughter Little Abigail in later years? What does the river mean to Lydia? To Lydia's mother Cadence? To Neely and Ben?
The artist John James Audubon wandered through the American wildness and also wandered through this novel. How do the responses of Lydia and her mother to Audubon influences in the wedding underscore their differences?
We sense, through one of Neely's surprise flashbacks, that Sister Agnes might have had to give up a baby before she entered the novitiate. And that the child grew into someone Neely knows well. Were you surprised?
Some memories come back through flavor, some through song in this novel. What prompts memories for you? A certain aroma? A song on the radio?
Do dessert flavors run in families? If so, what flavor is the favorite in your family? Lemon? Spice? Chocolate?
In a world of instant communication, Neely is forced by circumstances to send snail mail letters to her father and to Ben. What is special about a letter? How do letters deepen the relationships between Neely and her father? Neely and Ben?
Gran, Jack O'Neil, and Neely all share the same gift of sensing a flavor that will lead to a story that reveals something that is hidden. But each of them has experienced the gift differently. Why do you think the young Gran tasted the bitter, inky flavor of a story that had yet to happen? Why can't Jack O'Neil "taste" things like Neely can anymore? Why does Neely have trouble deciphering the twin flavors of citrus and spice?
Why did Jack O'Neil feel he was helping his family by leaving them?
The Wanderers in this novel want to find a home. But when life changes might prompt us to move and lose touch with familiar places, where exactly is home? What is home? And how do we know when we're there?
or
Not Currently Available for Direct Purchase