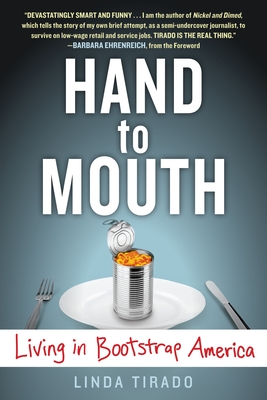 Hand to Mouth
Living in Bootstrap America
Paperback

* Individual store prices may vary.
Other Editions of This Title:
Digital Audiobook (10/1/2014)
Hardcover (10/2/2014)
Compact Disc (10/2/2014)
Description
The real-life Nickel and Dimed—the author of the wildly popular "Poverty Thoughts" essay tells what it's like to be working poor in America. ONE OF THE FIVE MOST IMPORTANT BOOKS OF THE YEAR--Esquire

"DEVASTATINGLY SMART AND FUNNY. I am the author of Nickel and Dimed, which tells the story of my own brief attempt, as a semi-undercover journalist, to survive on low-wage retail and service jobs. TIRADO IS THE REAL THING."—Barbara Ehrenreich, from the Foreword

As the haves and have-nots grow more separate and unequal in America, the working poor don't get heard from much. Now they have a voice—and it's forthright, funny, and just a little bit furious.

Here, Linda Tirado tells what it's like, day after day, to work, eat, shop, raise kids, and keep a roof over your head without enough money. She also answers questions often asked about those who live on or near minimum wage: Why don't they get better jobs? Why don't they make better choices? Why do they smoke cigarettes and have ugly lawns? Why don't they borrow from their parents?

Enlightening and entertaining, Hand to Mouth opens up a new and much-needed dialogue between the people who just don't have it and the people who just don't get it.
Praise For Hand to Mouth: Living in Bootstrap America…
"The woman who accidentally  explained poverty to the nation." —
The Huffington Post
"[A] whipsmart woman's firsthand account of what it looks and smells and tastes and feels like to be living in poverty …brilliant and to the point. You won't soon forget her voice or her message." —
Entertainment Weekly
"Funny, sarcastic, full of expletives, and most of all outrageously honest. . . . Tirado has a way with words that's somehow both breezy and blunt." —
BusinessWeek
"In this riveting memoir, Tirado shares in vivid detail what it's like to be a college graduate in the throes of poverty." —
Women's Health Magazine
"Must-read...powerful." —
Good Housekeeping
"Educative . . . Tirado's raw reportage offers solidarity for those on the front lines of hardship yet issues a cautionary forewarning to the critical: 'Poverty is a potential outcome for all of us.' Outspoken and vindictive, Tirado embodies the cyclical vortex of today's struggle to survive." —
Kirkus Reviews
"Tirado tells it like it is… Enthralling and horrifying, this should be required reading for policymakers."—
Booklist
, starred review
"In
Hand to Mouth
, [Tirado] uses her piercing insight, coupled with a confessional but unrepentant voice, to open a nuanced and deeply unsettling window into poverty in the U.S." —
Ms. Magazine
"This book should inspire important discussion." —
Library Journal
"The great thing about writing is that it doesn't discriminate, with regard to race or gender or anything, class included. Being rich and advantaged doesn't mean you won't be cruelly exposed on paper as a pompous fraud. Conversely, if you write well, being broke and tired won't prevent your talent and mental clarity from shining through. Linda Tirado is just a terrific writer. There's a crucial passage in
Hand to Mouth
where Linda asks why we all can't at least just agree that someone has to do the grunt work, and that there's dignity in that, too. With this strong and unembarrassed account of her life on the edges of poverty Linda single-handedly re-takes some of the dignity that has been stripped from people without means in this singularly greed-dominated, most mean-spirited generation in America's history. Honesty has its own power and this is a most honest book. Everyone who thinks things are just fine in this country should read it." —Matt Taibbi,
New York Times
bestselling author

"Linda Tirado tells it like it is for tens of millions of America's low-wage workers—a group that's growing even as America's billionaires rake in ever more of the nation's total income and wealth. The top hedge-fund partner got $3.5 billion in 2013. That came to $1,750,000 an hour. Yet somehow we can't even raise the minimum wage. Read what Linda has to say and you'll understand it's not because Linda or other low-wage workers somehow deserve to be treated this way any more than the $3.5 billion hedge-fund deserves his pay. The game is rigged and we must un-rig it." —Robert B. Reich, former U.S. Secretary of Labor, national bestselling author of Aftershock

"When our economy and our democracy are both broken, the story Linda Tirado writes here is simply known as real life for millions of Americans who are going broke every day and feel ignored by our government. Every American deserves an equal seat at the table in the halls of power and a wage that can put food on the dinner table. Hand to Mouth should serve as a red flag to the politicians in Washington and the millionaires on Wall Street, this is why we the people are mad as hell, and we're not going to take it anymore." —Cenk Uygur, Host of The Young Turks (www.tytnetwork.com)
"For those who have never had the experience, Tirado's book allows you to hear, smell, taste, feel and visualize life as a minimum wage worker. It also leaves you with two inescapable conclusions. First, poverty can happen to anyone—even if you are born into the middle class. Second, you can educate people until you are blue in the face, but as long as there are jobs that require sweeping floors, flipping burgers, or waiting tables, we will never eliminate poverty until everyone who works is paid a living wage." —Robert Creamer, Democracy Partners, author of Stand Up Straight: How Progressives Can Win
"Hand to Mouth delivers the message to America's poorest citizens, 'You are not alone,' and it represents a wake-up call to the world's wealthiest individuals that income inequality has dangerous economic consequences for real people. It is an insightful, heart-wrenching, and at times laugh-out-loud look into how a third of our fellow Americans are living as poor people in an economy that only serves the top 1%. If you can afford to purchase this book, you will be peering into a world you likely have never known and definitely will never forget. Tirado's words read like a conversation over coffee, but she delivers a devastating blow to our current economic assumptions equivalent to a modern day Oliver Twist or The Jungle." —Ryan Clayton, Executive Director, Wolf-PAC.com
"She is refreshingly infuriated. She acknowledges her faults, but she hones a constructive resentment to cut through her chronic depression, sharpen her wit and tune her X-ray vision into the disparities of power and money. She maps the chain reactions that lead families from one setback to another."--
The New York Times
"A terrific writer...A most honest book. Everyone who thinks things are just fine in this country should read it."—Matt Taibbi,
New York Times
bestselling author of
The Divide
"You won't soon forget her voice or her message."—
Entertainment Weekly
"Enthralling and horrifying, this should be required reading for policymakers."—
Booklist
(starred review)
"[An] unapologetic explanation for why she and other poor people do what they do. It's funny, sarcastic...and most of all outrageously honest."—
Bloomberg Businessweek
Berkley, 9780425277973, 240pp.
Publication Date: September 1, 2015
About the Author
Linda Tirado is a completely average American with two kids and, until recently, two jobs. Her essay "Why I Make Terrible Decisions, or, Poverty Thoughts" was picked up by the Huffington Post, the Nation, and countless other publications, and was read by more than six million people. This is her first book.