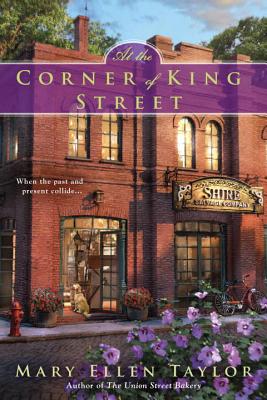 At the Corner of King Street (Alexandria Series #1)
Paperback

* Individual store prices may vary.
Description
The author of The Union Street Bakery presents a new novel about a woman searching for a fresh start—while unable to forget the past…
 
Adele "Addie" Morgan grew up in a house filled with pain and loss. Determined to live life on her own terms, Addie moves to the country and finds a job at a vineyard where she discovers stability, happiness, and—best of all—love with the kind owner, Scott.
 
But an unexpected call abruptly pulls Addie out of her new and improved life. Her sister has just given birth and Addie's Aunt Grace wants her to return home to help the family—even if it means confronting things she's tried so hard to forget.

When Addie arrives, she quickly realizes that she hasn't truly let go of her former life, at least not completely. After making a surprising connection with her sister's baby—and her sister's ex-husband, Zeb—Addie must choose between her picture-perfect future with Scott and the family roots she thought she'd left behind for good…
Praise For At the Corner of King Street (Alexandria Series #1)…
Praise for the novels of Mary Ellen Taylor:
 
"Taylor serves up a great mix of vivid setting, history, drama, and everyday life."—The Herald-Sun
 
"[A] charming and very engaging story about the nature of family and the meaning of love."—SeattlePI.com

"You will not be able to put this book down until you turn the very last page."—Fresh Fiction
Berkley, 9780425278253, 368pp.
Publication Date: May 5, 2015
About the Author
Mary Ellen Taylor is the author of Sweet Expectations and The Union Street Bakery. She lives in Virginia where she spends her spare time baking, practicing yoga, and visiting historical sites.
The novel alternates between the 18th century and the present time. Does this enhance the storytelling? How do the historical passages shed new light on the contemporary story?
Towards the beginning of the novel, Addie says of Shire Architectural Salvage, "For every item we were a second chance for some kind of life." How does the salvage shop represent the Shire family, past and present? Why do Grace and Addie gravitate towards this business?
Why didn't Addie tell Scott about her past? Was she right to keep it from him? How might their relationship have changed if she'd been open about her family early on?
Grace tells Addie, "I'll smash this life to bits. No Shire woman gets a free ride." Do you think she's justified in demanding that Addie step in? Are we bonded to our family even if they've caused us pain?
How is Grace different from Addie? Why does she believe she failed her family—and why does she think Addie can prevail?
The characters create their own modern-day witch bottles, filling them with their hopes and dreams. What would you put in your witch bottle?
Was Scott's interfering in Carrie's custody warranted? What would you have done in his situation? What about in Addie's or Janet's case?
Do you think the curse was real? And has it been broken now that Addie and Janet have mended their relationship?
Do you think one's centuries-old family history can affect future generations? How so?
What do you make of the ending? How do you see the story continuing?
or
Not Currently Available for Direct Purchase