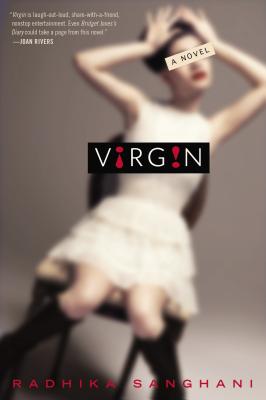 Virgin: Girl Cover (Paperback)
Girl Cover
Berkley Publishing Group, 9780425278338, 294pp.
Publication Date: August 5, 2014
* Individual store prices may vary.
or
Not Currently Available for Direct Purchase
Description
For those who grew up on Judy Blume and graduated to Lena Dunham a hilarious * debut...
Bridget Jones and Carrie Bradshaw, meet your wisecracking, vagina obsessed match. Sanghani's debut is a hilarious, irreverent look at smart-alecky, painfully self-concious, 21-year-old Ellie's relentless mission to rectify a disasterous first attempt at performing oral sex, get deflowered, find the perfect Brazilian wax, avoid her tradition-bound Greek mother's nagging, graduate summa cum laude, be a writer, and fit in...This story for millennials is a wonderful blend of modern agnst with old-fashioned sweetness. - Publishers Weekly (starred review)
Even Bridget Jones's Diary could take a page from this novel." *Joan Rivers
Okay, I admit it I didn t do it.
Yet.
This is normal, right? I mean, just because everyone I know has talked like they ve already done it doesn t mean that they re telling the truth right?
It's not like I m asking for that much. I don t need the perfect guy. I don t need candlelight or roses. Honestly, I don t even need a real bed.
The guys I know complain that girls are always looking for Mr. Right do I have to wear a sign that says I m only looking for Mr. Right Now?
Sooooo anyone out there want sex? Anyone? Hello? Just for fun?
I am not going to die a virgin. One way or another I am going to make this happen.
Hey, what have I got to lose? Besides the obvious.
About the Author
Radhika Sanghani is a journalist for The Daily Telegraph where she specialises in writing about women and women s issues. She has an MA in Newspaper Journalism from City University London, a BA in English Literature from University College London, and recently came second in GQ's Norman Mailer writing competition. This is her debut novel. She is currently working on a sequel which follows Ellie into The Slut Years. "
Advertisement