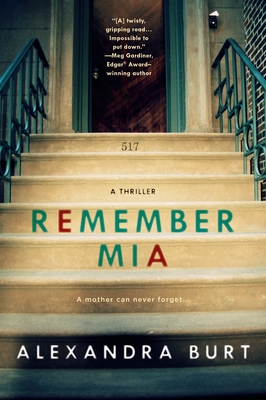 Remember Mia (Paperback)
Berkley, 9780425278406, 368pp.
Publication Date: July 7, 2015
Other Editions of This Title:
MP3 CD (10/27/2015)
Compact Disc (10/27/2015)
* Individual store prices may vary.
Description
Like Girl on the Train and Gone Girl, Remember Mia is a riveting psychological suspense, exploring what happens when a young mother's worst nightmare becomes devastatingly real…

First I remember the darkness.
Then I remember the blood.
I don't know where my daughter is.

Estelle Paradise wakes up in a hospital after being found near dead at the bottom of a ravine with a fragmented memory and a vague sense of loss. Then a terrifying reality sets in: her daughter is missing.

Days earlier, Estelle discovered her baby's crib empty in their Brooklyn apartment. There was no sign of a break-in, but all traces of seven-month-old Mia had disappeared. Her diapers, her clothes, her bottles—all gone. 

Frustrated and unable to explain her daughter's disappearance, Estelle begins a desperate search. But when the lack of evidence casts doubt on her story, Estelle becomes the number one suspect in the eyes of the police and the media.

As hope of reuniting with Mia becomes all she has left, Estelle will do anything to find answers: What has she done to her baby? And what has someone else done to her?
About the Author
Alexandra Burt is a freelance translator. Born in Europe, she moved to Texas twenty years ago. While pursuing literary translations, she decided to tell her own stories. After years of writing classes and gluttonous reading, her short fiction appeared in fiction journals and literary reviews.  She lives in Texas with her husband and daughter. Remember Mia is her first novel.
Praise For Remember Mia…
"Skip your morning coffee as you read this one. Your heart will pound a little faster with every page."—Oprah.com

"Remember Mia is a twisty, gripping read—beautifully written and impossible to put down."—Meg Gardiner, Edgar Award winning author

"As riveting as Gone Girl, but with an even sharper emotional edge, this story of a missing seven-month-old baby and the mother who has no recollection of the events surrounding her daughter's disappearance will pull you in from the very first page. The fast-paced plot, psychological intrigue, and engrossing twists will have you flipping pages faster and faster as Estelle's memories are gradually uncovered and piece by jagged piece the puzzle comes together."—Kelly Jones, Author of Lost and Found in Prague 
How would you feel if you woke up and experienced amnesia? Would you rather forget or remember a traumatic event?generic viagra price canada
Throughout the book, Estelle questions her mothering abilities and is consistently judged for how Mia behaves. Do you think if she was offered help or assistance that life would've unfolded differently for them?generic viagra price canada
Jack and Estelle handle their emotions in different ways. How does the scrutiny of outsiders burden the Connor family?generic viagra price canada
There is a heavy emphasis on the choices we make and the people we surround ourselves with. How do the people in your life improve the quality of it and the decisions you make?generic viagra price canada
At what point did you consider Estelle to be responsible for Mia's disappearance? Did you believe she was innocent or guilty? What drove you to this conclusion?generic viagra price canada
How did you feel when Jack took the job in Chicago? Do you believe a relationship can benefit from a temporary separation?generic viagra price canada
Throughout the novel, the reader is privy to Estelle's thoughts. There is a disconnect between what's racing in her mind and her ability to communicate or rationalize her decisions. Have you ever struggled to speak your mind when you knew that you should speak up?generic viagra price canada
How do you think Estelle handled the assumption that she was responsible for Mia's disappearance? If you were unsure if you did something, would you admit to it or fight it through to clear your name?generic viagra price canada
When searching through the building, Estelle encounters familiar smells that led to the immediate recall of memories. When has the sense of smell revived memories of your own?generic viagra price canada
How did your opinion of Estelle change over the course of the novel? How does she change, and how does the author enable us to recognize these changes?generic viagra price canada
How did your perception of the events shift throughout the novel? How does Estelle reconcile Mia's missing status and her newfound freedom?generic viagra price canada
Are all people deserving of a second chance? Is there a time that you received an opportunity to start over?generic viagra price canada
or
Not Currently Available for Direct Purchase