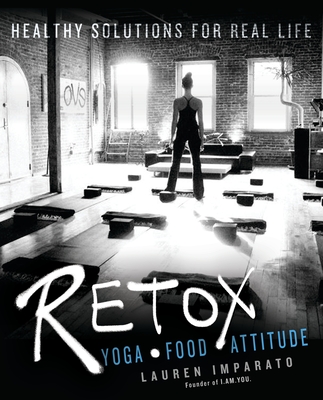 RETOX (Paperback)
Yoga*Food*Attitude Healthy Solutions for Real Life
Berkley, 9780425278505, 384pp.
Publication Date: February 2, 2016
* Individual store prices may vary.
Description
Practical health and wellness strategies from Lauren Imparato, creator of the I.AM.YOU. lifestyle brand and yoga studio
Rest to rage. Meditate to work. Cleanse to get dirty.
Enough preaching about self-deprivation.  No more striving for bodily purity. Who has the patience—or the time!—for strict dietary restrictions and hours of meditation? Let's get real. These tactics just don't work—at least not for long.  But that doesn't mean health and happiness are unobtainable.
Most often you just need an anxiety buster you can do while running down the street. Or a yoga pose you can do at your desk. Or a way to debloat what feels like an alien baby in your abdomen.
Retox
isn't about changing who you are or denying life's pleasures. It's about tailoring sensible, scientifically-based health practices to the life you already live. It's about working hard, playing harder, and renewing your balance and energy so you can do it all again.
In
Retox
, health expert Lauren Imparato strips yoga down to its anatomical principles, offering practical tips for fast relief. Then, drawing from a variety of disciplines—from psychology to nutrition to Tibetan philosophy—she designs no-nonsense strategies and delicious recipes to combat the most common challenges of modern life:
   •  Stress and anxiety
   •  Low energy
   •  Back pain and headaches
   •  Hangovers
   •  PMS
   •  Sleep Deprivation
   •  And much more…
About the Author
Lauren Imparato is a Princeton graduate, advanced yoga instructor, nutritional coach, mindfulness teacher, and speaker. She founded her wellness lifestyle company and yoga studio, I.AM.YOU., in 2009 after quitting her job as vice president at Morgan Stanley.  Specializing in realistic wellness solutions for busy lives, Lauren has led classes for tens of thousands in NYC's Central Park and Times Square, Madrid, Barcelona, Panama, and at the Cannes Film Festival.  She has been profiled by CNN, Bloomberg, Vogue, SELF, the Financial Times, New York Magazine, the New York Times, the Wall Street Journal, and other media outlets. She has been named one of the Top 100 Women to Watch in Wellness by MindBodyGreen and one of Elle's This is 30. 
Praise For RETOX: Yoga*Food*Attitude Healthy Solutions for Real Life…
"If you are in pursuit of happiness and health, you will find a fresh take with Retox—a perfect blend of yoga food and attitude!"—Jason Wachob, founder and CEO of mindbodygreen
 
"Finally a book with tools for everyday life that are easy to follow and understand."—Eve, Grammy Award-winning recording artist and actress

"Retox brings the sexy to mindful living. Lauren provides us with realistic ways to show up as the best version of ourselves and to fully enjoy this beautiful life we have been given."—Michael Franti, musician

"With a deep understanding of anatomy and physiology, in Retox, Lauren writes a fun and entertaining book that shows both students and instructors ways to maximize the value of yoga."—Francis X. Mendoza, MD

"An important work that will appeal to and help so many.  Retox is going to change the health of so many confused souls and show them a way to feel good every day."—Joel Kahn MD, Professor of Medicine, Wayne State University School of Medicine, author of The Whole Heart Solution and Dead Execs Don't Get Bonuses
 
"Retox provides actionable steps towards a healthy life and, most importantly, balance.  This book will help you discover the "new you" you've been waiting to meet, free of deprivation and negative self-talk."—Joshua Rosenthal, Founder & Director of The Institute for Integrative Nutrition
 
"Retox helps you eat your way to creating your strongest, healthiest you."—Terry Wahls, MD, author The Wahls Protocol: A Radical New Way to Treat All Chronic Autoimmune Conditions
 
"Retox is about living healthy and empowered in a world full of doubt and toxicity. This book will move you to practice, to receive the wisdom of your simplest acts of wellness, and give you healthy habits that are both accessible and joyful. If you're seeking full self-acceptance and comprehensive nourishment, I dare you to Retox!"—Elena Brower, Meditation and Yoga Teacher, Author of Art of Attention
 
"Retox is such a fresh take on living. Lauren invites us to live intuitively, a deserved freedom for all of us, especially in a time when there's so much restriction around food and body image."—Emily Nolan, Founder, My Kind of Life
 
"I love Retox. Flat out funny yet meticulously centered on healthy and achievable, everyday, good recipes and tips. Cuts through the crap and gets you eating what you need to be, without the pressure, guilt, or added expense but with all the enjoyment. It illustrates the important balance of leading a healthy life without forgoing the important pleasures in life."—Chef Seamus Mullen
 
"Yoga for the modern life! You need to delve deep into Lauren's book. Her insights and information are both illuminating and highly entertaining."—Mick Rock
 
"In Retox, Lauren tells it like it is and actually makes you want to eat what's good for you. She keeps the fun in food."—Chef Michael White, Altamarea Group

"Lauren vibrates with energy and love; she encapsulates physical and mental well-being. Retox is all about this energy.  Very inspiring and very practical…[Lauren's] brand is one of the most authentic ones in the wellness space."—Bernard Mariette, CEO, Lole