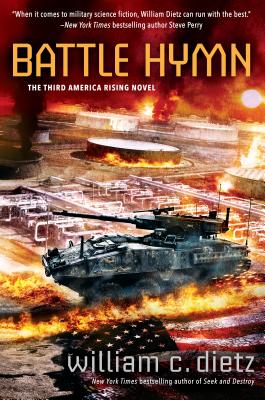 Battle Hymn (America Rising #3) (Hardcover)
Ace, 9780425278741, 352pp.
Publication Date: February 20, 2018
Other Editions of This Title:
MP3 CD (5/22/2018)
* Individual store prices may vary.
Description
From the New York Times bestselling author of the Legion of the Damned® novels comes the final volume in the postapocalyptic military science fiction trilogy about America warring with itself and the people trying to keep it together...

The Second Civil War continues to rage as Union president Samuel T. Sloan battles to keep America whole and, more than that, to restore the country to its former greatness.

"Wanted Dead or Alive." Following a fateful battle between Union Army major Robin "Mac" Macintyre and her sister, the New Confederacy places a price on Mac's head, and bounty hunters are on her trail.

But there's work to be done, and Mac is determined to help Sloan reunify the country by freeing hundreds of Union POWs from appalling conditions in Mexico and capturing a strategic oil reserve that lies deep inside Confederate territory.

However, to truly have peace it will be necessary to capture or kill the New Confederacy's leadership, and that includes Mac's father, General Bo Macintyre.
About the Author
William C. Dietz is the national bestselling author of more than forty novels, some of which have been translated into German, Russian, and Japanese. His works include the Legion of the Damned novels (Andromeda's War, Andromeda's Choice) and The Mutant Files (Graveyard, Redzone, Deadeye).
Praise For Battle Hymn (America Rising #3)…
"Saturated with swift thunderclap battles…Dietz has a steady hand with pacing (particularly in combat scenes) and a good ear for realistic battle chatter. He keeps the book consistently intense while displaying a knack for fleshing out flawed characters, both military and civilian. He likewise excels at individualizing characters, relationships…and large groups…Strongly recommended."—Publishers Weekly


"Steady action and suspense continues to the end…Entertaining."—Martha's Bookshelf



Praise for William C. Dietz and the America Rising series
"When it comes to military science fiction, William Dietz can run with the best."—Steve Perry, New York Times bestselling author

"Dietz's expertise in matters of mayhem is second to none."—The Oregonian

"William C. Dietz has produced an action packed, barnburner of a novel…This is a big blockbuster, big budget novel and the action is relentless…Hard military sci-fi in a post-catalyst American wasteland at its explosive best."—The Bookbeard's Blog

"Fans of military science fiction will have another strong series to look forward to…Dietz takes readers on an emotional roller coaster."—Amazing Stories

"An interesting and delightful read, with a good mix of action, intrigue, and the occasional bit of levity…highly recommended."—Game Vortex

"Dietz is a must-read for all military SF fans…If you enjoy an action story, strong military SF, or a good near-future Armageddon novel, be sure to read Into the Guns…you will be longing for the next volume as you finish the last page."—Galaxy's Edge Magazine