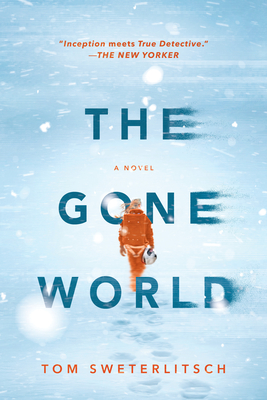 The Gone World (Paperback)
G.P. Putnam's Sons, 9780425278901, 400pp.
Publication Date: February 5, 2019
Other Editions of This Title:
Digital Audiobook (2/5/2018)
Hardcover (2/6/2018)
Paperback, Korean (2/19/2020)
Library Binding, Large Print (7/25/2018)
* Individual store prices may vary.
Description
Inception meets True Detective in this science fiction thriller of spellbinding tension and staggering scope that follows a special agent into a savage murder case with grave implications for the fate of mankind....

"I promise you have never read a story like this."—Blake Crouch, New York Times bestselling author of Dark Matter

Shannon Moss is part of a clandestine division within the Naval Criminal Investigative Service. In western Pennsylvania, 1997, she is assigned to solve the murder of a Navy SEAL's family—and to locate his vanished teenage daughter. Though she can't share the information with conventional law enforcement, Moss discovers that the missing SEAL was an astronaut aboard the spaceship U.S.S. Libra—a ship assumed lost to the currents of Deep Time. Moss knows first-hand the mental trauma of time-travel and believes the SEAL's experience with the future has triggered this violence.

Determined to find the missing girl and driven by a troubling connection from her own past, Moss travels ahead in time to explore possible versions of the future, seeking evidence to crack the present-day case. To her horror, the future reveals that it's not only the fate of a family that hinges on her work, for what she witnesses rising over time's horizon and hurtling toward the present is the Terminus: the terrifying and cataclysmic end of humanity itself.

Luminous and unsettling, The Gone World bristles with world-shattering ideas yet remains at its heart an intensely human story.
About the Author
Tom Sweterlitsch is the author of The Gone World and Tomorrow and Tomorrow. He has a Master's Degree in Literary and Cultural Theory from Carnegie Mellon and worked for twelve years at the Carnegie Library for the Blind and Physically Handicapped. He lives in Pittsburgh with his wife and daughter.
Praise For The Gone World…
One of the A.V. Club's Top 10 Books of the Year 2018
One of BookPage's Best Science Fiction and Fantasy of 2018

"The Gone World has already created quite a stir. . . . The book probes questions about consciousness and crime that call to mind, among others, True Detective and 12 Monkeys."—EW.com

"I like to be freaked out and mystified simultaneously. The Gone World, a gory time-travel thriller, does both in surprising ways....Inception meets True Detective, but it also contains elements of Solaris, Interstellar, Twin Peaks, Minority Report, and even Stargate. To all this, it adds some innovative time-travel shenanigans."--The New Yorker "Page-Turner" 

"The Gone World will horrify and fascinate readers in equal measure. It is also a primer on cutting-edge theories about time travel and astrophysics...Prepare to be dazzled."—Pittsburg Post-Gazette

"This is big-idea fiction that defies genre in the best possible way. Epic and mind-bending in scope, it carries the reader through on beautifully rendered, human moments."—Blake Crouch, author of Dark Matter and the Wayward Pines trilogy

"Time travel is a classic science fiction plot element, but it's rarely used so well as in Tom Sweterlitsch's The Gone World… Proof that superb world building isn't only the domain of extensive series."--The A.V. Club, "Best Books of 2018"

"In a word: Whoa! Edge-of-your-seat crime fiction that bends both time and mind."—Sylvain Neuvel, author of Sleeping Giants

"The Gone World … is going to blow readers away. . . .[Sweterlitsch's] ingenious apocalyptic thriller weaves a spell of rapture within each carefully composed page burnished with shimmering prose." —Syfy Wire

"A complicated, dazzling novel that keeps the reader hooked until the last pages… In many ways, it feels like it blends the supernatural and cosmic elements from True Detective, and the alternate universe elements of Fringe." —The Verge

"Another visionary blend of science fiction and mystery."—Pittsburgh Tribune-Review

"As if [The Gone World did not have] a thrilling enough premise, Sweterlitsch stirs an intriguing end-of-the-world scenario into the mix... How the murder inquiry and the enigma of the terminal event are linked is just one of the many enjoyable aspects of this dark, page-turning SF thriller; another is the character of Moss... She is a resilient, vulnerable, and likable protagonist." —The Guardian

"A fascinating blend that doesn't skimp on the criminal investigation or the [sci fi]...Describing much more than [the] simple setup would rob the reader of the trippy experience of navigating the time-travel intricacies of this nail-biting speculative thriller."—Library Journal (starred review)

"Sweterlitsch has crafted a powerful and compelling protagonist in Shannon Moss. . . The Gone World displays the mesmerizing power of rich speculative fiction, which drives the investigation forward (and backward) in time. Transporting readers to increasingly hostile timelines, Sweterlitsch delivers visceral and unflinching action in this dynamic merger of murder mystery and futuristic vision." —BookPage

"A mind-blowing fusion of science fiction, thriller, existential horror, and apocalyptic fiction...The power of this novel is two-fold: Sweterlitsch's intricately plotted storyline will keep readers on the edges of their seats until the very last pages, and his extended use of bleak imagery coupled with his lyrical writing style make for an intense and unforgettable read."—Kirkus Reviews (starred review)

"Sweterlitsch offers a highly engaging—and deeply human—story informed by hard science and a refreshing sensitivity to trauma and disability. . .The Gone World is as unsettling as it is unforgettable." —ShelfAwareness

"Billed as Inception meets True Detective, this scifi thriller follows a secret agent within the NCIS as she investigates a strange murder and a related missing-person case that ... could possibly bring about the end of life as we know it." —Io9

"An engrossing literary mashup of crime fiction and mind-blowing science fiction. . . There is endless invention in this novel. Sweterlitsch touches upon alternate realities, time travel, advanced technologies, and even Philip K. Dick-inspired notions of pre-crime warrants. . . This is marvelous stuff! . . . Highly recommended."—The Missourian

"Sweterlitsch follows his futuristic, cyberpunk thriller Tomorrow and Tomorrow with a complex mystery involving time travel, alternate possibilities, murder, terrorism, and one woman's determination to prevent the end of time. . . For hard-core science-fiction fans." —Booklist

"Amazing. . . combines science fiction and thriller with classic crime noir, time travel, existentialism, philosophy, religion and end-of-the-world scenarios, all strung together in the style of the best literary fiction you will find out there today....Tom Sweterlitsch has created an all-time original story that is both genre-breaking and trendsetting."—Bookreporter.com

"At once futuristic, nightmarish and hard-boiled. Once again Sweterlitsch takes readers to another world and back again. Take the trip."—Stewart O'Nan

"Compelling...The multiple futures and the contemporary setting showcase world-building at its finest, while the characterizations are thought provoking and grittily realistic...A page-turner from beginning to end!"—RT Book Reviews

"[An] investigation into the gruesome murder of a Navy SEAL's family takes some science fictional turns. . . Sweterlitsch juggles all of these balls masterfully. His Moss feels fully realized and the plot is propulsive." —Locus Magazine

"Thought-provoking and entertaining in equal measure. The way the future is presented, as one possibility of many, is good, solid theory and the author describes it in remarkable clarity. . . The character of Moss shines through." —SF Book Reviews