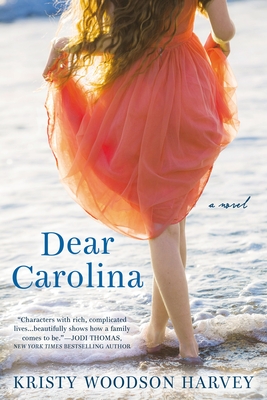 Dear Carolina (Paperback)
Berkley, 9780425279984, 320pp.
Publication Date: May 5, 2015
* Individual store prices may vary.
Description
"A major new voice in southern fiction."—Elin Hilderbrand, New York Times bestselling author

A moving debut novel about two mothers—one biological and one adoptive—from a compelling new voice in Southern women's fiction.

One baby girl.
Two strong Southern women.
And the most difficult decision they'll ever make.

Frances "Khaki" Mason has it all: a thriving interior design career, a loving husband and son, homes in North Carolina and Manhattan—everything except the second child she has always wanted. Jodi, her husband's nineteen-year-old cousin, is fresh out of rehab, pregnant, and alone. Although the two women couldn't seem more different, they forge a lifelong connection as Khaki reaches out to Jodi, encouraging her to have her baby. But as Jodi struggles to be the mother she knows her daughter deserves, she will ask Khaki the ultimate favor...

Written to baby Carolina, by both her birth mother and her adoptive one, this is a story that proves that life circumstances shape us but don't define us—and that families aren't born, they're made...


"Dear Carolina is Southern fiction at its best....Beautifully written."—New York Timesbestselling author Eileen Goudge 

About the Author
Kristy Woodson Harvey holds a degree in journalism and mass communications from the University of North Carolina at Chapel Hill and a master's in English from East Carolina University. She writes about interior design and loves connecting with readers. She lives in North Carolina with her husband and three-year-old son. Dear Carolina is her first novel.
Praise For Dear Carolina…
*PopSugar's Best Books for Women*
*Huffington Post's Summer Reading: Women's Fiction Style*
*Glitter Guide's Must-Read List for June*
*Deep South Magazine's Best Beach Reads*
*The Herald Sun's Summer Reads*

Praise for Dear Carolina:

"Characters with rich, complicated lives…beautifully shows how a family comes to be."—New York Times bestselling author Jodi Thomas

"A beautifully written and overwhelmingly heart driven book that makes me proud to call myself a North Carolinian! The south is known for breeding brilliant storytellers and Kristy Woodson Harvey has proven herself to be one of the south's most heartfelt female driven authors of our generation."—Jaime Pressly, star of CBS's Mom

"Ingenious."—Romantic Times

"Southern fiction at its best. Lovely and lyrical, with the strong voices of the two female narrators taking us deep into the heart of what being a mother is about. It shows us that love is not without sacrifice, and there's little in life that doesn't go down easier with a spoonful of jam. Beautifully written."—New York Times bestselling author Eileen Goudge

"Kristy Harvey is a natural."—Ann Garvin, Author of On Maggie's Watch and The Dog Year

"Southern to the bone and full of engaging characters...a strikingly beautiful story of love and sacrifice."—Kim Boykin, author of Palmetto Moon 

"A stunning southern and compelling debut of love and sacrifice. The next Dorothea Benton Frank meets Emily Giffin!"—JDC Must Read Books

"A beautiful depiction of two very different lives paralleled only through motherhood, Dear Carolina comes to a powerful conclusion: 'You can never have too many people who love you.'"—Deep South Magazine

"Just plain good fiction."—Greensboro News & Record

"Will tug at your heart-strings in so many ways."—Traveling with T

"By far one of the best women's fiction books I've ever read."—The Turning Pages