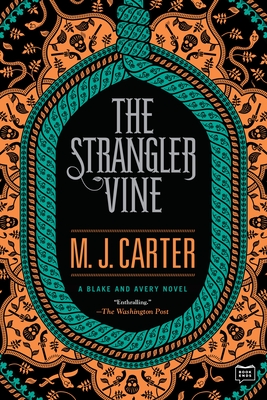 The Strangler Vine (A Blake and Avery Novel #1)
Paperback

* Individual store prices may vary.
Other Editions of This Title:
Digital Audiobook (3/30/2015)
Compact Disc (3/31/2015)
MP3 CD (3/31/2015)
Hardcover (3/31/2015)
Description
Set in the untamed wilds of nineteenth-century colonial India, this dazzling historical thriller introduces Blake and Avery—an unforgettable investigative pair.

India, 1837: William Avery is a young soldier with few prospects except rotting away in campaigns in India; Jeremiah Blake is a secret political agent gone native, a genius at languages and disguises, disenchanted with the whole ethos of British rule, but who cannot resist the challenge of an unresolved mystery. What starts as a wild goose chase for this unlikely pair—trying to track down a missing writer who lifts the lid on Calcutta society—becomes very much more sinister as Blake and Avery get sucked into the mysterious Thuggee cult and its even more ominous suppression.

There are shades of Heart of Darkness, sly references to Conan Doyle, that bring brilliantly to life the India of the 1830s with its urban squalor, glamorous princely courts and bazaars, and the ambiguous presence of the British overlords—the officers of the East India Company—who have their own predatory ambitions beyond London's oversight.

A FINALIST FOR THE EDGAR AWARD FOR BEST NOVEL
A WASHINGTON POST NOTABLE BOOK
LONGLISTED FOR THE BAILEYS WOMEN'S PRIZE FOR FICTION
Praise For The Strangler Vine (A Blake and Avery Novel #1)…
Praise for The Strangler Vine
 
"Totally engrossing—the sort of story that makes you forget that there are other books stacked next to your bed, waiting to be read."—Michael Lewis, The New York Times Book Review

"Enthralling...The Strangler Vine is more than just a picturesque quest through exotic lands. Carter makes a subtle critique of how fact and fiction, myth and history intertwine."—The Washington Post

"The Strangler Vine is a splendid novel with an enthralling story, a wonderfully drawn atmosphere, and an exotic mystery that captivated me."—Bernard Cornwell

"Thoroughly researched...entertaining...This tale of two ill-yoked companions involved in conspiracy and betrayal is a welcome addition to the surprisingly thin body of novels about the great and at times appalling imperial adventure."—The Wall Street Journal

"Wonderful reading, I just couldn't put it down."—Nancy Pearl
 
"[A] yarn reminiscent of adventures by Sir Arthur Conan Doyle."—The New York Post

"M. J. Carter has given her readers a cracking-good old-style adventure yarn. There is mystery, murder, highway robbery, a sinister religious cult, a tiger hunt and danger and intrigue everywhere....Carter paints a vivid picture of mid-19th-century India, from the teeming bazaars to the pricely palaces, while exploring the "strangler vine" of British rule in India."—The Free Lance Star

"Shades of H. Rider Haggard and Rudyard Kipling! Fans of the old-school adventure genre, in which brave heroes plunge into an unspeakable wilderness, finding danger at every step, should rejoice....An absolute corker of a read, with marvelous characterization and trenchant historical analysis."—Booklist (starred review)

"Superior fiction debut...The quest takes some surprising turns, and Carter is masterly at keeping the reader guessing what's really going on. The final revelation is jaw-dropping"—Publishers Weekly (starred review)

"From the thrilling prolog to the satisfying conclusion, former journalist and nonfiction author Carter's first foray into fiction hooks the reader into a ripping adventure ride, full of danger, conspiracy, and trickery....Historical fiction fans who love action, adventure, and intrigue supported by incredible research will devour this novel, which was longlisted for the 2014 Baileys Women's Prize for Fiction."—Library Journal (starred review)

"In the great detective novel tradition of The Moonstone and the Sherlock Holmes series, by way of The Glass Books trilogy....With gorgeous historical detail and deft characterization, Carter creates a rip-roaring detective romp."—Susan Elia MacNeal, New York Times bestselling author of the Maggie Hope series
 
"This is a gripping story of conspiracy and betrayal set in an early Victorian India that is rendered with complete conviction. And as a historian, the author offers a thought-provoking re-interpretation of the Thuggee story."—Charles Palliser, international bestselling author of The Quincunx
 
"M. J. Carter has cooked up a spicy dish: a pinch of Moonstone, a dash of Sherlock and a soupçon of Fu Manchu added to a rich stew of John Masters. A splendid romp and just the job for a cold winter's evening in front of a blazing fire"—William Dalrymple, author of White Mugals: Love and Betrayal in Eighteenth-Century India
G.P. Putnam's Sons, 9780425280744, 400pp.
Publication Date: February 23, 2016
About the Author
M.J. Carter is the author of the Blake and Avery novels, including The Devil's Feast, The Infidel Stain, and The Strangler Vine.  A former journalist, she is also the author of two acclaimed works of nonfiction, Anthony Blunt: His Lives and George, Nicholas and Wilhelm: Three Royal Cousins and the Road to World War I. She is married with two sons and lives in London.
or
Not Currently Available for Direct Purchase