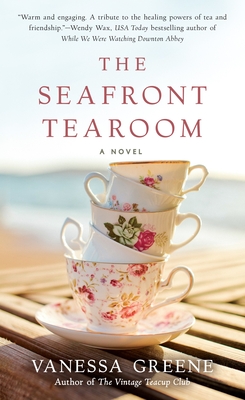 The Seafront Tearoom (Paperback)
Berkley Books, 9780425281260, 368pp.
Publication Date: December 1, 2015
* Individual store prices may vary.
Description
From the author of The Vintage Teacup Club The first rule of afternoon tea: never rush. Take time to savor it. Just like friendship... The Seafront Tearoom is an insider secret in small-town Scarborough - a beach-front haven with the best tea and cakes in town - and journalist Charlie Harrison would love to put it on the map with a feature in her magazine. But single mom Kat Murray doesn't want to see her favorite sanctuary overrun by tourists, and begs Charlie to seek out other options. She offers her help, as a "tea obsessive," and so does French au pair Seraphine Moreau, whose upbringing makes her a connoisseur of everything sweet and indulgent. Together the three women will scour the countryside for quaint hideaways and hidden gems, sharing along the way their secrets, disappointments, and dreams - and discovering that friendship, like tea, takes time to steep. But learning too that once you open your heart, the possibilities are endless. Reading Guide Included
About the Author
Vanessa Greene's first novel was The Vintage Teacup Club. Vanessa lives in London with her husband and young son, and her perfect weekend would feature chocolate muffins, good friends, and, of course, the perfect cup of tea.
Which character do you most identify with and why? Which character do you find most compelling? Why do you think the author chose the setting that she did?
The women in this book quickly bond and support each other through tough times. How easy or difficult is it to make friends and maintain friendships as an adult?
The Seafront becomes "home away from home" for several folks, including those who live near it. Do you have a place that serves a similar purpose in your life?
One underlying theme of the book is that people can most change when they enter a different environment. Do you believe this to be possible? Have you ever had such an experience?
Early on we learn that Charlie and Pippa don't get along. Then we see the tension during Charlie's initial visit with Pippa and her young family. Who do you think is in the wrong or is this classic sibling rivalry? Do you think Charlie's decision to stay at a hotel was the right one?
When Seraphine is teaching Letty how to bake a tarte tatin, she shares the story of how the beloved dessert accidentally came to be. Letty comments on how sometimes the best things come from accidents. Upon reflection, who or what do you think Letty is thinking of? And do you feel that she is being honest with herself?
Charlie is given a high-priority writing assignment. While she's utterly excited about it and sees what an opportunity it is, she calls her boss Jess to tell her that a family emergency has come up. She tells Jess that she'll still be able to meet deadlines and can write from where she is, but Jess doesn't think the setup is ideal. What does Charlie's decision to stay by her sister's side actually say about her feelings towards Pippa, family and, ultimately, her career? And do you think her decision is independent of or a reflection of her breakup?
What do you think possesses Charlie to open up to Euan the first time they hang out together? She later says that when she's with him that she doesn't have to pretend to be someone she's not. Is it him or the context in which they meet that makes her feel this way?
When Kat returns from Scotland with Leo, she beats herself up for leaving Leo in the care of Jake—someone who cannot take care of himself. Is she being too hard on herself or is she finally seeing Jake for who he is?
Letty decides to share a truth after a long-buried secret is unearthed. Her decision has serious implications on the lives of others, not to mention her relationships with these people. What do you think of her decision and the approach she took in both hiding and then revealing the truth?
At different times and in different ways, Charlie and Seraphine struggle with the expectations their families have placed on them. Meanwhile, Kat struggles to accept a family she didn't know existed. At first glance the author illustrates that families can be complicated, but then we see things shift once the women make a choice. What is the author saying or what is the takeaway here?
Both Charlie and Kat are forced to confront the men who betrayed and disappointed them. What did you think of the approach that each took?
or
Not Currently Available for Direct Purchase