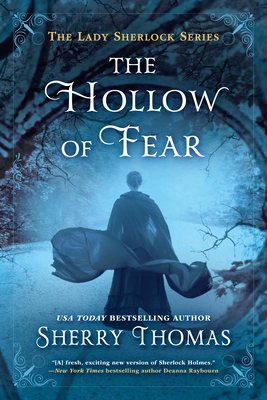 The Hollow of Fear (The Lady Sherlock Series #3) (Paperback)
Berkley, 9780425281420, 336pp.
Publication Date: October 2, 2018
Other Editions of This Title:
Library Binding, Large Print (1/23/2019)
Compact Disc (10/2/2018)
Compact Disc (10/2/2018)
MP3 CD (10/2/2018)
Pre-Recorded Audio Player (10/2/2018)
* Individual store prices may vary.
Description
As seen on The Today Show! One of the best summer mystery picks!

Charlotte Holmes, Lady Sherlock, returns in the Victorian-set mystery series from the USA Today bestselling author of A Conspiracy in Belgravia and A Study in Scarlet Women, an NPR Best Book of 2016.

Under the cover of "Sherlock Holmes, consulting detective," Charlotte Holmes puts her extraordinary powers of deduction to good use. Aided by the capable Mrs. Watson, Charlotte draws those in need to her and makes it her business to know what other people don't.

Moriarty's shadow looms large. First, Charlotte's half brother disappears. Then, Lady Ingram, the estranged wife of Charlotte's close friend Lord Ingram, turns up dead on his estate. And all signs point to Lord Ingram as the murderer.

With Scotland Yard closing in, Charlotte goes under disguise to seek out the truth. But uncovering the truth could mean getting too close to Lord Ingram--and a number of malevolent forces...
About the Author
USA Today bestseller Sherry Thomas is one of the most acclaimed historical romance authors writing today and a two-time RITA award winner.
Praise For The Hollow of Fear (The Lady Sherlock Series #3)…
Praise for The Hollow of Fear

"The resolution, as well as the spell cast by Thomas' language and clever use of disguise to reveal a devastating understanding of human flaws and desires, leaves one with a good book hangover. A novel in which you cannot wait to find out what happens next—even as you do not want it to end."—Kirkus Reviews (starred review)

"The mystery at the novel's heart is compelling...but it's once again the author's incisive and compassionate glimpses at how women survive the strictures of misogyny that place the book a cut above the rest."—The Austin Chronicle

"This spell-binding tale is the third in the Lady Sherlock Historical Mysteries and is even better (if possible) than the last. For those who have yet to experience this new "take" on the beloved Sherlock Holmes and the Victorian realm that never disappoints, this is a series you must start reading right now!"—Suspense Magazine

More Praise for the Lady Sherlock Series
 
"A Conspiracy in Belgravia is a more-than-worthy follow up to the first Lady Sherlock, and it has left me with a dire need for the next and the next and perhaps another after that."—CriminalElement.com
 
"I am breathless. Not to mention sleepless, as I had to stay up late to finish this amazing book. Sherry Thomas is simply a genius—twisting classic Sherlockian memes into complicated knots and then gradually untying them so that we're left with a beautiful seamless ribbon of an adventure tinged with romance."—Romantic Historical Reviews
 
"Thomas maintains the shadowy Victorian setting as she advances her marvelous take on the Holmes canon...The unexpected cliff-hanger will have readers (even astute ones) gasping (and grinning) in recognition. A must for mystery/Sherlock fans and readers who love excellent puzzles."—Library Journal
 
"Thomas's use of language, the way she uses gender reversal to conceal revelations, and the intricacies of her plotting mean that I will rediscover more things to relish in A Study in Scarlet Women each time I reread it."—NPR.com
 
"Sherry Thomas has done the impossible and crafted a fresh, exciting new version of Sherlock Holmes. From the carefully plotted twists to the elegant turns of phrase, A Study in Scarlet Women is a splendid addition to Holmes's world. This book is everything I hoped it would be, and the next adventure cannot come too soon!"—Deanna Raybourn, New York Times bestselling author
 
"Sherry Thomas is a master of her craft, and A Study in Scarlet Women is an unqualified success: brilliantly executed, beautifully written, and magnificently original—I want the next volume now!"—Tasha Alexander, New York Times bestselling author
 
"Clever and absorbing. Thomas's gorgeous prose and expert characterizations shine in this new incarnation of Sherlock Holmes. Readers will wait with bated breath to discover how Thomas will skillfully weave in each aspect of the Sherlockian canon, and devour the pages to learn how the mystery unfolds."—Anna Lee Huber, national bestselling author