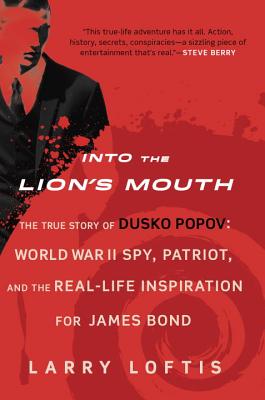 Into the Lion's Mouth (Hardcover)
The True Story of Dusko Popov: World War II Spy, Patriot, and the Real-Life Inspiration for James Bond
Dutton Caliber, 9780425281819, 384pp.
Publication Date: June 14, 2016
Other Editions of This Title:
MP3 CD (9/20/2016)
* Individual store prices may vary.
Description
International bestseller!

James Bond has nothing on Dusko Popov. a double agent for the Abwehr, MI5 and MI6, and the FBI during World War II, Popov seduced numerous women, spoke five languages, and was a crack shot, all while maintaining his cover as a Yugoslavian diplomat…
 
On a cool August evening in 1941, a Serbian playboy created a stir at Casino Estoril in Portugal by throwing down an outrageously large baccarat bet to humiliate his opponent. The Serbian was a British double agent, and the money―which he had just stolen from the Germans―belonged to the British. From the sideline, watching with intent interest was none other than Ian Fleming…

The Serbian was Dusko Popov. As a youngster, he was expelled from his London prep school. Years later he would be arrested and banished from Germany for making derogatory statements about the Third Reich. When World War II ensued, the playboy became a spy, eventually serving three dangerous masters: the Abwehr, MI5 and MI6, and the FBI.
 
On August 10, 1941, the Germans sent Popov to the United States to construct a spy network and gather information on Pearl Harbor. The FBI ignored his German questionnaire, but J. Edgar Hoover succeeded in blowing his cover. While MI5 desperately needed Popov to deceive the Abwehr about the D-Day invasion, they assured him that a return to the German Secret Service Headquarters in Lisbon would result in torture and execution. He went anyway... 
 
Into the Lion's Mouth is a globe-trotting account of a man's entanglement with espionage, murder, assassins, and lovers―including enemy spies and a Hollywood starlet. It is a story of subterfuge and seduction, patriotism, and cold-blooded courage. It is the story of Dusko Popov―the inspiration for James Bond.
 
INCLUDES PHOTOGRAPHS
About the Author
Larry Loftis is an attorney, author, and adjunct professor of law.  He has published legal articles in the University of Florida Law Review, Suffolk Transnational Law Journal, Georgia Journal of International and Comparative Law, Florida Bar Journal, National Law Journal, and Florida Banking.  He received a BA from the University of Florida, an MA from Reformed Theological Seminary, and a JD from the University of Florida Law School, where he served on the Law Review as the senior executive editor and senior articles editor. He also served at the law school as a teaching fellow for Legal Research and Writing/Appellate Advocacy.
Praise For Into the Lion's Mouth: The True Story of Dusko Popov: World War II Spy, Patriot, and the Real-Life Inspiration for James Bond…
Praise for Into the Lion's Mouth

"A sensational book, telling a remarkable true story that few know, even those in the intelligence business. Written in the style of the best spy thrillers, the book is impossible to put down. A must read."  —Michael Morell, acting CIA Director (ret.)
 
"A work of non-fiction that's more thriller than biography…Well-researched."—USAToday.com

"Gripping...This one will keep you planted in your reading chair from start to finish."—Michael Connelly, #1 New York Times bestselling author
 
"Who needs fiction. Truth is a thousand times better, and this true-life adventure has it all.  Action, history, secrets, conspiracies—a sizzling piece of entertainment that's real."—Steve Berry, New York Times bestselling author
 
"An intriguing and fascinating book describing the life of a real spy and Britain's most successful double agent…Shocking."—James A. Lyons, Jr., Admiral, United States Navy (retired)
 
"Packs the punch of a cyanide capsule."—Joshua Hood, author of Clear by Fire and Warning Order
 
"One of the most fascinating things I've ever read, period. Gripping, thrilling, and too crazy to be true—except that it is. Reads less like a biography and more like a thriller novel."—The Real Book Spy


or
Not Currently Available for Direct Purchase