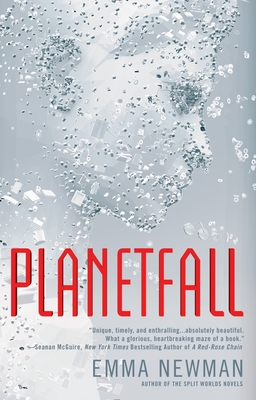 Planetfall (A Planetfall Novel #1)
Paperback

* Individual store prices may vary.
Other Editions of This Title:
Digital Audiobook (11/2/2015)
Compact Disc (11/3/2015)
MP3 CD (11/3/2015)
Compact Disc (11/3/2015)
Description
From the Hugo Award-winning author of Between Two Thorns comes the first novel in a captivating science fiction series where a secret withheld to protect humanity's future may lead to its undoing…

"Cathartic and transcendent."—The New York Times

"An exceptionally engaging novel that explores the complex relationship between mythology and science."—The Washington Post

Renata Ghali believed in Lee Suh-Mi's vision of a world far beyond Earth, calling to humanity. A planet promising to reveal the truth about our place in the cosmos, untainted by overpopulation, pollution, and war. Ren believed in that vision enough to give up everything to follow Suh-Mi into the unknown.

More than twenty-two years have passed since Ren and the rest of the faithful braved the starry abyss and established a colony at the base of an enigmatic alien structure where Suh-Mi has since resided, alone. All that time, Ren has worked hard as the colony's 3-D printer engineer, creating the tools necessary for human survival in an alien environment, and harboring a devastating secret.

Ren continues to perpetuate the lie forming the foundation of the colony for the good of her fellow colonists, despite the personal cost. Then a stranger appears, far too young to have been part of the first planetfall, a man who bears a remarkable resemblance to Suh-Mi.

The truth Ren has concealed since planetfall can no longer be hidden. And its revelation might tear the colony apart...
Praise For Planetfall (A Planetfall Novel #1)…
Praise for Planetfall

"Cathartic and transcendent."—The New York Times

"An exceptionally engaging novel that explores the complex relationship between mythology and science...Surprising plot turns and richly developed characters make for a vivid, riveting read."—The Washington Post

"I have been waiting for this book for a very long time. Planetfall is gripping, thoughtful science fiction in the vein of Tiptree or Crispin. Unique, timely, and enthralling...Emma Newman has crafted a story that turns inward on itself in a beautiful spiral; the written equivalent of the golden mean.  Absolutely worth your time. Science fiction is meant to show us things about ourselves that we need to know. Planetfall is some of the finest sociological science fiction I have read since Tiptree...Absolutely beautiful. What a glorious, heartbreaking maze of a book."—Seanan McGuire, author of A Red Rose Chain

"Newman has crafted a thrilling tale of murder, mystery and madness on a world where humanity is still its own worst enemy. Horrifying and heartbreaking in equal measure, the catastrophe driving this narrative will keep you riveted until the very last page. Don't miss this one."—Kameron Hurley, author of the The Mirror Empire

"A fascinating and propolsive tale about what could happen when actual humans try to settle a planet and about how little protection technology can really offer in the face of our inherent weaknesses."—Locus

"Incredibly well-realized world building...Thrilling."—io9.com

"Builds and builds to this remarkable crescendo...The ending had me breathless...an awesome book."—Roxane Gay, author of An Untamed State

"Think Interstellar, think Prometheus. We have a destiny waiting for us among the stars, and now it's calling to us. A great genre debut, and beautifully written: an unfolding alien mystery, and complex, utterly believable characters. You will want to believe."—Stephen Baxter, National Bestselling Author of Ultima

"Filled with wonders, revelations, and edge-of-the-seat suspense, Planetfall is a fascinating, heartbreaking exploration of love and loneliness set against an awe-inspiring backdrop. An instant classic of the genre."—Gareth L. Powell, BSFA Award-winning author of Ack-Ack Macaque

"A strange but mesermizing book in which almost nothing is as it seems...Reeads at once like a character study, a mystery, a hard science-fiction tale about the colonists on an alien world, and a surrealist science fiction about alien life. Above all, this is a novel about the price of secrets."—RT Book Reviews

"This heartbreaking adventure is a tragedy of science and faith...[Newman] carefully manages her pacing until events make each revelation as inevitable as it is destructive."—Publishers Weekly
Ace, 9780425282397, 336pp.
Publication Date: November 3, 2015
About the Author
Emma Newman is the author of Planetfall, After Atlas, Before Mars, and Atlas Alone and is also a professional audiobook narrator, narrating short stories and novels in all genres. She also cowrites and hosts a Hugo nominated podcast called "Tea & Jeopardy." Emma is a keen role-player, gamer, and designer-dressmaker.
or
Not Currently Available for Direct Purchase