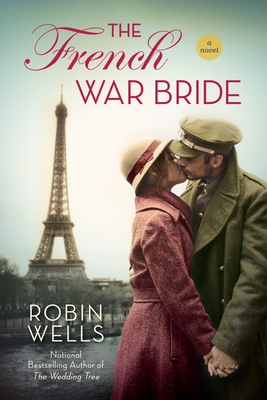 The French War Bride (Wedding Tree #2)
Paperback

* Individual store prices may vary.
Other Editions of This Title:
Digital Audiobook (3/27/2017)
MP3 CD (3/28/2017)
MP3 CD (3/28/2017)
Compact Disc (3/28/2017)
Compact Disc (3/28/2017)
Description
*USA TODAY BESTSELLER*

World War II Paris serves as the backdrop for a story of compassion, betrayal, and forgiveness from the national bestselling author of The Wedding Tree...
 
At her assisted living center in Wedding Tree, Louisiana, ninety-three-year-old Amélie O'Connor is in the habit of leaving her door open for friends. One day she receives an unexpected visitor—Kat Thompson, the ex-fiancée of her late husband, Jack.
 
Kat and Jack were high school sweethearts who planned to marry when Jack returned from France after World War II. But in a cruel twist of fate, their plans were irrevocably derailed when a desperate French girl overheard an American officer's confession in a Parisian church...
 
Now, Kat wants to know the truth behind a story that's haunted her whole life. She thinks finding out how Amélie stole Jack's heart will finally bring her peace. As Amélie recalls the dark days of the Nazi occupation of Paris, The French War Bride reveals how history shapes the course of our lives...for better or for worse.
 
READERS GUIDE INSIDE
Praise For The French War Bride (Wedding Tree #2)…
Praise for the novels of Robin Wells
 
"Sympathetic, memorable characters, a touching story, gentle humor, and evocative writing."—Library Journal

"A tightly woven plot incorporating riveting facets of the Nazi occupation makes this character-driven novel a delight to read, and sheds light on both the devastation of France during WWII and the cruelties that war gives birth to."—Historical Novel Society
Berkley, 9780425282441, 480pp.
Publication Date: August 2, 2016
About the Author
Before she became a USA Today bestselling author, Robin Wells was an advertising and public relations executive, but she always dreamed of writing novels—a dream inspired by a grandmother who told "hot tales" and parents who were both librarians. Her books have won the RWA Golden Heart, two National Readers' Choice Awards, the Holt Medallion and numerous other awards. She now lives in Texas with her husband, but will always be a Louisiana girl at heart.
Amelie told Jack, "In war, the concept of 'right' stands on its head." Is there a different moral code during times of war? Where does one draw the line?
In Chapter 21, Yvette said,"Guilt is the price we pay for being alive during this terrible time." What does she mean? Do you believe in survivor's guilt?
Amelie learns to lie and keep secrets to help free her country. Is lying always wrong, or are there exceptions? Would it be hard to "turn off" such learned behavior?
Pierre thought the Nazis would win the war. Is it human nature to want to align with the winners, or to stand with your fellow countrymen? Why or why not?
What was behind Yvette's decision to become the mistress of a high-ranked German? What do you think of her decision?
What do you think of the statement, "In war, we must use everything we have at our disposal. Nothing done to save France would be unholy."
Kat says that her father had never talked about his time during the first World War. Why do think that was? Why did many WWII veterans not talk about the war once they came home?
Do you think Jack would have married Kat as planned if he hadn't met Amelie? Why or why not?
How did it affect the characters in the story to learn that the French government had fled Paris, then surrendered? Can you imagine how it would feel to have your own country overtaken and occupied by a foreign army?
Why do you think the French treated the collaborationists so cruelly after the war?
In Chapter 16, when Amelie doubted that she was serving a useful purpose, Joshua told her that this was not for her to know; she must just believe she was and keep going. How did this advice impact her? Was it wise? Is this advice applicable to your life?
All of the women on the bride boats were leaving their families behind and traveling to a foreign land, not knowing when or even if they'd ever see them again. Can you imagine doing this? Why or why not?
In what ways does the book illustrate the era's attitudes towards women?
Describe Amelie's faith journey. Did Kat grow and change? What about Jack?
or
Not Currently Available for Direct Purchase