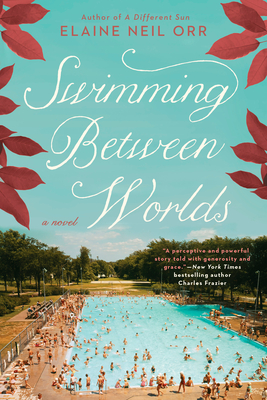 Swimming Between Worlds
Paperback

* Individual store prices may vary.
Other Editions of This Title:
Digital Audiobook (4/2/2018)
Description
From the critically acclaimed writer of A Different Sun, a Southern coming-of-age novel that sets three very different young people against the tumultuous years of the American civil rights movement...

Tacker Hart left his home in North Carolina as a local high school football hero, but returns in disgrace after being fired from a prestigious architectural assignment in West Africa. Yet the culture and people he grew to admire have left their mark on him. Adrift, he manages his father's grocery store and becomes reacquainted with a girl he barely knew growing up.

Kate Monroe's parents have died, leaving her the family home and the right connections in her Southern town. But a trove of disturbing letters sends her searching for the truth behind the comfortable life she's been bequeathed.

On the same morning but at different moments, Tacker and Kate encounter a young African-American, Gaines Townson, and their stories converge with his. As Winston-Salem is pulled into the tumultuous 1960s, these three Americans find themselves at the center of the civil rights struggle, coming to terms with the legacies of their pasts as they search for an ennobling future.
Praise For Swimming Between Worlds…
Praise for Swimming Between Worlds
 
"A perceptive and powerful story told with generosity and grace. The struggle of its deftly-drawn young characters to navigate the monumental changes—cultural and personal—that the civil rights movement brought to the South is rich and compelling."—New York Times bestselling author Charles Frazier
 
"A smart and tender tale. I was left with admiration for Orr's exquisite prose along with an awareness of one simple truth: sometimes it takes living in another culture to better understand your own. A beautiful book."—Diane Chamberlain, New York Times bestselling author of The Stolen Marriage
 
"An original and important novel certain to take its place in American literature on race. The narrative unfolds with urgency and power, in graceful prose rich in sensuous detail. [Orr's] finest work to date."—Angela Davis-Gardner, author of Plum Wine
 
"A blistering story told by a gifted writer. From the moment I began this compelling novel, it followed me around; the riveting plot and real-life characters would not let me go."—Anna Jean Mayhew, author of The Dry Grass of August
 
"Orr brings the South and Nigeria together in a manner that illuminates the richness and privations of both cultures. As ever, her writing is lush and sensuous. This poignant and triumphant story shows two Americans emerging in a complex time from their own sorrow and displacement to take on political unrest and the turmoils of love."—Peggy Payne, author of Sister India

"A touching love story....[and an] intelligently written and vivid evocation of a civil rights struggle that has heartbreaking relevance to the here and now. You will experience in these pages the physical and emotional bravery of the men and women who dared to push the boundaries of what was seemingly immutable."—Eleanor Morse, author of White Dog Fell from the Sky

"Poignant and agonizing, the novel captures the South the moment before the gun went off, prefiguring our current national trauma around race and society."—Fenton Johnson, author of The Man Who Loved Birds
 
"A captivating narrative about race, sex, nationality, generations and romance, Orr's expansive new novel fulfills the promise of her debut tour de force, A Different Sun.  Her keen sense of historical impact and geographical detail keeps us reading and hoping for a sequel."—Valerie Miner, author of Traveling with Spirits

"A novel of great humanity…Conceived with compassion and rendered with grace, it scores a triumph for its author and a blessing for her readers."—Richmond Times-Dispatch 

"The novel comprises the depth and breath of Orr's most exquisite and carefully wrought prose."--Southern Literary Review

"A thoughtful read touching on social as well as personal issues."—Booklist

"The catalyst for the biggest cry I've ever had reading a book. No French ending here. Sad, but with a brilliant resolution…. [I] found myself rejoicing at story's end—with tears streaming down my face."—Smoky Mountain News   

"Orr offers beautifully wrought lesson about America's troubled race relations and what it means to follow one's conscience."—Greensboro News & Record   

"Orr has crafted an intelligent book that both challenges and entertains"—The News & Observer

"Set indeed in two worlds, these lives blend, merge and diverge in a sea of wonderful prose and pure storytelling infused with all the right elements marking a fine Southern novel."—Mountain Times
Berkley, 9780425282731, 416pp.
Publication Date: April 3, 2018
About the Author
Elaine Neil Orr is professor of English at North Carolina State University in Raleigh, where she teaches world literature and creative writing. She also serves on the faculty of the low-residency MFA in Writing program at Spalding University in Louisville. Author of A Different Sun, two scholarly books, and the memoir Gods of Noonday: A White Girl's African Life, she has been a featured speaker and writer-in-residence at numerous universities and conferences and is a frequent fellow at the Virginia Center for the Creative Arts. She grew up in Nigeria.
1. Chapter One begins with the line "Tacker Hart came home from Nigeria to discover a town he almost knew." Do you think Tacker ultimately understands the town more or less by the end of the novel? What are the factors that shape his changing consciousness?
2. Tacker and Kate meet Gaines on the same day but respond to him in very different ways. How does each character see Gaines initially, and why? How does this view of Gaines change over the course of the novel? Whose friendship surprised you the most?
3. The novel's title, Swimming Between Worlds, emphasizes the important role that water plays in the story. How does water shape the lives of the main characters? What significance does the act of swimming hold in relation to the novel's themes?
4. Why is a grocery store such a surprising yet likely setting for the unfolding of this particular story? How do houses and architecture play a role in all of the characters' destinies?
5. In many ways, this is a coming-of-age story—we see Tacker, Kate, and Gaines searching for their places in the world. What one thing does each character seek most dearly, and why? Has each character achieved his or her goal at the end of the novel? Did their wants and desires resonate with your own memories of being a young adult?
6. Tacker experiences the minutiae of day-to-day life in both Nigeria and North Carolina. In what ways does each place fulfill the idea of "home" for Tacker? Do you think he would be happier living in one place over the other?
7. Tacker and Kate's romantic relationship undergoes numerous ups and downs. What did you think of their courtship and its challenges? Did their romance develop the way you expected? How did each character have to grow and change to achieve a loving relationship?
8. Throughout the novel, the reader is invited back to experience the full backstory of Tacker's time in Nigeria. How does Tacker's experience in West Africa frame his perception of the emerging civil rights movement? Have you read any other work that connects West Africa and American civil rights in this way?
9. Examine the scene in which Kate nearly faints and is helped to the lunch counter by Gaines. Why do you think this is the moment when her beliefs and perceptions truly change? What is its significance?
10. Discuss the ways in which Kate changes over the course of the novel. How does photography enable her to come to terms with the past and her choices for the future? Consider the line "This seemed, finally, the clear truth of the camera: that the eye sees what it expects to see." How is this true not only for Kate, but for other characters in the novel?
11. Tacker's choice of whether to design the bathhouse places him at the center of a difficult moral dilemma. Do you think he ultimately makes the right decision? What would you have done in his place?
12. What did you think of the novel's ending? Were you surprised by Kate's decision at the conclusion of the book? What do you think her future holds? Do you anticipate that her friendship with Gaines and Valentine will endure?
13. How would this story be different if it were set in the Winston-Salem of today? What similarities exist between then and now?
or
Not Currently Available for Direct Purchase