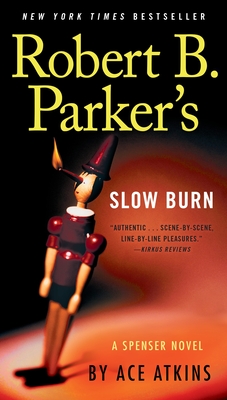 Robert B. Parker's Slow Burn (Spenser #45)
Paperback

* Individual store prices may vary.
Other Editions of This Title:
Digital Audiobook (5/2/2016)
Paperback, Large Print (5/9/2017)
Hardcover, Large Print (5/4/2016)
CD-Audio (2/14/2017)
Compact Disc (5/3/2016)
Hardcover (5/3/2016)
Description
Boston PI Spenser faces a hot case and a personal crisis in this adventure in Robert B. Parker's iconic New York Times bestselling series.

The fire at a boarded-up Catholic church raged hot and fast, lighting up Boston's South End and killing three firefighters who were trapped in the inferno. A year later, as the city prepares to honor their sacrifice, there are still no answers about how the deadly fire started. Most at the department believe it was just a simple accident: faulty wiring in a century-old building. But Boston firefighter Jack McGee, who lost his best friend in the blaze, suspects arson.

McGee is convinced department investigators aren't sufficiently connected to the city's lowlifes to get a handle on who's behind the blaze—so he takes the case to Spenser. Spenser quickly learns not only that McGee might be right, but that the fire might be linked to a rash of new arsons, spreading through the city, burning faster and hotter every night. Spenser follows the trail of fires to Boston's underworld, bringing him, his trusted ally Hawk, and his apprentice Sixkill toe-to-toe with a dangerous new enemy who wants Spenser dead, and doesn't play by the city's old rules. Spenser has to find the firebug before he kills again—and stay alive himself.
Praise For Robert B. Parker's Slow Burn (Spenser #45)…
Praise for Robert B. Parker's Slow Burn

"Scene-by-scene, line-by-line pleasures are authentic."—Kirkus Reviews
 
"Atkins tosses in a surprising change to his lead's status quo, and series fans will be eager to see what he does with it in Spenser's next outing."—Publishers Weekly

"A 5-alarm thriller...Atkins deftly recreates the Spenser character and his Boston milieu."—Associated Press
 
"Sizzling...Slow Burn rises to a blazing finish and leaves Spenser with some major decisions to make. Can't wait to find out how it goes."—Tampa Bay Times

Praise for Ace Atkins and the Spenser Series

"Handpicked by the Parker estate to be the keeper of the flame for the Spenser franchise, award-winning author Ace Atkins rises flawlessly to the occasion. In addition to the signature dialogue, all the familiars are fully resurrected: Susan, the sexy shrink; Pearl, the wonder dog; Hawk, the wonder sidekick; good cop Quirk, and, of course, Spenser himself, that consummate knight errant for the twenty-first century."—Kirkus Reviews

"It's a feat when a writer creates characters who live and breathe on the page and make readers care and keep coming back for more. To manage that with someone else's characters, let alone with an icon like Spenser, is a minor miracle. Ace Atkins pulls it off."—Chicago Sun-Times

"Atkins does a wonderful job with the characters created by Parker."—Booklist
 
"Classic Spenser—the Spenser of wry wit, tasty food and drinks, hard workouts and lethal confrontations...Once again, Atkins has delivered a thriller that evokes the best of Parker's Spenser series, not least the punchy back-and-forth of the dialogue."—Associated Press

"Atkins has done a splendid job of capturing the voice of the late Robert B. Parker."—Publishers Weekly
G.P. Putnam's Sons, 9780425283196, 368pp.
Publication Date: May 2, 2017
About the Author
Robert B. Parker was the author of seventy books, including the legendary Spenser detective series, the novels featuring police chief Jesse Stone, and the acclaimed Virgil Cole–Everett Hitch westerns, as well as the Sunny Randall novels. Winner of the Mystery Writers of America Grand Master Award and long considered the undisputed dean of American crime fiction, he died in January 2010.
 
Ace Atkins is the New York Times bestselling author of the Quinn Colson novels, the first two of which—The Ranger and The Lost Ones—were nominated for the Edgar Award for Best Novel (he also has a third Edgar nomination for his short story, "Last Fair Deal Gone Down"). In addition, he is the author of several New York Times bestselling novels in the continuation of Robert B. Parker's Spenser series. Before turning to fiction, he was a correspondent for the St. Petersburg Times, a crime reporter for the Tampa Tribune, and, in college, played defensive end for the undefeated Auburn University football team (for which he was featured on the cover of Sports Illustrated). He lives in Oxford, Mississippi.