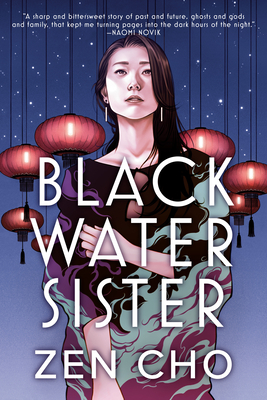 Black Water Sister
Paperback

* Individual store prices may vary.
Description
A reluctant medium discovers the ties that bind can unleash a dangerous power in this compelling Malaysian-set contemporary fantasy.
 
When Jessamyn Teoh starts hearing a voice in her head, she chalks it up to stress. Closeted, broke and jobless, she's moving back to Malaysia with her parents – a country she last saw when she was a toddler.

She soon learns the new voice isn't even hers, it's the ghost of her estranged grandmother. In life, Ah Ma was a spirit medium, avatar of a mysterious deity called the Black Water Sister. Now she's determined to settle a score against a business magnate who has offended the god—and she's decided Jess is going to help her do it, whether Jess wants to or not.

Drawn into a world of gods, ghosts, and family secrets, Jess finds that making deals with capricious spirits is a dangerous business, but dealing with her grandmother is just as complicated. Especially when Ah Ma tries to spy on her personal life, threatens to spill her secrets to her family and uses her body to commit felonies.  As Jess fights for retribution for Ah Ma, she'll also need to regain control of her body and destiny – or the Black Water Sister may finish her off for good.
Praise For Black Water Sister…
"Zen Cho's brilliant and distinct voice brings worlds to life on the page. A sharp and bittersweet story of past and future, ghosts and gods and family, that kept me turning pages into the dark hours of the night."—Naomi Novik, New York Times bestselling author of A Deadly Education
 
"Told with love and humour, Black Water Sister is both ode and accusation to all the ties that bind—to family, duty and home. Thrilling and terrifying, honest and hopeful, this may be Zen Cho's best work yet."—Karen Lord, award-winning author of Unraveling

"Zen Cho's Black Water Sister is a perfect blend of ghosts, gods, and the eternal bonds of family ties. Set in the gorgeous backdrop of Penang, Jess reunites with her extended family and navigate the world of spirits and gangsters. This novel is perfect for readers craving an otherworldly, atmospheric fantasy."—Roselle Lim, author of Natalie Tan's Book of Luck & Fortune

"A thrilling modern fantasy tale packed to the brim with deliciously petty spirits, intriguing family secrets, and an achingly tender personal journey for our thoroughly relatable heroine. I absolutely loved it."—Sarah Kuhn, author of Heroine Complex 

"Ghosts, gods, and supernatural vengeance collide in vividly-depicted modern day Malaysia to create a contemporary fantasy story that's full of voice and heart. At turns suspenseful, poignant and hilarious, Black Water Sister is an addictive tale of personal identity, family secrets, and culture clash."--Fonda Lee, author of The Green Bone Saga


"A creepily atmospheric and surprisingly heartwarming tale of gangsters, family, and spirits."—Ailette de Bodard, Nebula-award winning author of Seven of Infinities


"Cho's multifaceted characters, like her masterful plot, are never quite what they first appear. Unpredictable twists keep the pages turning while the comic but endearing relationship between Jess and her sassy grandmother provides the story's heart. This is must-read fantasy."—Publishers Weekly

"Zen Cho's Black Water Sister is the diaspora fantasy of my dreams—funny, creepy, and heartfelt. Jessamyn Teoh never wanted to be haunted by her sassy, score-settling grandmother, but when she moves from America to her parents' hometown in Malaysia, she must navigate family, gods, ghosts and old grudges in this compelling and heartwarming ghost story.—Vanessa Len
 

 "A compelling and deftly written ghost story of a young woman's passage through the grudges and tragedies of her family's past to find a path into a future she chooses for herself."—Kate Elliott, New York Times bestselling author of Unconquerable Sun

"Cho blends Malaysia's Chinese diaspora culture with Jess's U.S. upbringing; she lays bare the internal clash between Jess's own identity and desires and her impulse to be a 'good daughter' . . . An immersive tale of family secrets, deities, spirits, and religious belief. Cho offers a complex emotional roller-coaster of a read."—Library Journal
Ace, 9780425283431, 384pp.
Publication Date: May 11, 2021
About the Author
Zen Cho is the author of a short story collection and two historical fantasy novels, Sorcerer to the Crown and The True Queen. She is a winner of the Crawford, British Fantasy, and Hugo Awards, and a finalist for the Locus and Astounding Awards. Born and raised in Malaysia, she now lives in the United Kingdom.