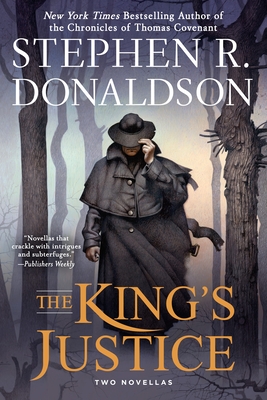 The King's Justice (Paperback)
Ace, 9780425283899, 320pp.
Publication Date: September 6, 2016
Other Editions of This Title:
Hardcover (10/13/2015)
* Individual store prices may vary.
Description
A cause for celebration among Stephen R. Donaldson's many fans: two original novellas—his first publication since finishing the Thomas Covenant series.
 
In "The King's Justice," a stranger dressed in black arrives in the village of Settle's Crossways, following the scent of a terrible crime. He even calls himself Black, though almost certainly that is not his name. The people of the village discover that they have a surprising urge to cooperate with this stranger, though the desire of inhabitants of quiet villages to cooperate with strangers is not common in their land, or most lands. But this gift will not save him as he discovers the nature of the evil concealed in Settle's Crossways.
 
The "Augur's Gambit" is a daring plan created by Mayhew Gordian, Hieronomer to the Queen of Indemnie, a plan to save his Queen and his country. Gordian is a reader of entrails. In the bodies of chickens, lambs, piglets, and one stillborn infant he sees the same message: the island nation of Indemnie is doomed. But even in the face of certain destruction a man may fight, and the Hieronomer is utterly loyal to his beautiful Queen—and to her only daughter. The "Augur's Gambit" is his mad attempt to save a kingdom.
About the Author
Stephen R. Donaldson is the author of the original six volumes of The Chronicles of Thomas Covenant, a landmark in modern fantasy. Every volume, beginning with Lord Foul's Bane in 1977, has been an international bestseller. Donaldson returned to the series with The Last Chronicles of Thomas Covenant, comprising The Runes of the Earth, Fatal Revenant, Against All Things Ending, and The Last Dark.
Praise For The King's Justice…
"Skillfully crafted characters...Readers who enjoyed the complex characters and layered plots of his Thomas Covenant novels will find similar pleasures in these two tales."—Publishers Weekly
 
Praise for the Thomas Covenant Chronicles
 
"[A] landmark fantasy saga."—Entertainment Weekly
 
"A trilogy of remarkable scope and sophistication."—Los Angeles Times
 
"The most original fantasy since The Lord of the Rings."—Time Out
 
"I don't think books like this come along more than a few times in a lifetime."—Marion Zimmer Bradley
 
"Will certainly find a place on the small list of true classics."—The Washington Post Book World
 
"Covenant is Donaldson's genius."—The Village Voice