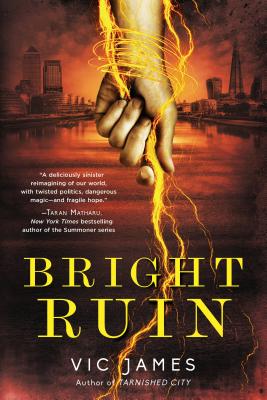 Bright Ruin (Dark Gifts #3) (Hardcover)
Del Rey, 9780425284186, 416pp.
Publication Date: October 9, 2018
* Individual store prices may vary.
Description
As the dystopian trilogy that began with Gilded Cage and Tarnished City concludes, the people of Britain rise up against their magically gifted masters. They must break the system—or be broken.

MAGIC RUINS. WE RISE.

The rules are simple, the system cruel: the lower classes must give ten years in service to Britain's powerfully gifted rulers. With one uprising crushed by the glittering elite, commoners and aristocrats alike now take sides for a final confrontation.

At the center of it all are two ordinary siblings: Abi Hadley and her brother, Luke. Each has reason to hate the ruling Jardine family. Abi, who was once their servant, now seeks revenge for a terrible wrong. Luke was imprisoned on their whim—but his only hope may be an alliance with the youngest and most powerful of the clan, the cold and inscrutable Silyen Jardine.
 
Risking everything to end a bright and shining tyranny, Abi, Luke, and Silyen find themselves bound by a single destiny. Their actions will change their fates—and change the world. But at a cost almost too terrible to contemplate.

What price would you pay for freedom?

Look for all three books in the mesmerizing Dark Gifts trilogy:
GILDED CAGE • TARNISHED CITY • BRIGHT RUIN
About the Author
Vic James is the author of Gilded Cage, which was shortlisted for the Compton Crook award and was a World Book Night 2018 pick, and its sequels Tarnished City and Bright Ruin. A current-affairs TV director who loves stories in all their forms, she has covered the 2016 U.S. presidential election and Britain's EU referendum for BBC1 and has twice judged The Guardian's Not the Booker Prize. She has lived in Rome and Tokyo, and currently lives in London.
Praise For Bright Ruin (Dark Gifts #3)…
Praise for Vic James's GILDED CAGE

"Compelling and fascinating . . . [an] outstanding fantasy debut."—Bookreporter

"A great book to start your new series obsession . . . for those who can barely get enough of the British dramas like Downton Abbey or the magical worlds of J. K. Rowling."—BookPage

"Exquisitely wicked . . . a lavishly opulent, yet brutally vivid, alternate England which subtly questions modern beliefs . . . If ever there was a speculative fiction book that captured the zeitgeist of an era this is it."—SFFWorld

TARNISHED CITY

"Highly recommended . . . There's an admirable level of world-building. . . . with real moments of empathy and compassion [and] a true nail-biter of a cliffhanger ending."—Fantasy Literature

"Multifaceted complexity . . . lively, determined characters."—Publishers Weekly