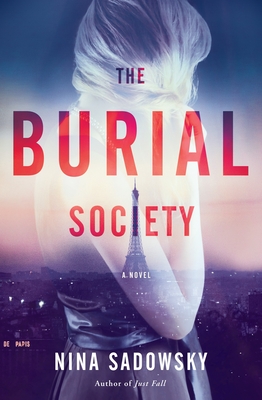 The Burial Society (Hardcover)
A Novel
Ballantine Books, 9780425284377, 336pp.
Publication Date: January 30, 2018
Other Editions of This Title:
Digital Audiobook (1/29/2018)
* Individual store prices may vary.
Description
A woman running from a dark past stumbles upon a tangled nest of seductions and secrets in this psychological thriller of obsession and betrayal.

Catherine, no last name, doesn't bury the dead. She rescues the living—from intolerable, abusive, dangerous lives. Her darknet-based witness protection program, the Burial Society, is the last hope for people who desperately need to disappear. Catherine takes care of them and provides new identities. She is effective and efficient—until she discovers that her slipup may have compromised a client, maybe even killed her. Powerless to help without exposing her shadowy profession, Catherine makes a drastic move.

With her covert service relocated to Paris, Catherine's done her best to move on. But when a dark part of her past suddenly appears in the City of Light, she refuses to run—and her life takes a harrowing turn.

Using all the tricks of her unusual trade, Catherine weaves her way through a dangerous landscape of treachery, infidelity, paranoia, and secrets that bind as deeply as blood. But the evil of the enemy she's pursuing runs deeper still—to the bone. And even Catherine's most cunning skills may not be enough to save herself.

Praise for The Burial Society
 
"A complex but strangely exciting thriller."—Booklist

"A deeply unsettling, compulsively entertaining Rubik's Cube of a novel . . . Every time you think you've unlocked the puzzle, Nina Sadowsky introduces a new twist that makes you start guessing all over again."—Michelle Richmond, New York Times bestselling author of The Year of Fog and The Marriage Pact
 
"The Burial Society is a twisty, ever-deeper, can't-let-go read! The heroine can trust no one as she struggles to help abused and endangered women in a world of secrets and shadows. . . . A dynamite psychological thriller by a new master of the genre."—Karen Harper, New York Times bestselling author of Falling Darkness
 
"Addicting and chilling . . .  a smart, sophisticated, terrifying trip to the City of Light."—Susan Elia MacNeal, New York Times bestselling author of the Maggie Hope series
About the Author
Nina Sadowsky has written numerous original screenplays and adaptations for such companies as The Walt Disney Company, Working Title Films, and Lifetime Television. She was the executive producer of The Wedding Planner, has produced many other films, and was president of Meg Ryan's Prufrock Pictures. Sadowsky is currently an adjunct professor at USC's School of Cinematic Arts, teaching both script development and producing. This is her second novel.
Praise For The Burial Society: A Novel…
"A complex but strangely exciting thriller."—Booklist

"A deeply unsettling, compulsively entertaining Rubik's Cube of a novel . . . Every time you think you've unlocked the puzzle, Nina Sadowsky introduces a new twist that makes you start guessing all over again."—Michelle Richmond, New York Times bestselling author of The Year of Fog and The Marriage Pact
  
"The Burial Society is a twisty, can't-let-go read! The heroine can trust no one as she struggles to help abused and endangered women in a world of secrets and shadows. . . . A dynamite psychological thriller by a new master of the genre."—Karen Harper, New York Times bestselling author of Falling Darkness
 
"Addicting and chilling . . .  a smart, sophisticated, terrifying trip to the City of Light."—Susan Elia MacNeal, New York Times bestselling author of the Maggie Hope series
 
"A unique style, a fast pace, a Parisian setting, and a myriad of intriguing, puzzling characters make The Burial Society impossible to put down. Sadowsky uncovers dark and hidden secrets as she skillfully unravels the façade of a picture-perfect family."—Susan Crawford, author of The Pocket Wife and The Other Widow
 
"A whip-smart psychological thriller . . . a page-turner filled with unexpected twists and an explosive ending."—Carla Buckley, author of The Good Goodbye
 
"Sadowsky dances on a razor-thin line of tension as an avenging angel—a woman you'd never want to cross—tracks a dangerous psycho-killer in a terrifying journey that keeps you turning the pages."—Tom Avitabile, author of Give Us This Day 

"I flat-out loved it. The Burial Society is wonderful fiction. Nina Sadowsky really understands the art of the thriller."—Robin Swicord, writer/director, The Jane Austen Book Club and writer, Memoirs of a Geisha
 
"A thoroughly engrossing exploration of a family's tragedy and the stranger who enters their lives on a dangerous mission . . . intriguing and sexy with layers of betrayals, secrets, and surprising twists."—Julie Plec, writer/producer, The Vampire Diaries
 
"The Burial Society is the devil on your shoulder, seducing you with every sharp twist and turn. This book picks at the scars of family tragedy with a perfectly manicured nail, leaving you guessing until the very end."—Alexi Hawley, writer/executive producer, Castle and The Following

"Addictive! Sadowsky's story moves at breakneck speed to its shocking conclusion. You won't be able to put it down!"—Laura Griffin, New York Times bestselling author of Touch of Red