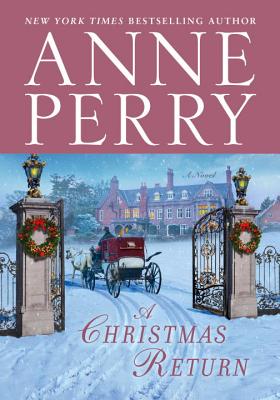 A Christmas Return (Hardcover)
A Novel
Ballantine Books, 9780425285077, 192pp.
Publication Date: November 7, 2017
* Individual store prices may vary.
Description
'Tis the season of giving—and with this wonderful book, New York Times bestselling author Anne Perry shares a brand-new holiday mystery filled with bygone relationships and hidden secrets.

As Charlotte Pitt's grandmother Mariah Ellison finds herself investigating a long-unsolved slaying, it becomes clear that grappling with intrigue and foul play runs in the family. A festive Christmas package left on Mariah's doorstep contains an ominous present, sparking memories of a twenty-year-old murder that shattered her friendship with the victim's widow. Though the gift is a bitter reminder of that tragic time, in the spirit of the season Mariah travels to Surrey in hopes of reconciling with her estranged friend and solving the crime that drove them apart. 

On arrival, Mariah joins forces with the murdered man's grandson, a sleuth in his own right who's discovered promising evidence as well as a suspect. But Surrey's picturesque hills conceal dark doings and shocking revelations that could make the holiday anything but calm and bright.

Decked with intrigue and trimmed with Yuletide spirit, A Christmas Return is a holiday treat wrapped in the glorious storytelling talents of the reigning master of Victorian mystery.

Praise for A Christmas Return

"This compact little gem, [Anne] Perry's fifteenth Christmas novella, demonstrates her proficiency in writing Victorian-set mysteries. . . . The atmosphere of close-knit village life in the 1890s feels pitch-perfect, from the homeliness of residents' holiday decor to the gossip that spreads like a dreadful stain. The characterization is superb, and the work's short length is perfect for the material. The spirit of the Christmas season is cleverly evoked through the underlying theme that it's never too late for reconciliations and second chances."—Historical Novels Review (Editors' Choice)
 
"Perry's many fans will enjoy another winning Victorian-era mystery set during the holidays."—Library Journal
 
"Exceptional . . . Perry unobtrusively incorporates insights about the true meaning of the season into the engrossing plot."—Publishers Weekly (starred review)
About the Author
Anne Perry is the bestselling author of fourteen previous holiday novels, as well as the William Monk series and the Charlotte and Thomas Pitt series set in Victorian England, five World War I novels, and a work of historical fiction, The Sheen on the Silk. Anne Perry lives in Los Angeles and Scotland.
Praise For A Christmas Return: A Novel…
"This compact little gem, [Anne] Perry's fifteenth Christmas novella, demonstrates her proficiency in writing Victorian-set mysteries. . . . The atmosphere of close-knit village life in the 1890s feels pitch-perfect, from the homeliness of residents' holiday decor to the gossip that spreads like a dreadful stain. The characterization is superb, and the work's short length is perfect for the material. The spirit of the Christmas season is cleverly evoked through the underlying theme that it's never too late for reconciliations and second chances."—Historical Novels Review (Editors' Choice)
 
"Perry's many fans will enjoy another winning Victorian-era mystery set during the holidays."—Library Journal
 
"Exceptional . . . Perry unobtrusively incorporates insights about the true meaning of the season into the engrossing plot."—Publishers Weekly (starred review)

Praise for the Christmas Novels of Anne Perry
 
"Perry's Victorian-era holiday mysteries [are] an annual treat."—The Wall Street Journal
 
A Christmas Message
 
"[Perry's] characters have that larger-than-life quality that permeated so many classic films from the golden age of cinema."—BookPage
 
A Christmas Escape
 
"Rivals the classic murder mysteries of Dame Agatha Christie . . . The suspense is built up so well."—Bookreporter
 
A New York Christmas
 
"A thoroughly enjoyable mystery set against the wonderful historical backdrop of 1904 New York City at Christmastime."—Library Journal (starred review)
 
A Christmas Hope
 
"Very much recommended . . . a wonderful story."—Historical Novels Review
 
A Christmas Garland
 
"In Anne Perry's gifted hands, the puzzle plays out brilliantly."—Greensboro News & Record