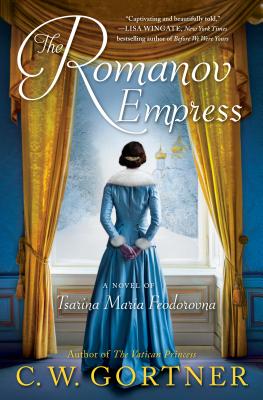 The Romanov Empress (Hardcover)
A Novel of Tsarina Maria Feodorovna
Ballantine Books, 9780425286166, 448pp.
Publication Date: July 10, 2018
Other Editions of This Title:
Digital Audiobook (7/9/2018)
Paperback (7/2/2019)
Library Binding, Large Print (10/17/2018)
* Individual store prices may vary.
Description
For readers of Philippa Gregory and Alison Weir comes a dramatic novel of the beloved Empress Maria, the Danish princess who became the mother of the last Russian tsar.

"This epic tale is captivating and beautifully told."—Lisa Wingate, New York Times bestselling author of Before We Were Yours

Barely nineteen, Minnie knows that her station in life as a Danish princess is to leave her family and enter into a royal marriage—as her older sister Alix has done, moving to  England to wed Queen Victoria's eldest son. The winds of fortune bring Minnie to Russia, where she marries the Romanov heir, Alexander, and once he ascends the throne, becomes empress. When resistance to his reign strikes at the heart of her family and the tsar sets out to crush all who oppose him, Minnie—now called Maria—must tread a perilous path of compromise in a country she has come to love.

Her husband's death leaves their son Nicholas as the inexperienced ruler of a deeply divided and crumbling empire. Determined to guide him to reforms that will bring Russia into the modern age, Maria faces implacable opposition from Nicholas's strong-willed wife, Alexandra, whose fervor has led her into a disturbing relationship with a mystic named Rasputin. As the unstoppable wave of revolution rises anew to engulf Russia, Maria will face her most dangerous challenge and her greatest heartache.

From the opulent palaces of St. Petersburg and the intrigue-laced salons of the aristocracy to the World War I battlefields and the bloodied countryside occupied by the Bolsheviks, C. W. Gortner sweeps us into the anarchic fall of an empire and the complex, bold heart of the woman who tried to save it.

Praise for The Romanov Empress

"Timely . . . [Gortner's] ability to weave what reads as a simple tale from such complex historical and familial storylines is impressive. . . . Maria's life as a royal reads like a historical soap opera."—USA Today

"Gortner, an experienced hand at recreating the unique aura of a particular time and place, will deftly sweep historical-fictions fans into this glamorous, turbulent, and ultimately tragic chapter in history."—Booklist (starred review)

"Mesmerizing . . . This insightful first-person account of the downfall of the Romanov rule . . . is the powerful story of a mother trying to save her family and an aristocrat fighting to maintain rule in a country of rebellion."—Publishers Weekly

"A twist on the tragic story you've heard many times before."—Bustle
About the Author
C. W. Gortner holds an MFA in writing, with an emphasis on historical studies, from the New College of California. He is the internationally acclaimed and bestselling author of Mademoiselle Chanel, The Queen's Vow, The Confessions of Catherine de Medici, The Last Queen, The Vatican Princess, and Marlene, among other books. He divides his time between Northern California and Antigua, Guatemala. To learn more about his work and to schedule a book group chat with him, please visit his website.
Praise For The Romanov Empress: A Novel of Tsarina Maria Feodorovna…
"[A] timely new historical novel . . . The reader is whisked from the stately splendor of the Russian court in the late 1860s to its tumultuous end with the 1917 Bolshevik revolution, seen through the eyes of someone who was as impressive and as complicated as the time in which she reigned. . . . [C. W. Gortner's] ability to weave what reads as a simple tale from such complex historical and familial storylines is impressive. . . . Maria's life as a royal reads like a historical soap opera."—USA Today

"Gortner, an experienced hand at recreating the unique aura of a particular time and place, will deftly sweep historical-fictions fans into this glamorous, turbulent, and ultimately tragic chapter in history."—Booklist (starred review)

"A twist on the tragic story you've heard many times before."—Bustle, "The 17 Best Fiction Books Coming Out In July 2018"

"Through the voice of Maria, Gortner succeeds in adding a new perspective to the well-known story of Nicholas, Alexandra, and Rasputin. As a sister, wife, mother, and empress, she is a fierce and dynamic narrator. . . . A solid recommendation for readers of historical fiction, especially those who favor the lives of kings and queens."—Library Journal

"Mesmerizing . . . This insightful first-person account of the downfall of the Romanov rule will appeal to history buffs; at its core, it's the powerful story of a mother trying to save her family and an aristocrat fighting to maintain rule in a country of rebellion, giving it an even broader appeal."—Publishers Weekly

"Engaging . . . Gortner is wonderfully subtle, but given the times we live in, the problems are obvious: When a tiny percentage of people hold most of the wealth, it leads to demagoguery. The Romanov Empress relates an important piece of history. It's also a warning about what comes when a nation is marred by rampant inequality."—BookPage

"In his tenth historical novel, Gortner creates a vibrant portrait of imperial Russia. . . . A briskly narrated tale of power and revolution."—Kirkus Reviews

"A lost age and a woman for the ages come to life in this epic tale. Gortner skillfully opens a window into the life of a woman who is both complex and entirely human, and sets the stage for the violent end of the Russian empire. Captivating and beautifully told, this story is a gem as rich as the opulent era it depicts."—Lisa Wingate, New York Times bestselling author of Before We Were Yours

"A sweeping saga that takes us from the opulence and glamour of tsarist Russia to the violent, tragic last days of the Romanovs. Brave and inspiring, Maria Feodorovna confronts assassinations, the Rasputin affair, and the Russian revolution. C. W. Gortner breaks new ground here, skillfully painting an intimate, compelling portrait of this fascinating empress and her family."—Stephanie Dray, New York Times bestselling co-author of America's First Daughter
or
Not Currently Available for Direct Purchase