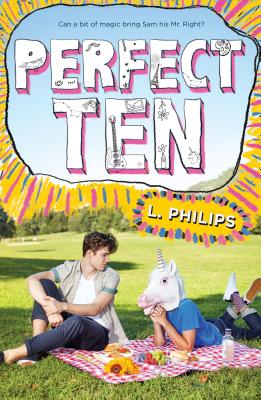 Perfect Ten (Paperback)
Speak, 9780425288122, 368pp.
Publication Date: May 1, 2018
Other Editions of This Title:
Digital Audiobook (6/5/2017)
Hardcover (6/6/2017)
* Individual store prices may vary.
Description
A gay coming-of-age romantic comedy--perfect for fans of Love, Simon!
Sam Raines is in a romantic drought. It has been two years since he broke up with the only other eligible gay guy in his high school. To say that Sam is desperate to find someone would be the understatement of the century. Which is why when Meg, his best friend, suggests performing a love spell, Sam does not say no like a normal person. Instead, he crafts a list of ten traits he wants in a boyfriend, writes a love spell in Latin for good measure, and burns it in a cemetery at midnight on Friday the thirteenth.
The universe answers Sam, just not in the way he was expecting. Where there was none before, now there are three seemingly perfect guys, all in pursuit of Sam. There's Gus, the French exchange student; Jamie, the artist; and Travis, the musician. Even Sam's ex-boyfriend, Landon, might want another chance.
Could one of them be Sam's perfect ten? Or is the perfect ten a myth?  Find out in this delectable coming-of-age romcom with just a touch of magic.
"A sweet summer read about a boy looking for love and the lengths he will go to to find it."--Teen Vogue
"A fun, swoony, and romantic novel that honestly expresses the trials and tribulations of finding the right one."--Buzzfeed
About the Author
L. Philips went to Ohio University for a degree in music education, decided that job was entirely too noisy, and became a librarian instead. When she's not working, she enjoys belting out show tunes when she thinks no one is listening and watching the same episodes of Thomas the Tank Engine over and over (or at least that's what she tells her toddler son). She lives in Ohio and is the author of Perfect Ten and Sometime After Midnight.
Praise For Perfect Ten…
- A Seventeen Best Book of 2017

"A fun, swoony, and romantic novel that honestly expresses the trials and tribulations of finding the right one." —BuzzFeed

"A sweet summer read about a boy looking for love and the lengths he will go to find it." —Teen Vogue

"Philips' tale will resonate with readers who are looking for love and a light, breezy summer read." —Entertainment Weekly

"If you like a solid YA read that makes you shamelessly squee, Perfect Ten will deliver." —HelloGiggles

"You can count on Perfect Ten to make you laugh, think, and, ultimately grow—what more can we ask from a coming-of-age love story?  L. Philips treats her characters and her characters' love with the respect and heart they deserve. An absolute delight to read." —John Corey Whaley, Printz Award–winning author of Where Things Come Back

"Perfect Ten is a smart, messy, complicated romance, full of swoony kisses and lie-on-the-floor heartbreak and unexpected twists of fate—just like love itself." —Katie Cotugno, New York Times bestselling author of How to Love and 99 Days 

"Perfect Ten is a perfect ten. Romantic, sweet, and far wiser than expected. A breezy romcom that is as smart as it is fun, with characters that leap off the page." —Bill Konigsberg, award-winning author of Honestly Ben and Openly Straight

"The most fantastic, hopeful, aspirational story of gay teens in a red state since David Levithan's Boy Meets Boy." —Aaron Hartzler, author of Lambda Literary Award finalist Rapture Practice

"Perfect Ten is: 1. Adorable 2. Heartbreaking 3. Funny 4. Delightful 5. Unexpected 6. Queer 7. Moving 8. Honest 9. Unapologetic 10. A must-read." —Michael Barakiva, author of One Man Guy

"Perfect Ten is as charming as it is relevant. A stunning, twenty-first-century teen romance that will have readers begging for more. In a word, it's Magick." —J. H. Trumble, author of Lambda Literary Award finalist Don't Let Me Go

"Cute and catchy . . . An engaging read." —Romantic Times

"This surprisingly tender rom-com explores relationships with an authenticity that's full of heart and poetic splendor. The novel bravely examines some of the pitfalls of young love in a manner that neither makes Sam unlikable nor lets him off the hook for his behavior. His decisions and actions aren't always admirable as he navigates his way through his mistakes and inexperience, yet they will be sure to elicit sympathy from those who have had their own misadventures in love . . . Fans of Stephanie Perkins or David Levithan will discover much to love about this sweet confection of a tale." —School Library Journal

"We're not gonna lie, the unicorn dude on the cover sold us. But inside is an equally funny and sweet story." —PureWow

"Like its literary godparent Boy Meets Boy by David Levithan, the point of L. Philips' lighthearted story isn't to reflect reality so much as to enhance it. A fun, sweet and sexy summer read for anyone who's ever sought (and maybe even found) that special person, perfect or not." —BookPage

"Philips writes a fresh and honest male romance that is not centered on issues of coming out or bullying . . . The blunt honesty about sex makes this a dramatic and refreshing read." —VOYA

"Sweet and satisfying . . . Like one of the ultimately lucky three, this is a keeper." —Booklist

"Philips keeps this wish-fulfillment fantasy moving briskly, thanks to the quippy dialogue" —Publishers Weekly

"Perfect Ten is a little ridiculous and a whole lot of fun. Sam's grounded and self-deprecating voice keeps the story real, even in the face of a lot of larger than life characters and extreme plot twists, and the humor is classic." —Book Riot