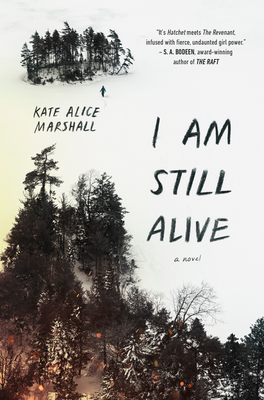 I Am Still Alive
Hardcover

* Individual store prices may vary.
Other Editions of This Title:
Digital Audiobook (9/18/2018)
Paperback (7/2/2019)
Description
"This tense wire of a novel thrums with suspense. . . . [this book] just might be the highlight of your summer."–The New York Times

Cheryl Strayed's Wild meets The Revenant in this heart-pounding story of survival and revenge in the unforgiving wilderness.

After: Jess is alone. Her cabin has burned to the ground. She knows if she doesn't act fast, the cold will kill her before she has time to worry about food. But she is still alive—for now.
 
Before: Jess hadn't seen her survivalist, off-the-grid dad in over a decade. But after a car crash killed her mother and left her injured, she was forced to move to his cabin in the remote Canadian wilderness. Just as Jess was beginning to get to know him, a secret from his past paid them a visit, leaving her father dead and Jess stranded.
 
After: With only her father's dog for company, Jess must forage and hunt for food, build shelter, and keep herself warm. Some days it feels like the wild is out to destroy her, but she's stronger than she ever imagined.

Jess will survive. She has to. She knows who killed her father…and she wants revenge.
Praise For I Am Still Alive…
Raves for I Am Still Alive:

"This tense wire of a novel thrums with suspense. . . . [this book] just might be the highlight of your summer."–The New York Times

"An expertly conceived plot plus a true heroine (and her dog) make for an original, engrossing, and twisty survival story that I tore through compulsively. You won't regret the hours that disappear when you read this one." –Nancy Werlin, National Book Award honoree and New York Times bestselling author
 
"I couldn't set this book down—the words actually made me shiver. It's Hatchet meets The Revenant, infused with fierce, undaunted girl power." –S.A. Bodeen, award-winning author of The Raft

"If Hatchet was your favorite book in grade school, but you wish it was filled with much more girl power, then I Am Still Alive is the book you've been waiting for."–Bustle

"A gripping adventure."–The Wall Street Journal

* "A taut, gripping page-turner with a strong female hero to root for."–Kirkus, starred review

* "With masterful pacing, rich characterization, a dynamic voice, and a thrilling blend of wilderness survival and revenge, this is an engrossing read from a writer to watch."–Booklist, starred review

"A gripping tale of endurance and discovery of inner strength."–School Library Journal

"[A] striking first novel. Marshall's immersive descriptions will hook readers into this exhilarating survival story."–Publishers Weekly

"Marshall's thrilling tale is also a deeply moving story about coming to terms with imperfections (both in oneself and in others) and about finding true resourcefulness and inner strength."–BookPage

Viking Books for Young Readers, 9780425290989, 336pp.
Publication Date: July 24, 2018
About the Author
Kate Alice Marshall started writing before she could hold a pen properly, and never stopped. She lives in the Pacific Northwest with a chaotic menagerie of pets and family members, and ventures out in the summer to kayak and camp along the Puget Sound. Visit her online at katemarshallbooks.com and follow her on Twitter @kmarshallarts.