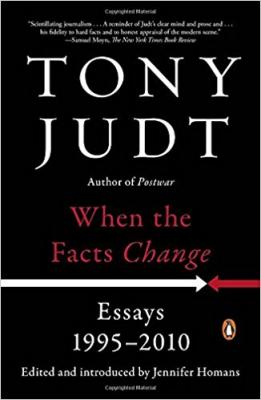 When the Facts Change
Hardcover

* Individual store prices may vary.
Description
"When the facts change, I change my mind--what do you do, sir?"

A great thinker's final testament: a characteristically wise and forthright collection of essays spanning a career of extraordinary intellectual engagement

In an age in which there has been an erosion of fact-based journalism and the lack of independent public intellectuals has often been sorely lamented, Tony Judt played a rare and valuable role, bringing together history and current events, Europe and America, the world as it was and as it is with what it should be. In When the Facts Change, Tony Judt's widow and fellow historian Jennifer Homans has assembled an essential collection of Judt's most important and influential pieces written in the last fifteen years of his life, when he found his voice in the public sphere. These seminal essays reflect the full range of Judt's concerns, including Europe as an idea and in reality; Israel, the Holocaust, and the Jews; American hyperpower and the world after 9/11; and issues of social inclusion and social justice in a time of increasing inequality.

Judt believed his real job was not to say what wasn't but to say what was--to tell a convincing, clear story from available evidence, and to do it with a view of what was right and what was just. This was not only a duty, but a moral responsibility for Judt and When the Facts Change is a testament to his legacy.
William Heinemann, 9780434023080
Publication Date: January 29, 2015
About the Author
Tony Judt (1948–2010) was educated at King's College, Cambridge, and l'École Normale Supérieure, Paris, and taught at the Universities of Cambridge, Oxford, and Berkeley. He was the Erich Maria Remarque Professor of European Studies at New York University and the director of the Remarque Institute, which he founded in 1995. Among other books, Judt was the author of Thinking the Twentieth Century, The Memory Chalet, Ill Fares the Land, Reappraisals, and Postwar, which was one of the New York Times Book Review's Ten Best Books of 2005 and a finalist for the Pulitzer Prize.
or
Not Currently Available for Direct Purchase