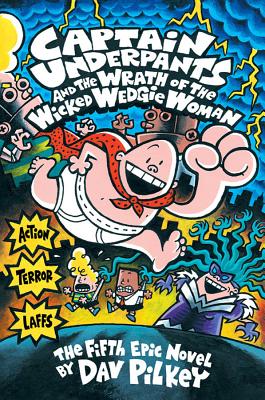 Captain Underpants and the Wrath of the Wicked Wedgie Women (Captain Underpants #5) (Hardcover)
Scholastic Inc., 9780439049993, 176pp.
Publication Date: September 1, 2001
Description
George and Harold have created the fastest, strongest, most evil monster the world has ever seen--and her name is Wedgie Woman! With her robots and ravenous robo-claw, she is on a mission to take over the world and give a whopping wedgie to anyone who stands in her way--including Captain Underpants. Illustrations.

About the Author
Dav Pilkey has written and illustrated numerous popular, award-winning books for children, including the Captain Underpants and Dumb Bunnies series; Dog Breath, winner of the California Young Reader Medal; and The Paperboy, a Caldecott Honor Book. He lives with his wife in the Pacific Northwest. Visit him online at www.pilkey.com.
Praise For Captain Underpants and the Wrath of the Wicked Wedgie Women (Captain Underpants #5)…
Trying to salvage failing grades, George and Harold use their handy 3-D Hypno Ring on temagant teacher Ms. Ribble--and succeed only in creating a supervillain with a medusa-like 'do and a yen to conquer the world with wedgie power. Using a pair of robot of sidekicks and plenty of spray starch, she even overcomes Captain Underpants. Is it curtains (or rather, wedgies) for all of us? Can the redoubtable fourth graders rescue the Waistband Warrior (a.k.a. Principal Krupp) and find a way to save the day? Well, duh. Not, of course, without an epic battle waged in low-budget Flip-O-Rama, plus no fewer than three homemade comics, including and "Origin of Captain Underpants" in which we learn that his home planet of Underpantyworld was destroyed by the. . . wait for it. . . "Starch Ship Enterprize." As in the previous four episodes, neither the pace nor the funky humor ("Diapers and toilets and poop . . . oh my!") lets up for a moment. Pilkey is still having entirely too much fun with this popular series, which continues to careen along with nary a whiff of staleness.
---Kirkus Reviews, July 1st 2001

Fans need not worry. Pilkey's imagination shows no sign of flagging here. When George and Harold's evil teacher announces her departure, she forces the class to write "Happy Retirement" cards for her. Instead, the two boys create a comic book in which they turn Ms. Ribble into the titular 'Wicked Wedgie Woman." She sees the book, tells them that they are not allowed to use their imagination in school, and sends them posthaste to the principal. The two friends seize the opportunity to get him to sign a blank card to which they add his protestations of love for Ms. Ribble. Hilarious wedding high jinks ensue (but no marriage). To prevent the villainous woman from retaliation, the protagonists hypnotize her with their 3-D Hypno- Ring. Their plan backfires and a cosmic battle follows, complete with the familiar Flip-O-Rama™ feature. Among the highlights of this book is an alliterative post-wedding food fight in which, for example, the "creamy candied carrots clobbered the kindergarteners. "There is a great deal of laug-out-loud humor that will appeal to a wide audience. "Captain Underpants' is still one of the best series to get reluctant readers reading.
---School Library Journal, October 2001
Advertisement