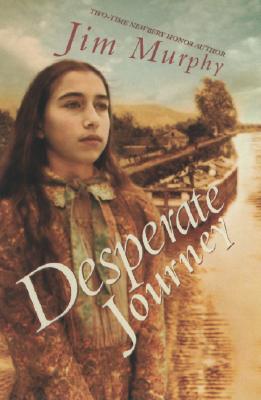 Desperate Journey (Hardcover)
Scholastic Press, 9780439078061, 278pp.
Publication Date: October 1, 2006
* Individual store prices may vary.
or
Not Currently Available for Direct Purchase
Description
When Maggie's father loses next year's salary and two of their best mules in a bet with Long-Fingered John, the family is left desperate for money. They have only a few days to get the heavy cargo in their mule-drawn barge to Buffalo in order to make a much-needed bonus. But when Papa and Uncle Hen are arrested on an alleged assault charge, 12-year-old Maggie, her younger brother, and their pregnant mother must fight all manner of adversity to save their boat, their mules, and their life savings. Jim Murphy is at his best in this colorful and gritty slice of 19th C. life on the Erie Canal.
About the Author
Jim Murphy is the celebrated author of more than thirty-five books for young readers, most notably TRUCE: THE DAY THE SOLDIERS STOPPED FIGHTING and THE GREAT FIRE, a Newbery Honor Winner. His carefully researched, engaging, and elegantly written nonfiction has garnered the most prestigious awards in the field. He lives in Maplewood, New Jersey, with his wife and their two sons.
Praise For Desperate Journey…
Kirkus
The Erie Canal was one of the greatest engineering feats in the history of the world," a highway
for settlers heading west and a route from the Great Lakes across New York state to Albany and on to
New York City. For 12-year-old Maggie Haggerty, it's a route to a new life, preparing her for a future
in the wide world. When her father is arrested for an alleged assault, Maggie takes responsibility for
getting a shipment to Buffalo and proves herself to her family. In the process, she finds that the life
she wanted to run away from is really the life for her. The canal, however, is the real main character
here, and since the final section titled About the Erie Canal" is the most interesting part of the volume,
fans of Murphy's nonfiction might wish he had gone with a nonfiction treatment of the subject. All in
all, though, this is a well-written story about a little-known part of American history. (Fiction. 9-12)

Booklist The multiple award-winning author of nonfiction, including the Newbery Honor Books The Great Fire (1995) and An American Plague (2003), Murphy moves to historical fiction in this gripping novel about the Erie Canal in 1848. The story is told from the viewpoint of Maggie Haggerty, 12, who must take over adult responsibilities when her mother is ailing and her father is arrested for starting a brawl. To save her family, Maggie must deliver a heavy barge shipment to Buffalo by a fast-approaching deadline. Her biggest job is handling the mules that walk the muddy towpath and pull the barge through the water. The characters aren't romanticized: Maggie is nervous and snappy and often feels jealous and angry at home. But the real attraction for readers is the journey itself, filled with details of daily labor on the barge and a sense of the Canal communitya neighborhood" as tightly knit and protective as any on land. Hazel Rochman

SLJ
Gr 5-8Maggie Haggerty lives and works on a boat on the Erie Canal with her mother, father, uncle, and younger brother. Set in 1848, this novel follows what happens when her father and uncle are arrested for assault. Her mother has been ill, so it falls to the 12-year-old to get their shipment to Buffalo in time to make their much-needed bonus so they won't lose their boat and to get back to New Boston in time for the trial. Murphy gives away his nonfiction roots in the way he provides information about the number of feet the canal rises or falls at each set of locks. Given this, it's surprising that he doesn't paint a clearer picture of how canal boats actually work. Even so, the book does an excellent job of providing a sense of geography and what daily life was like along the canal. The story is driven more by history than character, but it still manages to achieve suspense and hold readers' interest. A must-have for New York state libraries, this will also be welcome wherever historical fiction is popular.Adrienne Furness, Webster Public Library, NY
Advertisement