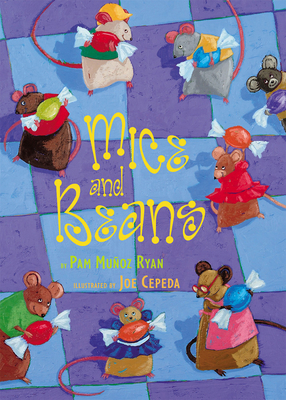 Mice And Beans
Hardcover

* Individual store prices may vary.
Other Editions of This Title:
Paperback (1/1/2005)
Prebound (2/1/2005)
Praise For Mice And Beans…
Kindheartedness lies at the core of this story, even if the main character wishes to banish all mice--via a battery of snapping traps--from her hearth and home. Rosa Maria might live in a tiny house, but she wants to celebrate the birthday of her grandchild Little Catalina with a party and lots of food. "When there's room in the heart, there's room in the house, except for a mouse!" So she sets a trap to make sure none of her preparations are snacked up by the resident mice. Strangely, each evening as she goes to check on the traps after fixing up a batch of enchiladas or frijoles (Spanish words are sprinkled throughout the text), the traps are gone. She blames her own forgetfulness and sets another. Comes Catalina's big day and Rosa Maria suddenly remembers that she has forgotten to stuff the pinata with candy. But it's too late--the children are already whacking away. When scads of candy cascade from the pinata as it bursts, Rosa Maria figures she has simply forgotten that she has filled it. Yet when she is cleaning up after the party, she discovers evidence of mice--"RATONES!"--and said evidence also points to the mice having stuffed the pinata for Rosa Maria. So she changes her tune: "When there's room in the heart, there's room in the house, even for a mouse." In artwork as sumptuously rich as Catalina's birthday cake, Cepeda's (Daring Dog and Captain Cat, above, etc) color-drenched scenes stuffed with detail make Rosa Maria's world a pleasure-giving place. And now that the mice are welcome--these mice, after all, pull their own weight--it might be the most beneficent home ever.
--Kirkus Reviews, August 1st, 2001

Rosa Maria is getting ready for her granddaughter's seventh birthday and for the celebration that will bring the whole family to her casita. She knows her little house will be crowded, but she believes her mother's saying: "When there's room in the heart, there's room in the house, except for a mouse." Each day of the week Rosa Maria does chores connected to the birthday party; every night she sets a mousetrap, only to find it missing the following day. By the time of the birthday party all is ready--except Rosa Maria forgets to fill the piñata. Luckily, as viewers will have known all along, she has help-the mice who Eve in her house have been assisting with the birthday preparations all week, and they've filled the piñata with sweets. Rosa Maria then realizes she has remembered her mother's saying incorrectly all these years and the correct saying is 'When there's room in the heart, there's room in the house ... even for a mouse.' Ryan's cheerful text is a festival all its own, its pithy phraseology and folkloric overtones adding interest. Cepeda's high-spirited, thickly brushed paintings display a beehived Rosa Maria in party- colored clothes against party-colored backdrops; viewers will get a kick out of finding the anthropomorphized little mice who, like the shoemaker's elves, secretly assist with every task. The text includes italicized Spanish words (there is a brief glossary and pronunciation guide), and repeating phrases are emphasized by changing size and color from spread to spread. Birthday books are popular additions to story times, and this one is a gift wrapped in carnival colors. JMD
--Bulletin of the Center for Children's Books, September 2001

It's time for Little Catalina's seventh birthday, and grandmother Rosa Maria is ready to celebrate. She has room in her heart and her casita for nearly everyone on this happy occasion---everyone except mice. Grandmother joyfully sees to every detail, from food to fun, except for one. She forgets to fill the empty piñata, and when she discovers that mice have filled it for her, she opens a place in her joyful heart just for them. The story is charming, but what makes it special is the quiet authenticity of the Hispanic characterizations. Cepeda's pictures are as good as the story, with bright, funny
Scholastic Press, 9780439183031, 32pp.
Publication Date: September 1, 2001
About the Author
JOE CEPEDA has illustrated many books for children, including What a Truly Cool World by Julius Lester and Nappy Hair by Carolivia Herron. He lives in Whittier, California. DARCY PATTISON is the author of The River Dragon, illustrated by Jean and Mou-Sien Tseng, as well as the fantasy novel The Wayfinder. She teaches writing at the University of Arkansas at Little Rock and reviews children's books for the Arkansas Democrat-Gazette. She lives in North Little Rock, Arkansas.