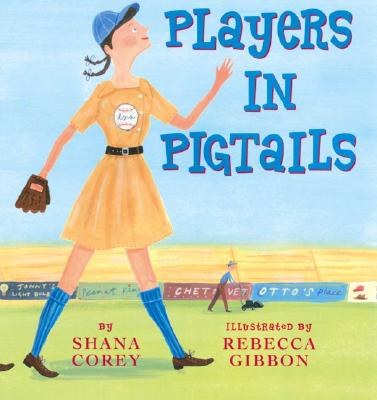 Players In Pigtails
Hardcover

* Individual store prices may vary.
Other Editions of This Title:
Paperback (4/1/2006)
Description
A winning new picture book about the All American Girls Professional Baseball League--written with sass and style by all-star Shana Corey with illustrations from promising young rookie Rebecca Gibbon.

Did you know that one of America's favorite songs, "Take Me Out to the Ball Game," was written about a girl? And that in the 1940s girls all across America were crazy for our country's favorite game?
These little known facts inspired Shana Corey to imagine a story about how one determined girl made her way to the big leagues & found a sisterhood of players in pigtails. With the same exuberant spirit that fueled the formation of the All American Girls Professional Baseball League, joyful text & jubilant pictures celebrate these brave girls' love of the game & the league they called their own.
Praise For Players In Pigtails…
Bulletin of the Center for Children's Books July/August 2003
If you can only imagine 'Take Me Out to the Bafigaine' as sung by a gravelly Harry Caray or a chorus of beer-soaked male spectators, then you probably haven't heard all the verses. The 'voice' belongs to fictional Katic Casey (no relation, we presume, to the venerable Mudvifle slugger), who drags her beau to the balipark. Corey warps the 1908 'baseball mad' maid ahead to 1943, where she becomes an archetypal player on the Kenosha Comets of the AR-American Girls Professional Baseball League. While this contortion is an unnecessary stretch, the story of Katie's long step up to the plate is lots of fun, as World War 11 and a visionary Phifip Wrigicy offer aspiring women players a chance of a lifetime. Corey has an eye for the details that will satisfy the picture-book set-from naysayers behind the scenes and hecklers in the stands, to prissy, impractical unifornu and mandatory charm-school manners on the field. Gibbon sets her lanky players against airy white space and swathes of summery pastels, coyly contrasting their tomboyish grace with the more demure stylishness of their stay-at-home sisters. A lengthy author's note supplies information about the league, and lyrics to 'Take Me Out to the Ballgame' and the 'Victory Song' of the AAGPBL grace the endpapers. A more enticing title than Adler's Mama Played Baseball (BCCB 4/03), Pigtails is a solid hit. EB

Booklist June 1, 2003 *STAR*
The author of You Forgot Your Skirt, Amelia Bloomer (2000) is back, and using the movie A League of Their Own as inspiration, has penned an exuberant tribute to the real-life All-American Girls Professional Baseball League. She opens with all the words to "Take Me Out to the Ball Game," including the opening lines that show the 1908 song is in a female voice. Setting the story during World War 11, Corey introduces baseball-mad Katie Casey. Katie doesn't dance well, or cook well, or knit, but she sure can play baseball, although she isn't allowed to try out for the school team. Then, with all the boys going off to war, Phillip Wrigley, owner of the Chicago Cubs, holds tryouts for girls' teams, and hundreds show up, including Katie. The Rockford Peaches (and three other teams) are born and play worthy baseball. Kids, both girls and boys, will revel in the energy and joy Corey packs into her story. Gibbon's pictures look straight out of the 1940s, with vintage details and an evocative color palette. They also possess a winsome charm that plays nicely with the text. Corey's sly repetition of the phrase "What good is baseball to a girl?" will have modem-day sluggers longing for a turn at bat. -GraceAnne A. DeCandido.

School Library Journal
(April 1, 2003; 0-439-18305-7)

K-Gr 4-Inspired by the movie A League of Their Own about Phillip Wrigley's All-American Girls Professional Baseball League started during World War II, Corey researched and uncovered a little-known verse to the popular song, "Take Me Out to the Ball Game." The verse begins: "Katie Casey was baseball mad/Had the fever and had it bad." The fictional female becomes the main character in this thoroughly charming picture book about a young woman whose "heart just wasn't in home ec" but who "walked baseball- talked baseball" and "even dreamed baseball." Corey takes readers through Katie's disastrous knitting and dancing, her successful tryout for the Kenosha Comets, the charm school the team members were required to attend, and the excitement of the first game. Through lively prose, she perfectly captures the character and spirit of the events described. Gibbon's watercolor and colored-pencil illustrations are absolutely delightful, depicting both humor and drama. Even libraries owning Doreen Rappaport and Lyndall Callan's Dirt on Their Skirts (Dial, 2000) should make room on their shelves for this tribute to a brie
Scholastic Press, 9780439183055, 40pp.
Publication Date: March 1, 2003
About the Author
Shana Corey has the unique ability to make history accessible and fun, a talent that has been praised in all of her celebrated picture books, including MERMAID QUEEN, illustrated by Edwin Fotheringham and YOU FORGOT YOUR SKIRT, AMELIA BLOOMER!, illustrated by Chesley McLaren, which was named a Publishers Weekly Best Book of the Year and an Orbis Pictus Recommended Title. She lives in Brooklyn, New York.

or
Not Currently Available for Direct Purchase