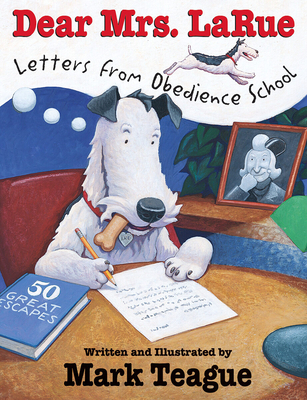 Dear Mrs. LaRue (Hardcover)
Letters from Obedience School: Letters From Obedience School (LaRue Books)
Scholastic Press, 9780439206631, 32pp.
Publication Date: September 1, 2003
Other Editions of This Title:
Digital Audiobook (1/4/2011)
CD-Audio (5/1/2011)
Paperback (9/1/2004)
* Individual store prices may vary.
Description
When Ike Larue is "imprisoned" at the Igor Brotweiler Canine Academy, he tries everything to get sent home--weepy letters to his owner, even illness. In reality, Brotweiler is more like camp than prison, but still, Ike's not cut out for life w/o Mrs. Larue & his creature comforts. Finally, he runs away only to find himself back in Snort City--just in time to save Mrs. Larue's life.Teague is at the top of his fetching form in this madcap comedy where the real world of Brotweiler & the one Ike imagines are brilliantly depicted thru split-screen visuals, the former in color & the latter in b&w.
About the Author
Mark Teague is the award-winning children's book author and illustrator of his own bestselling Dear Mrs. LaRue series, as well as The Sky Is Falling, The Three Little Pigs and the Somewhat Bad Wolf, The Tree House That Jack Built by Bonnie Verburg, and many other humorous picture books. In addition to his prized art for the How Do Dinosaurs . . . series, his illustrated novel, The Doom Machine, received excellent reviews. Mark lives in the Hudson River Valley with his wife and their two daughters.
Praise For Dear Mrs. LaRue: Letters from Obedience School: Letters From Obedience School (LaRue Books)…
A dog's life is hardly to be envied if one believes the words of Ike, a rambunctious pooch sentenced to obedience school by his exasperated owner, Mrs. LaRue. Having repeatedly terrorized the neighbors' cats and snatched one snack too many from the kitchen counter, Ike finds himself enrolled at Igor Brotweiler Canine Academy. The hero begins a clever letter-writing campaign to Mrs. LaRue that paints a grim (and hopefully guilt-inducing) picture of his Brotweiler experience. But readers are privy to the hilarious truth. Teague (How Do Dinosaurs Say Good Night?) depicts the pampered pup at the spa-like academy in brightly colored vignettes, juxtaposed with black-and-white prison-like scenes that illustrate Ike's imagined hardship. He composes his correspondence with dramatic flair, whether describing his "inmate" experience ("The guards here are all caught up in this `good dog, bad dog' thing") or reflecting on his misdeeds back at home ("Were the neighbors really complaining about my howling?... Let's recall that these are the same neighbors who are constantly waking me up in the middle of the afternoon with their loud vacuuming").Throughout, the devilish laughs are in the details (waiters in white coats serving academy dogs gourmet meals and frozen drinks; Ike's images of a hard life in striped prison garb plus ball-and-chain). Even the duo's reunion (to much fanfare) plays off of an earlier joke. All in all, a tail-wagger of a book that will have readers howling with amusement.--Publishers Weekly, July 22, 2002 starred review
An epistolary picture book detailing the misadventures of a very imaginative dog at obedience school. Ike the terrier is a reluctant student at the Igor Brotweiler Canine Academy, and sends daily letters home describing the tortures he's undergoing at school: "Needless to say, I am being horribly mistreated. You say I should be patient and accept that I'll be here through the term. Are you aware that the term lasts TWO MONTHS? Do you know how long that is in dog years?" In a series of inspired double-page spreads, the bright acrylic illustrations depict Ike scrivening away in the plushest possible surroundings, while he imagines (appropriately enough in black-and-white) what he describes. As Ike complains about the food, the reader sees him seated at a table covered in a white tablecloth and decorated with roses; his fevered imagination, however, conjures up a vision of a burly, tattooed cook standing over a cauldron and pointing at a sign that says "No howling, biting, scratching, growling, slobbering, or barking, and no seconds!" as Ike, prison-stripe-clad, forlornly holds up his dog dish. The concept is fun, but it's a one-note joke that depends on a highly developed sense of irony to appreciate. Teague's first offering as author/illustrator since One Halloween Night (1999) demonstrates a mastery of illustration without an accompanying command of textual narration; the overlong text bogs down as the reader attempts to figure out what's really going on: does Ike really want to go back home? does he really believe what he describes? is he simply trying to make Mrs. LaRue feel guilty? The work as a whole is energetic but ultimately fails to follow through on a promising concept.--Kirkus Reviews, August 1, 2002
Ike is one bad dog, so it's off to the Brotweiler Canine Academy, school for errant pooches. The dog has been known to steal food, chase the neighbor's cats, and destroy clothing. From school, Ike writes home to his person, Gertrude LaRue. Black-and-white illustrations portray the canine's version of his confinement, while splashes of color show the reality. According to Ike, it's a real prison at the academy; he's even got the striped outfit to prove it. In reality, he is lodged at a virtual doggy resort and spa, complete with sauna, pool, and gourmet eats. In his letters, the pooch begs to come home, and offers up a defense of his so-called crimes. After a month of such harsh-uh, plush-treatment, Ike manages to escape, and fortunately for Mrs. LaRue, he arrives back in town just as she is about to be run over by an oncoming delivery truck. Ike saves her, and is the hero of the day. The humorous acrylic illustrations are, at times, a howl and the oversized format is well-suited to storytelling. Despite the dogs ex machina, charming Ike will likely find a home in many picture-book collections.--School Library Journal, September 1st, 2002

Ike LaRue, "loyal and misunderstood" dog, is off to prison. Well, actually, it's obedience school, but that's not the way Ike sees the Canine Academy. In letters home, Ike details just what his owner is putting him through. The hilarious juxtaposition between the letters and what's actually happening in Ike's life is the fun here. He begins the correspondence by covering old grievances: "You could have said, `Ike, don't eat the chicken pie' . . . would that have been so difficult?" Then it's time for a catalog of horrors: "Day after day I'm forced to perform the most meaningless tasks. Today it was `sit' and `roll over,' all day long." Or, "I felt queasy so that I could barely eat dinner (except for the yummy gravy. . . I must come home at once." The wonderfully arch text is matched with Teague's sly pictures--the action in the letters appears in somber gray washes while Ike's true circumstances are brightly colored. And why shouldn't the real thing be bright: Ike dines at cloth-covered tables and escapes his "prison" in a bright yellow taxi. He does make it home, just in time to push his owner out of the way as a truck barrels in her direction. Ike is a hero! Good story, well told and delightfully illustrated.--Booklist, 1st November 2002, starred review