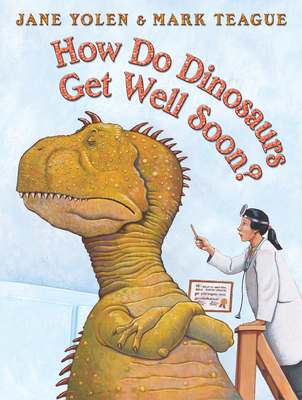 How Do Dinosaurs Get Well Soon? (How Do Dinosaurs…) (Hardcover)
Blue Sky Press, 9780439241007, 40pp.
Publication Date: February 1, 2003
Other Editions of This Title:
CD-Audio (9/1/2010)
* Individual store prices may vary.
Description
The bestselling, award-winning team of Yolen and Teague are back with another playful dinosaur tale--this time about a sick dinosaur child who catches the flu and must go to the doctor.

What if a dinosaur catches the flu?
Does he whimper and whine between each "At-choo"?
Does he drop dirty tissues all over the floor?
Does he fling his medicine out of the door?
Just like kids, little dinosaurs hate being sick. And going to the doctor can be pretty scary. How DO dinosaurs get well soon? They drink lots of juice, and they get lots of rest; they're good at the doctor's, 'cause doctors know best.
As in their previous book, Yolen and Teague capture children's fears about being sick and put them to rest with playful read-aloud verse and wonderfully amusing pictures.
About the Author
Jane Yolen is the beloved author of more than four hundred books for children and adults, including award-winning picture books, fiction, and poetry. Her How Do Dinosaurs books have sold millions of copies and are international bestsellers. She regularly travels the globe speaking and teaching. Jane lives in Western Massachusetts with her children and grandchildren, and she also lives in St. Andrews, Scotland. You can also visit her at www.janeyolen.com.

Mark Teague is an award-winning children's book author and illustrator whose books include the NEW YORK TIMES bestselling How Do Dinosaurs... series, the LaRue series, FIREHOUSE!, FUNNY FARM, and many other humorous picture books. Mark lives in New York state with his wife and their two daughters.
Praise For How Do Dinosaurs Get Well Soon? (How Do Dinosaurs…)…
Those scaly overgrown children from How Do Dinosaurs Say Goodnight? return to teach an agreeable lesson in how best to comport oneself when sick. Here, as in the first book, the humor comes from Teague's placement of hulking brachiosaurus, velociraptor, and others into ordinary, kid-size environments. "What if a dinosaur catches the flu?" poses Yolen in a series of fanciful rhyming questions. Well, if he's at school, he goes to the nurse's office and his mom comes to pick him up, of course. The body language of the ill student Teague shows is unmistakable--hunched shoulders, half-closed eyes, pained frown, drippy nose--even if said body does have horns encircling its head and a tail reaching out into the hall. Concerned human parents look on throughout the book as their offspring, at first, behave like perfect beasts. Parasaurolophus (each dinosaur is identified both on the endpapers and, if readers study the illustrations closely, on the spread where it first appears) "fling[s] all his medicine out of the [bedroom] door." Carnotaurus refuses to open wide for the doctor, who is perched on a ladder, holding a relatively teeny tongue depressor in her outstretched hand. But it turns out that these scenes are mere hypotheticals, since, as Yolen informs us, dinosaurs really are model patients. So, young dinosaurs, drink all your juice, get lots of rest, follow doctor's orders, and maybe you won't become extinct after all.--Horn Book, March 2003

Eleven under-the-weather young dinosaurs are featured in this amusing health-etiquette book, a companion to Yolen and Teague's How Do Dinosaurs Say Good Night? (Scholastic, 2000). Whimpering, littering with dirty tissues, flinging medicine, and tossing covers are presented as questionable at-home activities. At the doctor's office, dragging one's feet, refusing to open one's mouth, screaming, and hiding are all frowned upon. Drinking lots of juice, resting, using a hankie, and taking medicine are positive behaviors. A simple rhyme with many words that beginning readers will recognize moves the text along. Teague's funny, full-color illustrations are dominated by the creatures and lift the lightly didactic to the highly entertaining as human parents care for their dino charges in children's bedrooms filled with toys, clothes, shoes, books, and a nervous cat, or in a doctor's office. As each ailing creature is introduced, readers will look for the name of that species tucked somewhere within the full-page spread. A great addition for dinosaur fans and a reassuring story for young flu and cold victims.--School Library Journal, February 2003

Kids aren't the only ones who get sick. The dynamic dinos who first appeared in How Do Dinosaurs Say Goodnight? (2000) aren't feeling well, and it's up to their parents, doctors, and nurses to help them mend. The jaunty text begins by cataloging a litany of things a dinosaur might do when it has the flu: "Does he drop dirty tissues all over the floor? Does he fling all his medicine out of the door?" And what if the dino needs to go to the doc? "Does he drag all his feet till his mom is in shock?" The rhyme is basic but effective as it explains what a dinosaur does to get better. Teague, always tops when it comes to mining humor in art, does a great job here. The oversize dinosaurs, vividly colored and dramatically drawn, fill up the room, dwarfing the helpful adults who are trying to bring aid and comfort. The book also gives a nod to kids fascinated by the creatures: each dinosaur's name is tucked somewhere into the picture. The large paintings and short text make this an excellent choice for story hours, but the book may be most enjoyed one on one, especially by listeners experiencing a few coughs and sniffles of their own.--Booklist, January 1, 2003-- starred review

Those boisterous, larger-than-life stars of How Do Dinosaurs Say Good Night? are back, but this time they're a little under the weather. "W