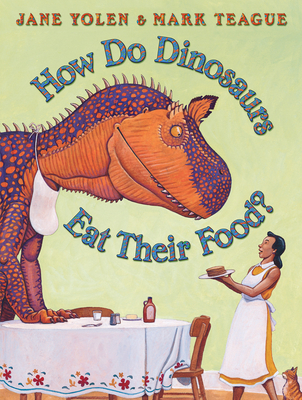 How Do Dinosaurs Eat Their Food? (How Do Dinosaurs...?) (Hardcover)
The Blue Sky Press, 9780439241021, 40pp.
Publication Date: September 1, 2005
Other Editions of This Title:
CD-Audio (1/1/2010)
Paperback, Spanish (1/1/2006)
Novelty book (1/1/2012)
Paperback (1/1/2006)
* Individual store prices may vary.
Description
How does a dinosaur eat all his food?
Does he burp, does he belch, or make noises quite rude?
Does he pick at his cereal, throw down his cup,
hoping to make someone else pick it up?
Just like kids, dinosaurs have a difficult time learning to behave at the table. However, with a little help from Mom and Dad, these young dinosaurs eat all before them with smiles and goodwill.
As in their previous books, Yolen and Teague capture children's rambunctious natures with playful read-aloud verse and wonderfully amusing pictures.
About the Author
Jane Yolen is the beloved author of more than three hundred books for children and adults, including award-winning picture books, fiction, nonfiction, and poetry. Her How Do Dinosaurs... books have sold millions of copies and are international bestsellers. She regularly travels the globe speaking and teaching. Jane lives in Western Massachusetts and St. Andrews, Scotland. You can visit her at janeyolen.com.

Mark Teague is the award-winning children's book author and illustrator of his own bestselling Dear Mrs. LaRue series, as well as The Sky Is Falling, The Three Little Pigs and the Somewhat Bad Wolf, The Tree House That Jack Built by Bonnie Verburg, and many other humorous picture books. In addition to his prized art for the How Do Dinosaurs... series, his illustrated novel, The Doom Machine, received excellent reviews. Mark lives in the Hudson River Valley with his wife and their two daughters.
Praise For How Do Dinosaurs Eat Their Food? (How Do Dinosaurs...?)…
HB 9/05

Jane Yolen How Do Dinosaurs Eat Their Food?; illus. by Mark Teague
40 pp. Blue Sky/Scholastic 9/05 ISBN 0-439-24102-2 $15.99 g
(Preschool)
Is going to a restaurant with a hyper three-year-old much different from doing so with a giant pterosaur? According to Yolen and Teague's latest addition to their How Do Dinosaurs... series, the Quetzalcoatlus was also prone to embarrassing its parents by tipping over chairs and getting crumbs everywhere. This amusing lesson in table manners depicts various other prehistoric reptiles spitting out broccoli, making bubbles in milk, and sticking beans in their nostrils, much to the dismay of their human moms and dads. As usual, Teague incorporates the scientific name of each expressively drawn beast into his paintings, and Yolen's series of questions about how a dinosaur should act ("Does he fuss, does he fidget, or squirm in his chair? Does he flip his spaghetti high into the air?") has a pleasing rhyme. The contrast between the human-sized setting and the super-sized main characters is once again strikingly comical, as when the Lambeosaurus, encouraged to take "at least one small bite" of something new, holds a tiny teaspoon of food in front of its massive head. Young dinosaur fans will eat this up and, taking a cue from the polite Spinosaurus, ask for more. C.M.H.



SLJ 8/05
YOLEN, Jane. How Do Dinosaurs Eat Their Food? illus. by Mark Teague. unpaged. Scholastic/Blue Sky. Sept. 2005. RTE $15.99. ISBN 0-439-24102-2. LC 2004020761.
PreS-Gr 2–Another addition to the humorous series that began with How Do Dinosaurs Say Good Night? (Scholastic, 2000). In the first part of the book, dinosaurs burp, belch, and display all kinds of other inappropriate behaviors during breakfast, lunch, and dinner. Spinosaurus doesn't "eat all his food...[he spits] out his broccoli partially chewed." Quetzalcoatlus fusses, fidgets, and squirms in his chair in a restaurant, while Amargasaurus flips his spaghetti high into the air. But, is this the way that dinosaurs should act? Of course not. So, a very genteel Cryolophosaurus says "please" and "thank you" while sitting very still, Lambeosaurus tries everything at least once, and Spinosaurus never drops anything onto the floor. In the last image, a very proper Cryolophosaurus–with pinky in the air–daintily eats his pancakes. The book is great fun, and sure to be popular with dinosaur lovers. Hidden in the illustration on each page is the proper name of the reptile portrayed therein. Teague's gouache-and-ink illustrations contain just the right amount of detail and whimsy, and they are large enough for storytime sharing. Children not yet old enough to read will still enjoy looking at the pictures by themselves.–Roxanne Burg, Orange County Public Library, CA

PW 7/25
Echoing the tone and look of How Do Dinosaurs Say Goodnight? and How Do Dinosaurs Get Well Soon?, these collaborators' latest guide to dino etiquette offers a jaunty comedy of errors, er, table manners. In the first half, against spare backdrops with a 1950s feel, dinosaurs behave kid-pleasingly naughtily when their human parents serve them meals. As Yolen's rhyming narrative asks questions ("How does a dinosaur eat all his food? Does he burp, does he belch, or make noises quite rude?"), Teague's illustrations provide affirmative answers, comically capturing the dining dinos' antics: one is covered in spaghetti after throwing his plate into the air, another blows bubbles in his milk glass and a third lies on the floor, happily sticking beans up his nose. The tables turn in the second half, when narrative and pictures offer Miss Manners alternatives while revisiting the same prehistoric heroes. One willingly says "Please" and "Thank you" (while wearing a bib) and another "tries every new thing, at least one small bite. He makes no loud noises--that isn't polite." Young dinosaur fans wi