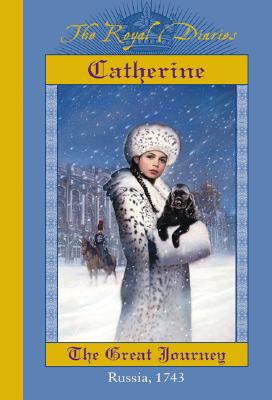 The Royal Diaries: Catherine: The Great Journey, Russia, 1743: Catherine, The Great Journey, Russia, 1743 (Hardcover)
Catherine: The Great Journey, Russia, 1743: Catherine, The Great Journey, Russia, 1743
Scholastic, 9780439253857, 176pp.
Publication Date: December 1, 2005
* Individual store prices may vary.
or
Not Currently Available for Direct Purchase
Description
Fourteen-year-old Prussian princess Sophia finds herself entangled in her mother's efforts to arrange a marriage between Sophia and Charles-Peter, a young German duke and nephew of the Russian empress Elizabeth. As Sophia's mother moves to make the match, she and Sophia must travel from their humble home in Zerbst, Prussia, to Russia--the kingdom of Elizabeth. There, Sophia is renamed Catherine and married to Charles-Peter, but she watches helplessly as her family is torn from her, her own mother is involved in a spying ring against the empress, and all that is familiar to her disappears.
About the Author
Kristiana Gregory is the bestselling author of many Dear America titles, including THE WINTER OF RED SNOW and its follow-up, CANNONS AT DAWN; ACROSS THE WIDE AND LONESOME PRAIRIE; and SEEDS OF HOPE. She has also written the Cabin Creek Mysteries, which are based on bedtime stories she told her sons when they were young and restless. Kristiana lives in Boise, Idaho. Visit her online at www.kgregorybooks.com.
Praise For The Royal Diaries: Catherine: The Great Journey, Russia, 1743: Catherine, The Great Journey, Russia, 1743…
SLJ

Gr 4-7–This novel is written from the viewpoint of Princess Sophie Augusta Fredericka of Anhalt-Zerbst, who later became Catherine the Great. The diary opens with an entry dated August 7, 1743, when Sophie is 14. Her mother obsesses over marrying her into a prestigious family. When the studious and rather plain-looking teen has an opportunity to marry Peter, Grand Duke of Russia, she must face the scrutiny of critical Empress Elizabeth. In her "diary," Sophie talks about her home situation and recounts the hardships of travel to Russia, her efforts to please the empress, and her engagement. Gregory's strong characterizations bring the historically grounded figures to life. Events convey the difficulties of Russian life during 1743-1745. At first slow moving, the plot picks up speed when Sophie meets the empress. The diary concludes with her impending wedding. Supplementary materials include a family tree, black-and-white reprints of painted portraits of Catherine and family, a map of Prussia and Russia from 1744, and the author's commentary on her use of primary sources.–Lynn K. Vanca, Akron-Summit County Public Library, Richfield, OH
Advertisement