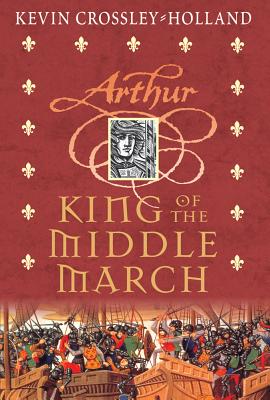 King of the Middle March (Hardcover)
Arthur A. Levine Books, 9780439266000, 409pp.
Publication Date: October 1, 2004
* Individual store prices may vary.
or
Not Currently Available for Direct Purchase
Description
Arthur de Caldicot waits eagerly in Venice for the start of the Fourth Crusade. But it's now when Arthur's future should be clearest that he feels the most doubt. Jealousies and greed rive the Crusade, leading him to question its true mission. Back in England, his engagement to Winnie remains uncertain, while his search for his birth mother has been stymied by his vicious father. And his seeing stone shows him the last days of King Arthur's court--a great dream destroyed, but also a glorious legend rising from the ruins. Likewise in this book, Arthur becomes a man worthy of his kingly name.
About the Author
Kevin Crossley-Holland was born in 1941 in Mursley, North Buckinghamshire, and grew up in Whiteleaf, a village in the Chiltern Hills of western England. He attended Oxford University, where, after failing his first exams, he developed his passion for Anglo-Saxon literature. After graduating, he was the Gregory Fellow in Poetry at the University of Leeds, and from 1972-1977, he lectured in Anglo-Saxon for the Tufts University of London program. He worked as a children's book editor while beginning to write his own poems and reinterpretations of medieval legends. He has also taught for extended periods in America. He now lives in Norfolk, England.

Kevin Crossley-Holland has published six volumes of adult poetry and several libretti for opera. In the world of children's books, he is best known for his numerous retellings and anthologies, and in particular his version of Beowolf. Storm, his novella, won the Carnegie Medal in 1985.

The Seeing Stone, published by Scholastic, is his only other work of original fiction. T.H White is the inevitable comparison for Kevin Crossley-Holland's new novel, American readers will also be reminded of Karen Cushman, for the earthy, rich portrayal of life in a medieval manor. Its sequel, At the Crossing-Places, was published in the United States in fall 2002. The third title in this trilogy is King of the Middle March, which will be published in 2003.
Praise For King of the Middle March…
Voice of Youth Advocates
February 1, 2005

Crossley-Holland concludes his Arthur Trilogy with this magnificently written medieval historical fiction blended with Arthurian legend. In 1201, Arthur accompanies Sir Stephen to Venice to requisition boats for the Fourth Crusade and is finally knighted. Arthur's keen observations and insight allow the reader to see and hear the sounds of foreign lands and varied peoples, lending the novel credence and immediacy. Arthur's seeing stone, a gift from Merlin, continues to reveal to him the tales of King Arthur and his knights. The knights' adventures frequently parallel those of Arthur, as do the circumstances of King Arthur's life, such as his parentage. Arthur gleans knowledge both about himself and life in general from these visions. Rich characterizations, glorious descriptions, and authentic vocabulary (a glossary appears at the back of the book) effectively evoke medieval life for the reader. Arthur's feelings for his family and his betrothed echo those of all teenagers. His fear of battle and worries about being a good knight also reflect his commonality with other young adults. Especially timely are Arthur's observations about the Saracens and their religion; he does not understand why people use religion as a reason to kill each other, an unusual sentiment for a Crusader. Short chapters and lots of action make it a quick read, although readers who have not read the first two books in the trilogy will be somewhat lost. Young adults interested in the Middle Ages, the Crusades, and King Arthur will find this series enthralling to read.-Rachelle Bilz.

Horn Book Magazine
January 1, 2005
STARRED
(Middle School) Arthur de Caldicot, thirteenth-century namesake of the legendary King Arthur (The Seeing Stone, rev. 11/01; At the Crossing Places, rev. 11/02), is now sixteen, on his way to Jerusalem to join the Fourth Crusade. His small company of Englishmen has arrived in Venice, where they are stalled by unpaid bills and Venetian politics. For Arthur, the crusade is "an act of devotion...a war against the enemies of God"; for others, it's "company. Adventure. A woman or two. That's all." Arthur learns that war is a complex mix of gore and brotherhood, nobility and vileness; his musings on the subject are thought-provoking but never become didactic. Paralleling Arthur's experience is the saga of King Arthur -- now, as the young Arthur watches it in his obsidian seeing stone, coming to a sad and ignominious close. Crossley-Holland has written a novel of extraordinary richness, packed with event and color and texture. As a wise nun tells Arthur, "You care and think and feel, you are awake to the world," and Crossley-Holland transfers that vividness of experience to readers. Considered as a final installment of a trilogy, the book is even more of an accomplishment: it satisfactorily resolves all plot lines while simultaneously releasing Arthur into a somewhat unpredictable future. But whatever happens, as Arthur returns to England ready to take his place as lord of Catmole (or Camelot?), readers can be sure that Arthur has learned enough from his seeing stone not to repeat its mistakes, and that he will forever be "awake to the world." Copyright 2005 of The Horn Book, Inc. All rights reserved.

School Library Journal
(November 1, 2004

Gr 7 Up-A glorious and uplifting conclusion to the trilogy. As before, Arthur de Caldicot tells his story, which this time finds the teen on an island off the coast of Venice waiting for a Crusade to begin. He is full of both wonder at his surroundings and the multinational band of men and anxiety over what is expected of him. Arthur is knighted and takes his oath to defend God seriously, but he is conflicted to learn that the Saracens are educated and devout people not unlike the Europeans. At the forefront of his thoughts is Merlin's admonition to keep as
Advertisement