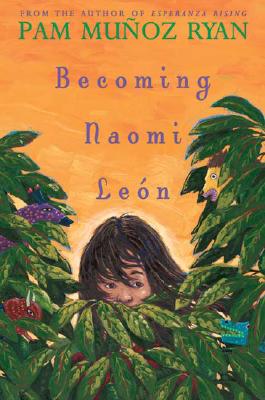 Becoming Naomi Leon (Hardcover)
Scholastic Press, 9780439269698, 246pp.
Publication Date: September 1, 2004
* Individual store prices may vary.
or
Not Currently Available for Direct Purchase
Description
Naomi Soledad León Outlaw has had a lot to contend with in her young life, her name for one. Then there are her clothes (sewn in polyester by Gram), her difficulty speaking up, & her status at school as "nobody special." But according to Gram's self-prophecies, most problems can be overcome with positive thinking. Luckily, Naomi also has her carving to strengthen her spirit. And life with Gram & her little brother, Owen, is happy & peaceful. That is, until their mother reappears after 7 years of being gone, stirring up all sorts of questions & challenging Naomi to discover who she really is.
About the Author
Pam Munoz Ryan is the recipient of the NEA's Human and Civil Rights Award and the Virginia Hamilton Literary Award for multicultural literature. She has written more than thirty books which have garnered, among countless accolades, the Pura Belpre Medal, the Jane Addams Award, and the Schneider Family Award. Pam lives near San Diego. You can visit her at www.pammunozryan.com.
Praise For Becoming Naomi Leon…
Voice of Youth Advocates
December 1, 2004

Naomi Soledad LeŽn lives with her brother and great-grandmother in a trailer in Lemon Tree, California. Her biggest problem is being teased by boys in her fifth grade class. Naomi inherited her father's gift for carving and takes after the Mexican side of the family. Quirky little brother, Owen, is an FLK, funny looking kid, with physical defects. When their mother reappears after a seven-year absence, the children are happy to see her, but it soon becomes apparent that she wants to take Naomi with her so that she and boyfriend Clive can collect child support and Naomi can baby-sit Clive's daughter. After the children's mother starts drinking, Gram, who does not have official custody of the children, obtains temporary guardianship and takes the children to Mexico. Naomi takes part in the traditional La Noche de los R?banos carving competition, and the children meet their father. After an emotional reunion, the children and their great-grandmother return to California to go to court, where Gram is granted guardianship. Themes of divorce, absent parents, biculturalism, inherited traits, physical disabilities, and triumph over adversity are woven through this novel that features realistic characters, both lovable and despicable, and a believable plot. The list-making, soap-carving main character who loves words and the librarian who provides a sanctuary for Naomi and other troubled children will find favor with librarians and teachers. As in Esperanza Rising (Scholastic, 2000/VOYA December 2000), symbols abound, and readers of all ages will enjoy reading of Naomi's transformation and triumph.-Sherry York.

Booklist
September 15, 2004

Gr. 4-7. Half-Mexican Naomi Soledad, 11, and her younger disabled brother, Owen, have been brought up by their tough, loving great-grandmother in a California trailer park, and they feel at home in the multiracial community. Then their alcoholic mom reappears after seven years with her slimy boyfriend, hoping to take Naomi (not Owen) back and collect the welfare check. Determined not to let that happen, Gram drives the trailer across the border to a barrio in Oaxaca to search for the children's dad at the city's annual Christmas arts festival. In true mythic tradition, Ryan, the author of the award-winning Esperanza Rising (2000), makes Naomi's search for her dad a search for identity, and both are exciting. Mom is demonized, but the other characters are more complex, and the quest is heartbreaking. The dense factual detail about the festival sometimes slows the story, but it's an effective tool for dramatizing Naomi's discovery of her Mexican roots and the artist inside herself. --Hazel Rochman Copyright 2004 Booklist

Kirkus
Review Date: SEPTEMBER 01, 2004
STARRED
First-person narrator Naomi León Outlaw and her bright, physically lopsided little brother Owen feel safe in the routines of life in Lemon Grove, California, with great-grandmother Gram. Naomi, a soft-voiced list-maker and word-collector, is also a gifted soap-carversomething inherited, it turns out, from the Mexican father from whom she and Owen were separated as small children. The unexpected arrival of Naomi's long-absent mother throws everything off balance. The troubled young woman's difficulties threaten to overturn the security Gram has worked to provide for Naomi and Owen. With friends' help, Gram takes the children to Oaxaca City to find their father and gain his support in her custody appeal. Here they are immersed in a world of warmth and friendship, where Naomi's longing to meet the father she dimly remembers intensifies. The annual December radish-carving festival gives Naomi's creativity a chance to shine and makes the perfect setting for a reunion. Naomi's matter-of-fact narrative is suffused with her worries and hopes, along with her protective love for her brother and great-
Advertisement