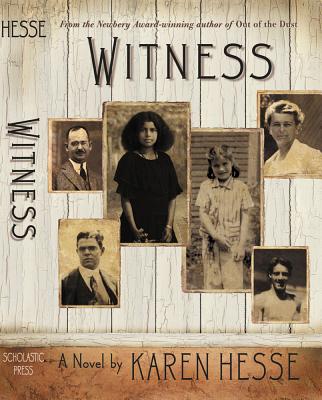 Witness (Hardcover)
Scholastic, 9780439271998, 161pp.
Publication Date: September 1, 2001
* Individual store prices may vary.
or
Not Currently Available for Direct Purchase
Description
Two young girls--one black and one Jewish--are caught up in the turmoil of prejudice in a small Vermont town in 1924.

About the Author
Karen Hesse is the award-winning and critically acclaimed author of many books for children. Her titles include WITNESS, THE CATS IN KRASINSKI SQUARE, and the Newbery Medal winner OUT OF THE DUST, among many others. She lives in Vermont with her husband and two teenaged daughters.
Praise For Witness…
Based on real events, Hesse tells a story of the Ku Klux Klan in a small town in Vermont in 1924. She tells it in the same clear free-verse style as her Newbery winner, Out of the Dust (1997). This time, however, she uses 11 different voices, each one distinct, including two kids who are new to town--Leonora Sutter, 12, who is black, and Esther Hirsh, 6, who is Jewish. Then there are various adult townspeople: the violent Klan bigots (who attack "those who are not like us" in the name of Protestantism and patriotism), the anti-racist crusaders, and the bystanders. Most interesting is Merlin, 18, who starts off in flaming hatred, but changes. Then there's the affectionate married couple--he's in the Klan, she's against it. Their comic squabbles about it are fun, until you realize how serious the issue is. The story is told in five acts, and, in fact, it will work best as reader's theater. It's more a situation than a straight narrative, with too many characters and too many plot threads that aren't fully developed. But Hesse's spare writing leaves space for readers to imagine more about that time and about their own. The voices personalize the history and reveal how events felt to different people: the daily hurt (like the circus sideshow, where it's fun to take shots at the "nigger's" head); the lure ("the kkk / is looking to rent the town hall for their meetings / why shouldn't they?"); the opposition that refused to allow the Klan to move in. Add this to the Holocaust curriculum, not because every racial incident means genocide, but because it will spark discussion about how such a thing could happen on your street.
---Booklist, August 2001, starred review

In this stunning piece of little-known History, Hesse (Stowaway, 2000, etc.) paints small town Vermont on the brink of self- destruction circa 1924. The narrative poetry format has fitting roots in "The Spoon River Anthology." Eleven characters speak revealingly for themselves to describe a year in which the Ku Klux Klan arrives, seduces many solid citizens, moves from intimidation to threat to violence, and is finally rejected by the tolerant, no-nonsense townsfolk. Central to the story are two children, one an African-American named Leanora, and the other, a Jewish fresh-air child from New York, named Esther. As targets of prejudice, the lives of both are affected by the actions of the KKK: Leanora is the victim of racist remarks and threats, and Esther sees her father shot while she's sitting on his lap. The story is all the more haunting for its exquisite balance of complex and intersecting points of view on gender, ethnicity, politics, religion, and money. The setting is well developed through subtly embeded period details of everyday Vermont life (a broom sale creates a stampede) and incidents of national historical significance (the Leopold and Loeb trial). The voices of each character have a distinct resonance, but the voice of Esther, the moral center of the book, is memorable. It has a unique beauty and style created by Esther's innocent and hopeful way of expression, but revealing of her immigrant roots in New York. This is carefully crafted, with Leanora, who evolves and grows in wisdom and understanding, being given the first and last word. What Copeland created with music, and Hopper created with paint, Hesse deftly and unerringly creates with words: the iconography of Americana, carefully researched, beautifully written, and profoundly honest. (Fiction, 10-14)
--Kirkus Reviews, August 2001, starred review

The author of Out of the Dust again turns language into music in her second quietly moving novel written entirely in verse. Here, 11 narrative voices chronicle actual events occurring in a sleepy Vermont town after the arrival of the Ku Klux Klan in 1924. Those victimized by the Klan include the families of Leanora Sutter, a 12-year-old African-American girl, and Esther Hirsh, the six-ye
Advertisement