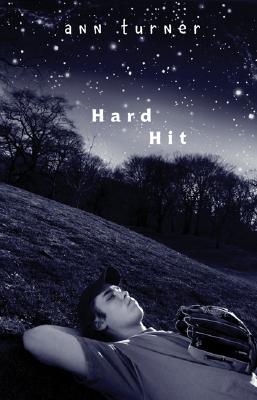 Hard Hit (Hardcover)
Scholastic Press, 9780439296809, 167pp.
Publication Date: March 27, 2006
* Individual store prices may vary.
or
Not Currently Available for Direct Purchase
Description
As she did in her groundbreaking memoir, Learning to Swim, Turner takes on a tough subject through luminous poetry. The result is a shattering and healing journey through one boy's loss of a parent.
As the pitcher on his HS team, Mark lives and breathes baseball. Sure, there's pressure from his coach and his dad, who both push him hard, but it's nothing that time with his buddy, Eddie, or with his crush, Diane, can't diffuse. But all that changes when Mark's dad is diagnosed with cancer, and everything Mark has ever believed in--love, God, and baseball--is called into question.
This profoundly affecting novel in verse traces the physical and emotional journey of a boy in crisis, and all the requisite emotions--anger, denial, fear, bargaining, sadness, & acceptance--that accompany loss.
About the Author
Ann Turner began her writing career as a poet and has subsequently published more than thirty-five critically acclaimed books for young readers, ranging in age from kindergarten through High School. She was born in Northampton, Massachusetts and grew up in Williamsburg, a small, rural town nearby, where she currently lives with her husband and two teenagers. She graduated from Bates College in Maine and studied abroad during her junior year in Oxford, England, also studying at the University of Massachusetts, where she received an M.A.T. in 1968. She taught High School English for one year but decided that she would rather write books than teach them, depending on all the wonderful teachers to help put her books into the hands of children and teenagers.
Praise For Hard Hit…
Kirkus 2/1/06 Starred review
Mark Warren's world is about to be turned upside down by his father's sudden diagnosis of cancer in this novel written in a spare, masterful sequence of poems. The tenth grader, an aspiring star pitcher, still has an innocence and ability to feel, qualities absent from much of contemporary YA fiction. And while the story follows a formulate structure- Mark's got a best frined and falls in love- both these characters support Mark with genuine warmth and affection through the ups and downs of his father's treatment. What keeps this arresting is the kindness and understanding of the characters- not just Mark's friends, but his family, too- and the astonishing minimalist language of each poem that advances the storyline and reveals Mark's attempt to grapple with everything. There isn't a lot of background noise: no sidebar conversations into other character's unhappy or dysfunctional lives; the focus is clearly on Mark, life and death and the exquisitely evoked simple and complex mysteries of the universe. Backmatter includes "National Help Lines" for further information on cancer and organizations to help children with bereavement.

Booklist
\\\\\\\\Turner, Ann. Hard Hit. Feb. 2006. 176p. Scholastic, $16.99 (0-439-29680-3).
Gr. 710. Tenth-grader Mark Warren is a golden boy: good friends, a gorgeous girlfriend, and an awesome pitching arm, an arm that his dad has cultivated since Mark was small. Yet all turns gray and meaningless when Mark learns that his father has pancreatic cancer. In a carefully crafted, free-verse narrative, the teen tells of his struggle with faith, hope, and disillusionment as his family watches his father slip awayand the inevitable terror and guilt of those still living. It's a hard, sad, beautifully written, easily accessible book, spare yet with surprisingly well-developed characters. Unlike longer, more complex novels that build layers of emotion through description and events, Turner employs poetry to paint the reality of gradual loss, and the sparse language conveys the absence of all the family has known and its lonely emptiness without its central figure. A short bibliography of resources for children whose parents have died rounds out this special book. Frances Bradburn

SLJ
Gr 8 UpAs in Learning to Swim (Scholastic, 2000), Turner addresses an intense subject in lyrical poetry. Mike, 16, has the perfect lifestar baseball player, cute girlfriend, and loyal best frienduntil the phone call that turns his life upside down. His father has pancreatic cancer. While his friends continue to live their lives, time stands still for Mike. His dad suffers through and begins the wasting away that cancer causes. A short period of remission brings a brief period of celebration. In the end, however, Mike finds that his bargains with God and his attempts to get along better with his sister are all for naught. His father dies and he must find a way to go on with his life. Teens who have experienced serious illness and/or death in their family or with close friends will relate to Turner's profound novel that traces the journey of one young man through the stages of grief and recovery. National help lines, addresses, and Web sites are included for readers who need them.Kathryn Childs, Morris Mid/High School, OK



Kliattt

Death of a beloved family member, in this case a father, is indeed a hard hit, and using the poetry format to tell of the impending death and the family grief is a powerful means of conveying the intensity of feelings. Mark loves his father dearly, and they share an interest in baseball, so Mark tries to continue on the team through his father's illness. The four sections of the novel use baseball terminology to tell of the other, larger story: Wind Up: Strike One!; Extra Innings; Three Strikes! The language is spare but gut-wrenching: They are starti
Advertisement