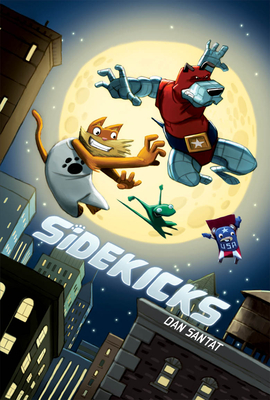 Sidekicks (Paperback)
Arthur A. Levine Books, 9780439298193, 224pp.
Publication Date: July 1, 2011
* Individual store prices may vary.
Description
Captain Amazing, superhero and savior of Metro City, is getting old. He's out all hours battling arch-villains, catching thieves, and helping little old ladies cross the street. He doesn't even have time for his house full of pets. He needs - a SIDEKICK!

Captain Amazing's four pets agree. But each one of them thinks HE should get the sidekick spot - and a chance for one-on-one time with the Captain. Get ready for sibling rivalry royale as pets with superpowers duke it out for the one thing they all want - a super family.

A BOLD and BRILLIANT graphic novel romp by Caldecott Medalist Dan Santat.
About the Author
Dan Santat wrote and illustrated the graphic novel Sidekicks, and has also illustrated many acclaimed picture books, including The Guild of Geniuses and The Adventures of Beekle: The Unimaginary Friend, which won the Caldecott Medal. He lives in Alhambra, California, with his family. Please visit his website at www.dantat.com.