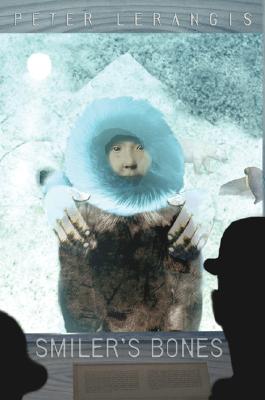 Smiler's Bones
Hardcover

* Individual store prices may vary.
Other Editions of This Title:
Paperback (2/1/2007)
Description
In 1897, famed explorer Robert Peary took six Eskimos from their homes in Greenland to be "presented" to the American Museum of Natural History. Among the six were a father and a son. Soon, four were dead, including the father (whose bones, unbeknownst to the son, were put on display). One returned to Greenland. And the other -- the young boy -- remained, the only Eskimo in New York for twelve years. His name was Minik. This is his story. A story of lies and deceptions. A story about the price of exploration. A story about discovering the truth of a culture.
Praise For Smiler's Bones…
SLJ 6/1/05 Gr 5-8 -In 1897, arctic explorer Robert Peary took six Polar Eskimos to New York City to be part of a living exhibit at the American Museum of Natural History. In a series of flashbacks, the youngest "specimen," eight-year-old Minik, tells the tale of his journey to New York and the fate of his father, Qisuk, called "Smiler." The wide-eyed boy experiences candy and circus visits, happily unaware that he is a curio for public display. When his father and three others die of pneumonia, the exhibit is closed and Uncle Will, a benevolent museum curator, becomes his new guardian. Chapters alternate between the naive young Minik and the mature teenager who has trouble coping with the bizarre circumstance of his youth and feelings of isolation. He is devastated to learn that he has been betrayed by Uncle Will, who has allowed Qisuk's skeleton to be macerated and kept in the museum as an artifact, rather than properly buried. The first-person point of view works well as Minik ages, and vivid dreams keep him tied to his family. By juxtaposing chapters, the depressed and cynical teen contrasts sharply with the innocent child brought up in a trusting Eskimo culture. Minik is an unforgettable character, and issues of racism and scientific arrogance will not be lost on readers.-Vicki Reutter, Cazenovia High School,
Paula Rohrlick (KLIATT Review, May 2005 (Vol. 39, No. 3))
The cover, featuring a small Inuit face peering out soberly, even fearfully, from a fur hood, is perfect for this tale based on the sad experiences of a real-life Inuit boy. In 1897, explorer Robert Peary brought back six Inuit from Greenland to New York City. Minik, who was about seven at the time, and his father, known as Smiler, were among them. Soon, however, four died of consumption, including Smiler, and one returned, leaving only young Minik. This novel opens in Quebec City in 1909, with a distraught 19-year-old Minik planning to commit suicide. We then flash back to his childhood in Greenland and early encounters with Peary, whose exotic ways and handy new weapons win over the native people. Lerangis does a great job of conveying how strange New York City appears to a boy who has never even seen a tree, and how the Inuits are treated as curiosities rather than people. They are housed in the American Museum of Natural History, and when they die their corpses are dissected and their bones mounted, Minik eventually discovers to his horror, instead of being buried accordingly to Inuit custom, as they would have him believe. After his father dies, Minik is brought up by the museum superintendent, Will Wallace. However, eventually Wallace loses his job and Minik loses his home. At the end of the story, he manages to return to Greenland, though an Author's Note reveals that Minik was unable to fit back into his native culture, and returned to the US. He worked in a New Hampshire logging camp and died of the Spanish flu in 1918. He never did recover his father's bones. This historical fiction succeeds in making Minik and his plight come to life, revealing how he was exploited and illuminating a dark corner of history. It's a more sophisticated tale than its brief length might imply, and thoughtful readers will appreciate its message about respecting other cultures and how it feels to belong nowhere. Category: Hardcover Fiction. KLIATT Codes: JS--Recommended for junior and senior high school students. 2005, Scholastic, 160p., $16.95. Ages 12 to 18.
Jennifer Mattson (Booklist, Apr. 1, 2005 (Vol. 101, No. 15))
In this wrenching first novel, based on true events, Lerangis gives voice to Minik, an Eskimo boy who, along with his father and several other villagers, was delivered to New York by Arctic explorer Robert Peary "in the interest of science." First they are put on display at the Museum of Natural History; then consumption strikes: "Four days, four eskimos. Dead, dead, dead, dead." A kind family takes the orphan in, but as he ma
Scholastic Press, 9780439344852, 147pp.
Publication Date: February 1, 2005
About the Author
Peter Lerangis is the author of The Sword Thief and The Viper's Nest, Books 3 and 7 in the bestselling multi-media adventure series The 39 Clues. He has written more than 150 books for young readers in many different genres. He's also a Broadway musical theater actor/singer, a marathon runner, and a father of two sons. He currently lives in New York City.