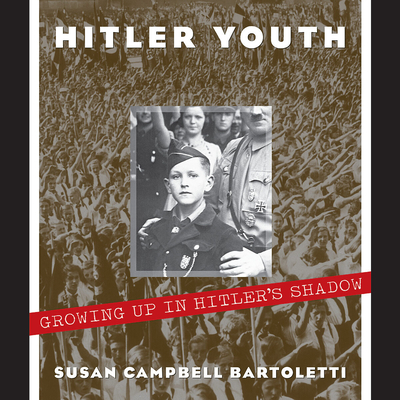 Hitler Youth (Hardcover)
Scholastic, 9780439353793, 176pp.
Publication Date: March 22, 2006
* Individual store prices may vary.
or
Not Currently Available for Direct Purchase
Description
"I begin with the young. We older ones are used up . . . But my magnificent youngsters! Look at these men and boys! What material! With them, I can create a new world." --Adolf Hitler, Nuremberg 1933 By the time Hitler became Chancellor of Germany in 1933, 3.5 million children belonged to the Hitler Youth. It would become the largest youth group in history. Susan Campbell Bartoletti explores how Hitler gained the loyalty, trust, and passion of so many of Germany's young people. Her research includes telling interviews with surviving Hitler Youth members.
About the Author
Susan Campbell Bartoletti is the award-winning and critically acclaimed author of many books, both fiction and nonfiction, for children. Her fiction includes the novels THE BOY WHO DARED, Dear America: A COAL MINER'S BRIDE, and NO MAN'S LAND, as well as a number of picture books. She won the Newbery Honor for her nonfiction book HITLER'S YOUTH. A former eighth-grade teacher for eighteen years, Bartoletti now writes full-time and lives in Pennsylvania with her family.
Praise For Hitler Youth…
"Bartoletti (Kids on Strike!) offers a unique and riveting perspective on WWII by focusing on the young people who followed Hitler from 1933-1945.Bartoletti's portrait of individuals within the Hitler Youth who failed to realize that they served a mass murderer" is convincing, and while it does not excuse the atrocities, it certainly will allow readers to comprehend the circumstances that led to the formation of Hitler's youngest zealots."
--Publishers Weekly, May 23, 2005
*starred review*

"Case studies of actual participants root the work in specifics, and clear prose, thorough documentation and an attractive format with well-chosen archival photographs make this nonfiction writing at its best.Superb."
--Kirkus Reviews, April 1st, 2005
*starred review*

"Hitler's plans for the future of Germany relied significantly on its young people, and this excellent history shows how he attempted to carry out his mission with the establishment of the Hitler Youth....Bartoletti lets many of the subjects' words, emotions, and deeds speak for themselves, bringing them together clearly to tell this story unlike anyone else has."
--School Library Journal, June 2005
*starred review*

The handsome book design, with stirring black-and-white historical photos on every double-page spread, will bring in readers and help spark deep discussion..."
--Booklist, April 15th, 2005
*starred review*

"With clarity and apt quotation (scrupulously sourced), Bartoletti takes readers from the prewar beginnings of Hitler Youth, through its significant role in gaining Hitler the government, to its ultimate position as a feeder for the German war machine.The power of the account is matched by the many period candid and propaganda photographs, well-married to the text by strong captions and placement and an unobtrusive but period-evocative Art Deco page design."
--The Horn Book, May / June 2005
*starred review*

"This solid offering deserves wide readership by today's young people, and it is certain to promote extensive discussion."
--The Bulletin of the Center for Children's Books, June 1st, 2005
*starred review*

VOYA 8/05

4Q - 3P- M - J - S
Bartoletti, Susan CarnpbeU, leder Youth: Growing Up in I-litleis Shadow. SchoWtic, 2005. 176p. $19.95.0439-35379-3. I
I

How could so many Germans go along with Hitler's inhumane public policies that led to

the deaths of millions? This book, through the testimony of youth, successfully answers

that question. The Hitler Youth program offered its often-irnpoverished members hope,

excitement, and even power. The dangling carrot of camping trips, uniforms, and parades

enraptures tens of thousands children. From the story of its first martyr to the executions
of those who left its ranks in the war's waning years, the history of the organization, and

on a wider scale the story of the Holocaust, is told against the backdrop of Germany's

youth, used as campaigners, informants, laborers, and even soldiers. The program

infiltrated churches and schools and intimidated teachers and clerics to

conform to Nazi policies of anti-Semitism, book burning, and eradication of all things
"non-German." As these policies became more outrageous, many tried to leave, but by
then it had become dangerous to challenge the mob mentality
.
This profusely illustrated book relates the stories of youth who were - and still are
-
supportive of Hider's deeds as well as those who resisted, and in some cases died
,
trying to away public opinion. Heartbreaking photographs include images of the i
Advertisement