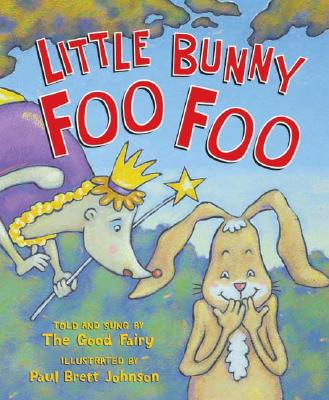 Little Bunny Foo Foo: Told And Sung By The Good Fairy (Hardcover)
Told And Sung By The Good Fairy
Scholastic Press, 9780439373012, 32pp.
Publication Date: February 1, 2004
* Individual store prices may vary.
or
Not Currently Available for Direct Purchase
Description
In this irresistible book it's not just field mice that suffer Little Bunny Foo Foo's mischievous tricks, but woodchucks, foxes, & grizzly bears! And as LBFF's subjects grow so do his scooping methods, from lasso to tractor bucket to crane. All the while, LBFF takes his naughtiness to hyperbolic heights as the Good Fairy--hilariously rendered as a possum--points out the error of his wayward ways w/ humor & spunk. Painted in a warm, folksy style w/ vibrant colors & soft edges, Johnson strikes just the right balance between the joys of being bad & a tongue-in-cheek lesson in behavioral reform.
Praise For Little Bunny Foo Foo: Told And Sung By The Good Fairy…
Publishers Weekly
(February 2, 2004; 0-439-37301-8)

In this escalating tale of misbehavior, based on a children's song, Little Bunny Foo Foo pelts woodland animals with "yucky-mucky mud pies." He rides a red wagon and mini-motorcycle in pursuit of smaller creatures, then upgrades to a tractor and crane to chase bigger game. A rhythmic refrain names his victims: "Little Bunny Foo Foo/ Hoppin' through the forest/ Scoopin' up the field mice/ And boppin' 'em on the head." The delinquent's gleeful antics are observed by a pointy-nosed, outraged opossum in a gaudy purple-and- yellow tutu. This foolish-looking "good fairy" wags her finger and scolds, "Little Bunny Foo Foo/ I don't wanna see you/ Scoopin' up the field mice/ And boppin' 'em on the head." She gives him three chances, "or I'll turn you into a goon!" (The threat leaves readers understandably curious for the outcome.) Unbowed, the bratty rabbit attacks woodchucks, foxes and bears, forcing the fairy to wave her wand and leave him dressed as a circus clown. Johnson (The Cow Who Wouldn't Come Down), who favors rustic tricksters in the Br'er Rabbit mold, styles the impish title character as a rubbery-limbed joker while asserting that the animals get "bop[ped] on the head" with nothing worse than drippy brown mud. The opossum's wrath provides an effective buildup, but the culminating one-liner ("Hare today, goon tomorrow") ends on a humdrum note, with the mud-spattered crowd laughing on a variegated green hillside. Ages 2-5. (Feb.) Copyright 2004 Reed Business Information.

Booklist
(January 1, 2004; 0-439-37301-8)

PreS-Gr. 1. In this picture-book interpretation of a classic ditty, Little Bunny Foo Foo's transgressions are narrated by the Good Fairy herself, who is at cross-purposes with Foo Foo in the matter of boppin' field mice and other woodland critters. Yucky, mucky mud pies are Foo Foo's weapons of choice, and, in a twist that will be welcome by fans of things that go vroom, the rabbit chases down victims in increasingly outrageous vehicles.ohnson paints in a pleasant, color-flecked style, although his Good Fairy, a bizarre amalgam of a woman and an opossum, will probably baffle children whose mental image is based on Tinkerbell. But the interactive spirit of the song is intact, thanks to type that changes color at moments appropriate for group participation, and the visual presentation is silly enough to match the fun of saying foo foo and goon at the top of one's lungs. Music, complete lyrics, and descriptions of the hand moves are included. --Jennifer Mattson Copyright 2004 Booklist
Advertisement