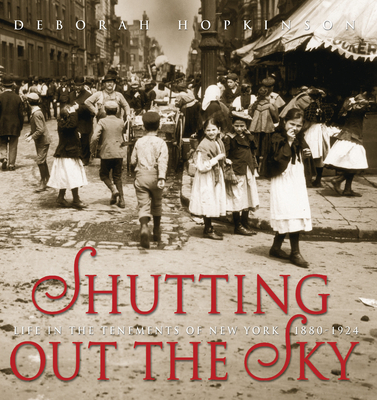 Shutting Out the Sky: Life in the Tenements of New York 1880-1924 (Hardcover)
Life in the Tenements of New York 1880-1924
Orchard Books (NY), 9780439375900, 134pp.
Publication Date: October 1, 2003
Description
Acclaimed author Hopkinson recounts the lives of five immigrants to New York's Lower East Side through oral histories and engaging narrative. We hear Romanian-born Marcus Ravage's disappointment when his aunt pushes him outside to peddle chocolates on the street. And about the pickle cart lady who stored her pickles in a rat-infested basement. We read Rose Cohen's terrifying account of living through the Triangle Shirtwaist fire, and of Pauline Newman's struggles to learn English. But through it all, each one of these kids keeps working, keeps hoping, to achieve their own American dream.
About the Author
Deborah Hopkinson is the author of such award-winning children's books as SWEET CLARA AND THE FREEDOM QUILT; GIRL WONDER: A BASEBALL STORY IN NINE INNINGS; A BAND OF ANGELS; and Dear America: HEAR MY SORROW. Her nonfiction books, SHUTTING OUT THE SKY, LIFE IN THE TENEMENTS OF NEW YORK, a Jane Addams Peace Award Honor book and an Orbis Pictus Award Honor Book; and UP BEFORE DAYBREAK, COTTON AND PEOPLE IN AMERICA, a Carter G. Woodson Honor Award winner, have garnered much acclaim.

Deborah lives near Portland, Oregon, where, in addition to writing, she works full-time as the Vice President for Advancement for the Pacific Northwest College of Art.
Praise For Shutting Out the Sky: Life in the Tenements of New York 1880-1924…
Voice of Youth Advocates<br></br>(June 1, 2004; 0-439-37590-8)<br></br><br></br>Hopkinson describes life in the tenements by artfully weaving together the firsthand accounts of five people who immigrated to New York as young teenagers at the turn of the twentieth century. After introducing their stories, she tackles her topic by subject, bringing each voice to comment on the physical conditions of the tenements, the work available to immigrants, play, education, and food. By incorporating direct quotes and nicely reproduced archival photographs, the author brings the tenement experience to life for the reader. Notes at the end fully document all her sources, while a time line and further reading give readers access to more information. The book is beautifully designed, with plenty of space given to the photographs, so that no page is text heavy. The square, open format definitely gives it the look of a "children's book," although middle school readers at the upper range of the book's audience will get the most out of this excellent source. There is little available on the topic for this age. Although both excellent books, Linda Granfield's 97 Orchard Street, New York (Tundra, 2001/VOYA December 2001) is a less engaging read, and Raymond Bial's Tenement (Houghton Mifflin, 2002) is for a somewhat younger audience.-Nina Lindsay. <br></br><br></br><br></br>Kirkus STARRED<br></br>September 15th, 2003<br></br><br></br>Between 1880 and 1919, 23 million people came to America, most through the port of New York and most from eastern and southern Europe. Five young individuals and their experiences represent those masses in this well-conceived volume. Hopkinson covers the journey, Ellis Island, tenements, street life, work, reform movements, and education, always rooted in the actual stories and words of individual immigrants. Archival photographsincluding many by Lewis Hine and Jacob Riis, excerpts from autobiographies and oral histories, and meticulous documentation, with a section on resources for young readers, make this an excellent model of historical writing. Hopkinson's enthusiasm for research, primary sources, and individual stories that make history come alive is evident throughout this excellent work. Nonfiction at its best and a good companion to Mary Jane Auch's Ashes to Roses (2002), Johanna Hurwitz's Dear Emma (2002), and other recent works on the subject. (foreword, afterword, timeline, notes, photo credits, index)<br></br><br></br><br></br>Horn Book Magazine<br></br>(January 1, 2004; 0-439-37590-8)<br></br><br></br>(Intermediate, Middle School) Hopkinson describes Jacob Riis's 1890 book exposing the deplorable conditions of New York City tenement housing as having "such powerful pictures and words that readers were carried directly into the world of the tenements." The same can be said of Hopkinson's own absorbing look at the lives of immigrant children and young adults in New York at the turn of the twentieth century--a time of unprecedented immigration to America. This well-organized social history covers a lot of ground and draws much of its intensity from firsthand accounts. The opening chapters reflect the progression many immigrant children (and adults) made from dreams of easy wealth and happiness to the bleak reality of tenement life. The accessible narrative, effectively supported by well-placed sepia-toned archival photographs, documents the struggles of young immigrants (including dangerous living and working conditions, poverty, lack of education) to carve out better futures for themselves and their families in spite of the obstacles they faced just to survive. A final chapter, filling in later accomplishments made by five specific young people, ends the book on a note of promise. A timeline, list of further reading, bibliography, chapter notes, and index enhance this fascinating glimpse into the past. Copyright 2004 of The Horn Book, Inc. All rights reserved.<br></br><br></br>School Library Journal<br
Advertisement