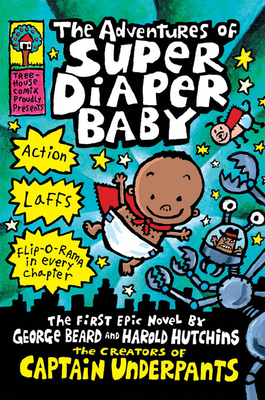 The Adventures of Super Diaper Baby (Captain Underpants) (Hardcover)
Scholastic Inc., 9780439376051, 128pp.
Publication Date: March 1, 2002
Description
In this new and outrageous comic novel, Dav Pilkey creates a hilarious l28-page book "by George Beard and Harold Hutchins," the fourth-grade stars of Pilkey's bestselling Captain Underpants series. Oh, no It's not enough that George and Harold have invented Captain Underpants, the greatest superhero of all time, and that they've also saved the world FIVE times They defeated Dr. Diaper They punished Professor Poopypants And they whacked the wicked Wedgie Woman What task could be worse? ?
This one: As punishment, the boys have to write a 100-page report on "good citizenship," and they have been specifically ordered NOT to write another comic about Captain Underpants. So what do they do?
Aha Meet Super Diaper Baby--the most powerful peewee to pack a punch. With Pilkey's typical over-the-edge humor, Super Diaper Baby will have kids laughing until soda comes out their noses.
About the Author
Dav Pilkey has written and illustrated numerous popular, award-winning books for children, including the Captain Underpants and Dumb Bunnies series; DOG BREATH, winner of the California Young Reader Medal; and THE PAPERBOY, a Caldecott Honor Book. He lives with his wife in the Pacific Northwest. Visit him online at www.pilkey.com.
Praise For The Adventures of Super Diaper Baby (Captain Underpants)…
When the principal discovers incorrigible fourth graders George and Harold in the gym, running over ketchup packets with their skateboards, he punishes them with the assignment of writing a 100-page essay on good citizenship and cautions them against turning in another comic book about Captain Underpants. No problemo for this creative duo, who instead invent another--slightly youngersuper hero. The madcap misadventures of this diapered daredevil possess all the kid-tickling silliness that fans of his underwear-clad predecessor apparently can't get enough of- plus ample doses of bathroom humor. When the doctor gives him "the spank of life" at birth, he slaps the newborn too hard and the infant goes flying out the hospital window, landing in a container of "super power juice" that evil Deputy Dangerous has zapped from Captain Underpants. Then, trying to retrieve the powers from Baby, the villain inadvertently turns himself into the "piece of poo" that was in the young hero's diaper. "Deputy Doo-Doo" then seeks revenge--alas, to no avail, since in the end, his once loyal pooch and Baby wrap him up mummy-like in (what else?) toilet paper. Visually similar to the Captain Underpants capers, Pilkey's latest is replete with misspellings, pleasingly bad puns and the "flip-o-rama" feature that slips some rudimentary animation into these preposterously good-humored pages. Novice graphic-novel creators will appreciate a concluding "How 2 Draw" section.
--Publishers Weekly, Jan 2002

Familiar faces and familiar themes reappear in Pilkey's newest addition to the Captain Underpants family. George Beard and Harold Hutchins, the merry pranksters of his wildly popular series, are back, this time as authors of a "graphic novel." Punished by their principal, Mr. Krupp, the boys are sentenced to write a 100-page essay on "Good Citizenship." Of course, that doesn't happen. The story of Super Diaper Babyis their not-so-contrite response to the punishment. There is plenty to be offended by in this truly "graphic" work. Adults and children who can spell well will surely be distracted and occasionally confused by the plethora of misspelled words and missing punctuation marks. The bad buy being turned into a "giant piece of poo" and many more visual and written references to human excrement will revolt grownups and embarrass some members of the intended audience. When Diaper Dog reassures the newly transformed Deputy Dangerous that it could be worse," you could hae been turned into diarrea [sic]," most adults will consider closing the covers and turning to more serious fare. But most children get a delicious thrill from reading forbidden and naughty things, and Pilkey has filled this niche for the emergent reader. Silly puns abound. Scatological humor is the order of the day, crowned with witha toilet-paper-wrapped Deputy Doo-doo being delivered to, you guessed it, Uranus. Adults will want to use this book as a birdcage liner, and young readers with elementary sense of humor will revel in the humor and silliness. Some readers might feel encouraged to design their own comic books. More sophisticated readers will better appreciate the forbidden humor of Roald Dahl.
--Kirkus Reviews, Feb. 1st 2002

Another goofy, gross-out selection from a popular author. In this, their first graphic novel, Harold and George are caught in the act of skateboarding over ketchup packets in the gym and ordered by Principal Krupp to write an essay on good citizenship. After strict instructions against turning in another "Captain Underpants" comic book, the boys decide to create a new superhero. When super power juice is sucked out of Captain Underpants by the evil Deputy Dangerous, it appears that all is lost. However, the potent liquid is ingested by a newborn baby and "Super Diaper Baby" is born. In a plot to recapture the juice from the infant, Deputy Dangerous inadvertently becomes "Deputy Doo-Doo" when he is
Advertisement