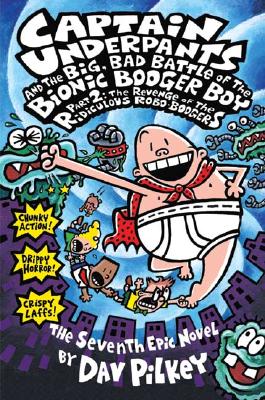 Captain Underpants and the Big, Bad Battle of the Bionic Booger Boy, Part 2 (Hardcover)
The Revenge of the Ridiculous Robo-Boogers (Captain Underpants #7)
Scholastic Inc., 9780439376112, 176pp.
Publication Date: October 1, 2003
* Individual store prices may vary.
Description
New from Dav Pilkey--a Captain Underpants story that's so full of action, adventure, laffs, danger, romance (just kidding ) and Flip-O-Rama, that we couldn't fit it into just one book We're SERIOUS Just when they thought they were out, it pulls them back in Our heroes beat the Bionic Booger Boy, but they forgot about those rascally Robo-Boogers. Join George, Harold, Mr. Krupp, Melvin Sneedly, and Sulu the Bionic Hamster on an adventure that will take them into the deepest regions of outer space and back through time to the mysterious and uncharted world of the day before yesterday It's a monster-mashin', robo-wranglin', time-travelin', brain-switchin', nose-pickin' good time.
About the Author
Dav Pilkey has written and illustrated numerous popular, award-winning books for children, including the Captain Underpants and Dumb Bunnies series; Dog Breath, winner of the California Young Reader Medal; and The Paperboy, a Caldecott Honor Book. He lives with his wife in the Pacific Northwest. Visit him online at pilkey.com.
Praise For Captain Underpants and the Big, Bad Battle of the Bionic Booger Boy, Part 2: The Revenge of the Ridiculous Robo-Boogers (Captain Underpants #7)…
School Library Journal
(February 1, 2004; 0-439-37612-2)

Gr 3-6-This seventh title in the series is witty, fun, and full of adventure. George and Harold think everything is fine as the Robo-Boogers are jettisoned into space, but alas, a complication has occurred. Mr. Krupp, the principal, and Melvin have had their brains switched by the Combine-O-Tron, and they become known as Kruppy the Kid and Mr. Melvin. The Robo-Boogers miraculously return on a space shuttle as Miss Singerbrains, the school librarian, gets into the action by taking the Purple Potty from the basement of the library and Mr. Melvin turns it into a magical time machine (a whole other story). As Miss Singerbrains and the boys fly with their pet pterosaurs, the youngsters regain control of the Combine-O-Tron and the Forgetchamacallit 2000 and they ultimately restore Mr. Krupp and Melvin to their rightful selves. However, the switch does not restore Captain Underpants's powers. Then, just in the nick of time, George and Harold come through. The Purple Potty time machine, which is not supposed to be used two days in a row, awaits the boys, but they, of course, use it again, so the end of this story is just the beginning of the next adventure of Captain Underpants. With fast-paced action and humorous, kid-friendly artwork, this story is creative, imaginative, and truly boisterous.-JoAnn Jonas, Chula Vista Public Library, San Diego, CA Copyright 2004 Reed Business Information.