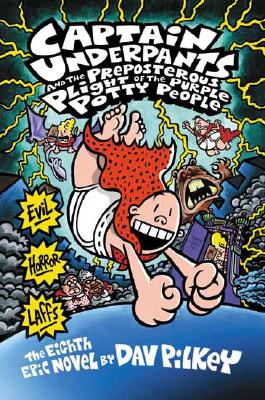 Captain Underpants and the Preposterous Plight of the Purple Potty People (Captain Underpants #8) (Hardcover)
The Blue Sky Press, 9780439376136, 176pp.
Publication Date: September 1, 2006
* Individual store prices may vary.
Description
When we last saw George and Harold, they were about to take their pet pterodactyl Crackers back to the Cretaceous period. But things didn't work out quite as they had hoped. They've entered an absurd alternate reality where teachers are nice, kids are allowed to read banned books, and the cafeteria food doesn't smell like dirty diapers. Even worse, they've discovered alternate versions of themselves--Evil George and Evil Harold--who plan to unleash some preposterous plans on Piqua, Ohio. Now it's up to George and Harold to defeat the evil twins and THEIR superhero, Captain Blunderpants!
About the Author
DAV PILKEY is the creator of many acclaimed children's books, including Dogzilla, Kat Kong, god bless the gargoyles, and the bestselling Captain Underpants series. His book The Paperboy received a Caldecott Honor. He lives in the Pacific Northwest. www.pilkey.com
DAV PILKEY is the creator of many acclaimed children's books, including Dogzilla, Kat Kong, god bless the gargoyles, and the bestselling Captain Underpants series. His book The Paperboy received a Caldecott Honor. He lives in the Pacific Northwest. www.pilkey.com
DAV PILKEY is the creator of many acclaimed children's books, including Dogzilla, Kat Kong, god bless the gargoyles, and the bestselling Captain Underpants series. His book The Paperboy received a Caldecott Honor. He lives in the Pacific Northwest. www.pilkey.com
Praise For Captain Underpants and the Preposterous Plight of the Purple Potty People (Captain Underpants #8)…
The critics are CRAZY about UNDERPANTS!

"Irresistible." -- Entertainment Weekly

"Call Pilkey... the savior of the 'reluctant reader.'" -- USA Today

"So appealing that youngsters won't notice that their vocabulary is stretching." --
School Library Journal

"Pilkey's sharp humor shines, and is as much fun for parents as their young readers."
-- Parents' Choice Foundation

"Combines empowerment and empathy with age-appropriate humor and action." --
Booklist

"Celebrates the triumph of the good-hearted." -- The Educational Book and Media
Association